Commentary
J.P. Kelly wins first WSOPE bracelet
The 2009 World Series of Poker Europe kicked off Sept. 18 with a record-setting field in the first of four events to take place in London. The £1,000 no-limit hold 'em event attracted 608 players and became the largest poker tournament in London history. J.P. Kelly, who already won his first bracelet earlier this year at the WSOP in Las Vegas, took down his second, earning £136,803 in first-place prize money. Kelly, a 23-year-old professional poker player, is also the first English player to win a bracelet in his home country. With eight of nine players at the final table were from the UK, that title was sure to be claimed Monday even though the chip leader was from France.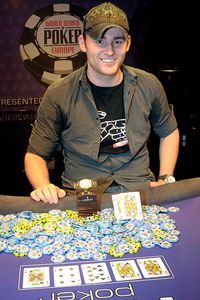 IMPDI 2009JP Kelly has two WSOP bracelets and $474,725 in WSOP winnings.
Unlike his victory earlier this year, Kelly was the biggest name at the final table. There was no Erik Seidel or Jason Dewitt; Kelly was the only bracelet winner out of the remaining nine.
"I had to play tight early on [at the final table]," Kelly said. "Fabien [Dunlop] had a big chip lead. I knew if I got heads-up with him I would do well, as I am a better heads-up player. I thought if I got there with $400,000 in chips, that would be plenty. It's not my style to wait it out, but you have to do that sometimes."
Dunlop entered the final table as the chip leader and held onto that position until the two went heads-up. At the beginning of the hour-long heads-up matchup, Dunlop had a 3-to-1 chip lead, but that wouldn't last. After doubling up Kelly and losing the lead, Dunlop made another mistake: He moved all-in on a bluff and walked right into the flopped straight of Kelly.
"I think the Las Vegas [victory meant more], because that came first," Kelly said of the WSOP. "But this one [in London] means a lot to take down one of these events. It's hard to compare them. They are quite different. This is better in some ways because there are a lot more of my friends around. So I look forward to celebrating."
One other player who celebrated during this event was 2007 WSOP Europe main-event champion Annette Obrestad, who turned 21 on Sept. 20. Obrestad had previously been ineligible for WSOP events in the U.S., and all eyes will be on her as she plays in Vegas next summer.
Other notable finishers included Chris Ferguson (15th), Raymond Rahme (25th) and John Juanda (43rd).
Below are the complete results of WSOPE Event 1:
Event 1: No-limit hold 'em
Buy-in: £1,000
Entries: 608
Prize pool: £608,000
Players in the money: 63
1. J.P. Kelly (£136,803)
2. Fabien Dunlop (£84,512)
3. Adnan Alshamah (£55,468)
4. Richard Allen (£38,499)
5. Anthony Roux (£28,181)
6. Neil Suarez (£21,700)
7. William Martin (£17,535)
8. Thor Drexel (£14,835)
9. James Tomlin (£13,115)
10. Ganesh Bathmanathan (£9,381)
11. Toni Huynh (£9,381)
12. Ian Frazer (£9,381)
13. Said Englund (£6,980)
14. Martin Green (£6,980)
15. Chris Ferguson (£6,980)
16. Oskar Silow (£5,338)
17. David Stucke (£5,338)
18. Stefan Hansen (£5,338)
19. Kate Hearn (£4,153)
20. Stephane Reusser (£4,153)
21. Swee Chai (£4,153)
22. Alexander Melby (£4,153)
23. Mikael Andersson (£4,153)
24. Matthias de Meulder (£4,153)
25. Raymond Rahme (£4,153)
26. John Buttifant (£4,153)
27. Giovanni Paticchio (£4,153)
28. Richard Kellett (£3,374)
29. Mike Moore (£3,374)
30. Tim Blake (£3,374)
31. Eli Heath (£3,374)
32. Rory McHugh (£3,374)
33. David Docherty (£3,374)
34. Sylvian Perrin (£3,374)
35. Alan Freeman (£3,374)
36. Declan Lenane (£3,374)
37. Martins Adeniya (£2,803)
38. Charles Rowan (£2,803)
39. James Burke (£2,803)
40. Trevor Saull-Hunt (£2,803)
41. Shen Sidana (£2,803)
42. Ben Vinson (£2,803)
43. John Juanda (£2,803)
44. Andrew Johnson (£2,803)
45. David Stockings (£2,803)
46. Aleksey Arakelov (£2,359)
47. Julien Hoffman Mogensen (£2,359)
48. Markus Ristola (£2,359)
49. Markus Golser (£2,359)
50. Vivien Ma (£2,359)
51. Andy Kyprianou (£2,359)
52. Constance Kirkwood (£2,359)
53. Paul Brammer (£2,359)
54. Tim Molyneux (£2,359)
55. Duncan Macrie (£2,006)
56. Adam Matusiak (£2,006)
57. Edward Keljik (£2,006)
58. Talal Shakerchi (£2,006)
59. Azzy Asghae (£2,006)
60. Nicolas Levi (£2,006)
61. Nicholas Holbrook (£2,006)
62. Stephen Bradbury (£2,006)
63. Goran Gratte (£2,006)

ESPN.com
Andrew Feldman is ESPN.com's Poker Editor. He is the host of the Poker Edge Podcast and co-host of ESPN Inside Deal. Andrew has covered the poker industry for ESPN since 2004.
SPONSORED HEADLINES
MORE POKER HEADLINES
MOST SENT STORIES ON ESPN.COM