Commentary
Eric Cajelais wins split Event 2
Outlasts Men Nguyen, Howard Lederer and Hoyt Corkins at final table
Take a look at Erik Cajelais, and you'll probably think that the man must do something other than sit in a chair behind a stack of chips. Amazingly, the fit Cajelais does just that and knows how to move those chips around pretty well. After second-place finishes in 2007 at the WSOP ($5,000 pot-limit Omaha with rebuys) and on the World Poker Tour (Turks and Caicos Poker Classic), Cajelais hasn't made a lot of noise in the public's eye playing primarily in underground games throughout Quebec and Ontario. However, with a new gold bracelet around his wrist, Cajelais is back in the spotlight, especially in London.
[+] Enlarge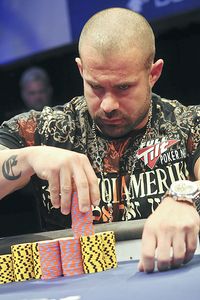 IMPDI 2009Erik Cajelais won his first WSOP bracelet and £104,677 in the split pot-limit event at WSOP Europe.
Cajelais earned his first WSOP bracelet by outlasting the field of 158 players in the £2,500 pot-limit hold 'em/pot-limit Omaha split event. The second event at the 2009 World Series of Poker-Europe produced a strong field and a final table that included Men Nguyen (who finished fourth), Chris Bjorin (sixth), Howard Lederer (seventh) and Hoyt Corkins (ninth). Although he was seventh out of nine heading into the final table, Cajelais, the Day 1 chip leader, battled back and entered heads-up play against Mats Gavatin with a dominant chip lead.
"I felt like I really, really, really wanted to win [this event]," Cajelais told the WSOP. "I had to do everything I could to win, and today I played well and the cards came out my way."
The 27-year-old professional poker player now has won $683,944 in four WSOP cashes. With a total of $1.7 million in career tournament earnings, does the fitness have anything to do with his success?
"I don't really think [there is a correlation]," Cajelais said. "I think once you reach 50, 60 or 70, then maybe it is a factor. But if you are young and in decent shape, it should not be hard to play [long sessions]."
Cajelais didn't savor his victory too long, as he was already registered in Event 3 (£5,000 pot-limit Omaha). Five hours into Event 3, Cajelais took his seat and hoped to turn around his stack, which was being blinded away as the final table of Event 2 concluded. This was only the third time a half pot-limit hold 'em/pot-limit Omaha event was held, and the games rotate every nine hands, not blind levels as some would assume.
Below are the complete results of WSOPE Event 2:
Event 2: Pot-limit hold 'em/pot-limit Omaha split
Buy-in: £2,500
Entries: 158
Prize pool: £395,000
Players in the money: 18
1. Erik Cajelais (£104,677)
2. Mats Gavatin (£64,705)
3. Robin Keston (£47,858)
4. Men Nguyen (£35,412)
5. Richard Gryko (£26,619)
6. Chris Bjorin (£20,106)
7. Hoyt Corkins (£15,302)
8. Ian Frazer (£11,732)
9. Howard Lederer (£9,117)
10. Nikolay Evdakov (£7,643)
11. Dino Brivati (£7,643)
12. Michael Abecassis (£7,643)
13. Allie Prescott (£6,521)
14. Tristan Clemencon (£6,521)
15. Harri Suni (£6,521)
16. Brian Johnson (£5,660)
17. Vitaly Lunkin (£5,660)
18. Sampo Lopponen (£5,600)

ESPN.com
Andrew Feldman is ESPN.com's Poker Editor. He is the host of the Poker Edge Podcast and co-host of ESPN Inside Deal. Andrew has covered the poker industry for ESPN since 2004.
MOST SENT STORIES ON ESPN.COM