Commentary
Jani Vilmunen denies Lederer at WSOPE
"Just heard a depressing stat. This will be my 25th final table at the WSOP [with] only 2 bracelets" -- Howard Lederer on his Twitter feed (@howardhlederer)
Unfortunately for Lederer, his 25th final table resulted in another disappointing finish, even after he held the chip lead entering heads-up play. In the third event of the 2009 World Series of Poker Europe, 5,000-pound pot-limit Omaha, Finland's Jani Vilmunen emerged victorious over the field of 154 to earn his first bracelet and 204,048 pounds. The cash-game professional and former caterer, who spends his days online playing in high-stakes games under the alias "KOByTapout," also won the 2008 Finnish pot-limit Omaha championship.
[+] Enlarge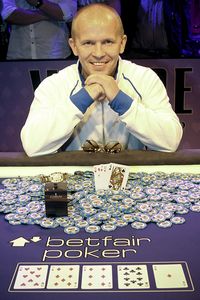 IMPDI 2009Former caterer Jani Vilmunen won his first WSOP bracelet in Event 3.
"I feel great," Vilmunen said after his victory. "I thought it would be an even greater feeling. But I felt all the time that I could win, and that I would win it."
In order to win, Vilmunen would have to defeat one of the game's most familiar faces in Lederer, who had a 5-1 chip lead over the Finnish star at one point in play. While the game wasn't going in his direction, Vilmumen tried to remain confident.
"When I had just $400,000 [to Lederer's $2,500,000], the game was not good," he said. "I could not concentrate. I made some big mistakes. I made two calls that I would not make normally. I felt bad when I made calls I should not make. … But when I was at $400,000, I still thought I was going to win this."
Lederer's second-place finish was worth 126,134 pounds. This was Lederer's second final table in three events at WSOPE.
Vilmunen was the chip leader after Day 1, which marked the third consecutive tournament that the chip leader at that point had won the event. J.P. Kelly and Erik Cajelais were also in that position and won Events 1 and 2, respectively.
Accumulating the chip stack early was a key for Vilmunen, who said the key to his success was his moderately aggressive nature at the table.
"I always play aggressive," he said. "For me, to beat the players, I had to be overly aggressive. That is why I did not win tournaments before. But now I give my opponents to make mistakes. Before, I did not do this. I want to run over the table all the time. But you cannot do this all the time over a three-day period."
Other notable finishers included Ross Boatman (fourth), Robert Williamson III (ninth) and Tom Dwan (14th).
Below are the complete results of WSOPE Event 32:
Event 3: Pot-limit Omaha
Buy-in: 5,000 pounds
Entries: 154
Prize pool: 770,000 pounds
Players in the money: 18
1. Jani Vilmunen (204,048 pounds)
2. Howard Lederer (126,134)
3. Kivelio Aarno (93,293)
4. Ross Boatman (69,030)
5. Ville Haavisto (51,890)
6. Dan Hindin (39,193)
7. Roberto Romanello (29,830)
8. Jeff Kimber (22,869)
9. Robert Williamson III (17,772)
10. Sandra Naujoks (14,900)
11. Chris Bjorin (14,900)
12. Ashton Griffin (14,900)
13. Karl Mahrenholz (12,713)
14. Tom Dwan (12,713)
15. Tony Bloom (12,713)
16. Lloyd Rees (11,034)
17. Sampo Lopponen (11,034)
18. Andrey Zaichenko (11,034)

ESPN.com
Andrew Feldman is ESPN.com's Poker Editor. He is the host of the Poker Edge Podcast and co-host of ESPN Inside Deal. Andrew has covered the poker industry for ESPN since 2004.
SPONSORED HEADLINES
MORE POKER HEADLINES
MOST SENT STORIES ON ESPN.COM