Commentary
Five events scheduled for 2010 WSOPE
The World Series of Poker will return to the Casino at the Empire in Leicester Square in London, England, for the fourth installment of the WSOPE from Sept. 14 through Sept. 28. The event will offer one additional tournament on the schedule in comparison to 2009, to make a total of five bracelets that will be awarded at the prestigious tournament series.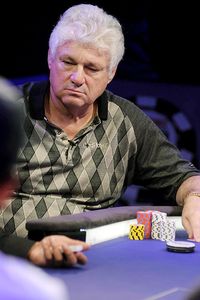 IMPDI 2009Barry Shulman defeated Daniel Negreanu to win the 2009 WSOPE main event
This year, the new addition is a 10,000-pound "High Roller" heads-up event. The tournament will be a three-day event and will take place two days before the start of the WSOPE main event. The field likely will be capped at a currently unreleased number and, hopefully, capacity will be reached. For the second consecutive year there will be a 1,000-pound event, hoping to accomplish the same success seen at the "stimulus special" events at the WSOP. There will be three starting days for that event in anticipation of a larger field than the 608 players who participated in 2009.
The 2,500-pound split pot-limit hold 'em and pot-limit Omaha event won by Eric Cajelais in 2009 has been replaced on the schedule with a 2,500-pound six-handed no-limit hold 'em event. The six-handed event will kick off the 2010 WSOPE and will be followed by a 5,000-pound pot-limit Omaha event, which is the only event featured in every WSOPE schedule since its inception in 2007.
The 10,000-pound main event will be a five-day tournament from Sept. 24 to Sept. 28. Last year, Barry Shulman defeated Daniel Negreanu in one of the most star-studded final tables in main-event history to earn 801,603 pounds.
Here's the schedule for the 2010 WSOP Europe:

Event 1: Sept. 14-Sept. 16: 2,500-pound six-handed no-limit hold 'em
Event 2: Sept. 16-Sept. 18: 5,000-pound pot-limit Omaha
Event 3: Sept. 17-Sept. 21: 1,000-pound no-limit hold 'em
Event 4: Sept. 21-Sept. 23: 10,000-pound "High Roller Heads-Up" no-limit hold 'em
Event 5: Sept. 23-Sept. 18: 10,000-pound championship no-limit hold 'em

The World Series of Poker Europe will be broadcast on ESPN.
ESPN.com
Andrew Feldman is ESPN.com's Poker Editor. He is the host of the Poker Edge Podcast and co-host of ESPN Inside Deal. Andrew has covered the poker industry for ESPN since 2004.
SPONSORED HEADLINES
MORE POKER HEADLINES
MOST SENT STORIES ON ESPN.COM