Commentary
Chicago's Tieman triumphs at WSOP
The shootout format continues to gain in popularity, and 358 players paid the $5,000 buy-in to play in the first shootout event of the 2010 World Series of Poker. With a 28-percent increase in attendance over the identical event in 2009, the seats were occupied by familiar faces, creating some extremely tough tables in each round. Josh Tieman may not have been the most notable name in the field, but after nine previous WSOP cashes, including a final table in a shootout event last year, it was no surprise to see the Chicago pro take down his first bracelet.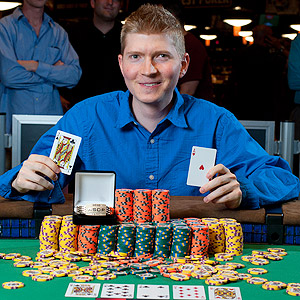 WSOPPhotos.comJosh Tieman earned $441,692 for his victory in the first shootout event of the 2010 WSOP.
"It's definitely a huge breakthrough," said the 27-year-old graduate of Illinois Wesleyan University. "I feel like I've been playing really good poker since the first time I came out to the World Series in 2005. I've had some success but have never really had that breakthrough cash … I didn't want to leave (this year) a loser, and now I can say I'm a winner in Vegas."
The event began Tuesday with 10-handed action and as per the shootout format, if you defeat the rest of the table, you advance to the next round. Tieman's first table featured Tony Guoga and Brandon Adams, but moved on after a lengthy battle. The second round featured six-handed action, and Tieman's competition just got tougher with his table including Chris Ferguson, Danny Estes and Heather Sue Mercer. Tieman made a comeback during heads-up play against Estes and advanced to the final table to square off against Neil Channing, Nicolas Levi, Joseph Elpayaa, Stuart Rutter and Brent Hanks.
The online poker professional made quick work of the table, finally knocking out Channing in the shortest final table of the WSOP so far (four and a half hours). He was happy to wrap up quickly after the grind of the previous two days, but during heads-up play, he was in no rush.
"I play a lot of no-limit heads-up," said Tieman after his win. "I was not sure how much experience the others had. I just wanted to remain patient and wait for my spots. I waited five years to win the gold bracelet. I can certainly wait a few more hours."
Tieman now has $591,089 in career WSOP earnings.
Notable finishers from Event 6 include Nicolas Levi (fifth), David Rheem (eliminated in second round) and John Duthie (eliminated in second round).
Below are the complete results of Event 6 at the 2010 World Series of Poker:
Event 6: no-limit hold 'em shootout
Buy-in: $5,000
Entries: 358
Prize pool: $1,682,600
Players in the money: 36

1. Joshua Tieman ($441,692)
2. Neil Channing ($273,153)
3. Stuart Rutter ($179,617)
4. Joseph Elpayaa ($125,387)
5. Nicolas Levi ($92,543)
6. Brent Hanks ($71,998)
7. Cary Katz ($16.607)
8. Danny Estes ($16.607)
9. Julien Nuijten ($16.607)
10. Benjamin May ($16.607)
11. Eugene Katchalov ($16.607)
12. Blair Hinkle ($16.607)
13. David Rheem ($16.607)
14. Heather Mercer ($16.607)
15. Keven Stammen ($16.607)
16. John Duthie ($16.607)
17. Chris Moore ($16.607)
18. Josef Monro ($16.607)
19. Chris Bell ($16.607)
20. Aaron Been ($16.607)
21. Maxim Lykov ($16.607)
22. Dario Minieri ($16.607)
23. Pablo Fernandez ($16.607)
24. William Molson ($16.607)
25. Joseph Mcgowan ($16.607)
26. Aaron Gustavson ($16.607)
27. Chad Brown ($16.607)
28. Justin Smith ($16.607)
29. Brent Wheeler ($16.607)
30. Chris Ferguson ($16.607)
31. Faraz Jaka ($16.607)
32. Tommy Vedes ($16.607)
33. Max Pescatori ($16.607)
34. Christian Harder ($16.607)
35. Tom Dwan ($16.607)
36. James Akenhead ($16.607)

ESPN.com
Andrew Feldman is ESPN.com's Poker Editor. He is the host of the Poker Edge Podcast and co-host of ESPN Inside Deal. Andrew has covered the poker industry for ESPN since 2004.
SPONSORED HEADLINES
MORE POKER HEADLINES
MOST SENT STORIES ON ESPN.COM
World Series of Poker Coverage

ESPN.com's poker team is bringing you all the action from the 2010 World Series of Poker.
Poker Home
STORIES
VIDEO
RESULTS AND SCHEDULE
POKER PODCAST
CHATS