Commentary
Largest 2-7 event goes to Gelencser
There have been only six 2-7 triple-draw lowball events in the history of the World Series of Poker, but with attendance reaching an all-time high, there might be more events of this type on future WSOP schedules. A field of 291 players created a 16-percent increase in attendance from 2009 and a prize pool of $669,300. The game isn't the simplest and is rarely featured in casino poker rooms, but an elite field paid $2,500 apiece to try to accumulate chips by getting as close to the best hand of 2-3-4-5-7 (of mixed suits). Hungarian pro Peter Gelencser proved to draw the best during the three-day event as he captured his first WSOP bracelet and $180,730.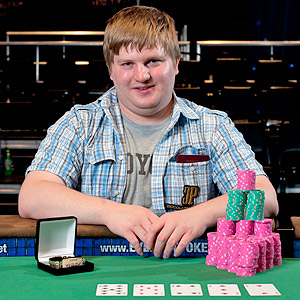 WSOPPhotos.comPeter Gelencser is the second Hungarian to win a WSOP bracelet
The 22-year-old Gelencser began playing poker six years ago with his friends and turned to the game full time when he was 18. Since then, he's earned over $500,000 in tournament winnings and has seen tremendous success on the poker scene in Austria. In 2009, Gelencser had two WSOP cashes totaling $33,805 including a final-table appearance in the split Omaha/seven-card stud event. Despite his success abroad, winning the bracelet was extremely important to him.
"I'm shocked," said Gelencser after the win. "My dream [was] to win a gold bracelet. This means everything to a poker player. It is the best accomplishment in poker."
The seven-handed final table began under the control of four-time WSOP bracelet winner David Chiu with Gelencser in second. Chiu's lead diminished rather quickly and eventually he would fall to Don McNamara holding an 8-7 low to McNamara's 8-6 low. Gelencser was the underdog when heads-up play began but hitting "Number One" (the best hand) shortly afterward propelled him to the chip lead and eventually, the bracelet.
Notable finishers from Event 7 include Farzad Bonyadi (ninth), David Baker (11th) and Ted Forrest (12th).
Below are the complete results of Event 7 at the 2010 World Series of Poker:
Event 7: limit deuce-to-seven triple draw lowball
Buy-in: $2,500
Entries: 291
Prize pool: $669,300
Players in the money: 30

1. Peter Gelencser ($180,730)
2. Raphael Zimmerman ($111,686)
3. Don Mcnamara ($73,803)
4. David Chiu ($50,157)
5. Jameson Painter ($34,843)
6. Leonard Martin ($24,723)
7. Shunjiro Uchida ($17,903)
8. Tad Jurgens ($17,903)
9. Farzad Bonyadi ($13,232)
10. Pat Poels ($13,232)
11. David Baker ($9,972)
12. Ted Forrest ($9,972)
13. Steven Mcloughlin ($7,663)
14. Christopher Fargis ($7,663)
15. Eli Elezra ($7,663)
16. Jordan Siegel ($7,663)
17. Allen Kessler ($7,663)
18. Alex Balandin ($7,663)
19. Christopher Mchugh ($6,063)
20. Greg Mueller ($6,063)
21. Alicia Spencer ($6,063)
22. Jesse Garfinkel ($6,063)
23. Hoyt Corkins ($6,063)
24. Ilya Bulychev ($6,063)
25. Daniel Fuhs ($4,798)
26. Raymond Davis ($4,798)
27. Jon Turner ($4,798)
28. Clayton Newman ($4,798)
29. Dallas Flowers ($4,798)
30. David Singer ($4,798)

ESPN.com
Andrew Feldman is ESPN.com's Poker Editor. He is the host of the Poker Edge Podcast and co-host of ESPN Inside Deal. Andrew has covered the poker industry for ESPN since 2004.
SPONSORED HEADLINES
MORE POKER HEADLINES
MOST SENT STORIES ON ESPN.COM
World Series of Poker Coverage

ESPN.com's poker team is bringing you all the action from the 2010 World Series of Poker.
Poker Home
STORIES
VIDEO
RESULTS AND SCHEDULE
POKER PODCAST
CHATS