Commentary
N.Y. pro Matros wins Event 12 bracelet
Matt Matros has been called many things: poker player, teacher, writer, software engineer and Yale graduate. Now, he can be called a World Series of Poker champion as well.
Matros, 33, defeated a field of 625 players in Event 12, $1,500 limit hold 'em. The Brooklyn, N.Y., native has been on the poker scene for over a decade, studying game theory and the mathematics of the game. He now has validation with a new piece of jewelry for his wrist.
[+] Enlarge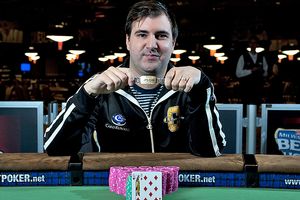 WSOPphotos.comMatt Matros earned $189,870 for his victory in Event 12.
With over a $1 million in tournament earnings, the one thing that was missing was the WSOP bracelet. Now, it's right where it belongs.
"I've really wanted to try and keep playing to try and win a bracelet," said Matros. "It's been my goal for a long time, which would put the cap on some accomplishments. I made a lot of final tables at the WSOP and WPT and had some deep cashes in the main event. What I had been lacking was the victory, so to come in first place here is really gratifying."
Matros entered the final table in the eight place and faced a tough final table that included Terrance Chan and Jason Potter. Chan dominated the action and had over twice the chips than his closest competitor, meaning Matros had to make a major comeback. That came by winning some key hands against Roberto Truijers early in the final table, eliminating Jameson Painter in seventh place, then hitting a straight flush against Terrance Chan when the action was three-handed. Amazingly, holding the ace-high flush, Chan didn't reraise after Matros hit the straight flush and bet.
"I caught great cards today," said Matros. "Actually, I lost a lot of big pots. So, I was very happy I was able to come back a few times from being short on chips. At one point, I was eighth in chips. So, it was a combination of good cards, and minimizing losses and maximizing wins and basically running good and having the cards fall my way."
Always looking at poker with a mathematic eye, Matros has put in the time and effort into improving his limit hold 'em game. Winning the bracelet was the icing on the cake on a still budding poker career.
"I started studying the game in 1998. I really focused and studied limit hold 'em," Matros continued. "So, this is really the culmination of eleven and a half years of work. It's definitely a monkey off my back … but I think I can look at my resume now and say I've got all the pieces checked off. I really had not had the signature victory, until now."
Other notable finishers from Event 12 include Ben Lamb (12th), Ylon Schwartz (50th) and Phil Ivey (53rd).
Below are the complete results of Event 12 at the 2010 World Series of Poker:
Event 12: limit hold 'em
Buy-in: $1,500
Entries: 625
Prize pool: $843,750
Players in the money: 63

1. Matt Matros ($189,870)
2. Ahmad Abghari ($117,272)
3. Terrence Chan ($83,185)
4. Georgios Kapalas ($59,838)
5. Adrian Dresel-Velasquez ($43,647)
6. Jason Potter ($32,281)
7. Jameson Painter ($24,198)
8. Roberto Truijers ($18,385)
9. Mark Burford ($14,149)
10. Frank Kassela ($11,027)
11. Ben Lamb ($11,027)
12. Kirk Banks ($11,027)
13. Dean Tran ($8,766)
14. Amnuey Sri ($8,766)
15. Ilya Sheyn ($8,766)
16. Patti Gallagher ($6,969)
17. Jeff Neeman ($6,969)
18. Robert Stevanovski ($6,969)
19. David Chang ($5,644)
20. Hope Williams ($5,644)
21. Kurt Maier ($5,644)
22. Marco Traniello ($5,644)
23. David Cairns ($5,644)
24. Avi Mukherjee ($5,644)
25. Jim Geary ($5,644)
26. Andrew Kerstine ($5,644)
27. David Plastik ($5,644)
28. Malissia Zapata ($4,623)
29. Michael Ma ($4,623)
30. Matthew Keikoan ($4,623)
31. Joshua Cooper ($4,623)
32. Kiarash Hamadani ($4,623)
33. John McQuinn ($4,623)
34. Craig Repoz ($4,623)
35. Colin Maneval ($4,623)
36. Michael Miccio ($4,623)
37. Matthew Grapenthein ($3,839)
38. Jimmie Julion ($3,839)
39. James Meek ($3,839)
40. Ugur Marangoz ($3,839)
41. Ryan Bambrick ($3,839)
42. James Metcalf ($3,839)
43. Anthony Rivera ($3,839)
44. Darren Shebell ($3,839)
45. Serena Liu ($3,839)
46. Timothy Ebenhoeh ($3,223)
47. Andre Boyer ($3,223)
48. Jefferey Mervis ($3,223)
49. Tom McCormick ($3,223)
50. Ylon Schwartz ($3,223)
51. Gavin Sun ($3,223)
52. Jason Tam ($3,223)
53. Phil Ivey ($3,223)
54. Shawn Buchanan ($3,223)
55. Lennart Konst ($2,742)
56. Kenny Hsiung ($2,742)
57. David Gee ($2,742)
58. Eric Rivkin ($2,742)
59. Donald Sokol ($2,742)
60. Beau Yeoman ($2,742)
61. Erik Lopez ($2,742)
62. Curtis Green ($2,742)
63. Paul Evans ($2,742)

ESPN.com
Andrew Feldman is ESPN.com's Poker Editor. He is the host of the Poker Edge Podcast and co-host of ESPN Inside Deal. Andrew has covered the poker industry for ESPN since 2004.
World Series of Poker Coverage

ESPN.com's poker team is bringing you all the action from the 2010 World Series of Poker.
Poker Home
STORIES
VIDEO
RESULTS AND SCHEDULE
POKER PODCAST
CHATS