Commentary
Nov. Niner Eric Buchman wins Event 18
At the final table of the 2009 WSOP main event, Eric Buchman was in control.
He was playing great poker, making smart decisions, and he found himself in a great spot to capture the biggest title in the poker world. But he lost the chip lead, failed to complete his goal and finished fourth.
Since then, however, Buchman has remained focused on improving his game. Now he has his first WSOP bracelet with a victory in the $2,000 hold 'em Event 18.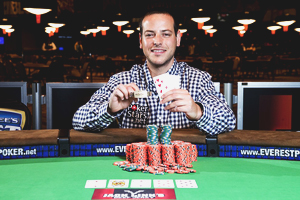 WSOPPhotos.com"November Niner" Eric Buchman can now be known as "bracelet winner" Eric Buchman.
Buchman made his third final table appearance in this event and earned $203,607 for first place. He has now cashed three times in the 2010 WSOP, including a 12th-place finish in the $10,000 seven-card stud world championship. In his career, he has 13 WSOP cashes and an impressive $3,063,862 in WSOP earnings, with the majority of that coming from the $2.5 million he earned in the main event in 2009. While this payday wasn't as huge this time around as the main event (not many are), the 30-year-old from Hewlett, NY, was thrilled to have the gold bracelet on his wrist when play ended Friday night.
"I feel great right now," said Buchman. "This is total satisfaction. This is really special because I finally won one of these bracelets. I really accomplished something.
"I came really close in 2006, when I came in second in a no-limit tournament. At the time, I did not realize how important it is. But now that I am a little older, it's very important."
Buchman also acknowledged his performance in the main event last year affected him and how it now provides some additional motivation for him to finish the job at the final table.
"I was disappointed about not winning," he said. "It took me a few weeks to get over it. You never really get over it, but after a few weeks, I was OK with everything. I made a lot of money and had a great experience. So, it was bittersweet. … Of course, this [final table] was not as exciting as that. But this was more satisfying, because I won."
While the final table included a wide variety of players in terms of poker success, the spotlight was on 2010 WSOP bracelet winner Matt Matros, who was just a week removed from his victory in the $1,500 limit event. Matros was the first player this year to make two limit hold 'em final tables. He finished ninth.
Other notable finishers from Event 18 include Jeff Shulman (13th), Shannon Shorr (18th) and Ralph Porter (40th).
Below are the complete results of Event 18 at the 2010 World Series of Poker:
Event 18: limit hold 'em
Buy-in: $2,000
Entries: 476
Prize pool: $866,320
Players in the money: 45

1. Eric Buchman ($203,607)
2. Brent Courson ($125,737)
3. Steven Hustoft ($90,928)
4. Flavio Ferrari ($66,446)
5. Hansu Chu ($49,068)
6. William Jensen ($36,619)
7. Matt Grapenthien ($27,609)
8. Gary Bogdanski ($21,025)
9. Matthew Matros ($16,174)
10. Daniel Quach ($12,561)
11. Duke Lee ($12,561)
12. Mark Gryglik ($12,561)
13. Jeff Shulman ($9,902)
14. Norman Lapin ($9,902)
15. Ken Dickenson ($9,902)
16. Andrew Brussard ($7,805)
17. Shannon Shorr ($7,805)
18. Jeffrey Mervis ($7,805)
19. Gioi Luong ($6,237)
20. Noelle Quevido ($6,237)
21. Javed Abrahams ($6,237)
22. Dan Barnett ($6,237)
23. Gabriel Nassif ($6,237)
24. Ken Justin ($6,237)
25. Joshua Honegger ($6,237)
26. Ivo Donev ($6,237)
27. Timothy Vansant ($6,237)
28. Joe Serock ($5,033)
29. Melanie Banfield ($5,033)
30. Marc Durand ($5,033)
31. Jeff Siegal ($5,033)
32. Joseph Chaplin ($5,033)
33. Jeff Thompson ($5,033)
34. David Rood ($5,033)
35. Ahmad Abghari ($5,033)
36. Daniel Makowsky ($5,033)
37. Jonathan Tamayo ($4,097)
38. Helmut Koch ($4,097)
39. Chung Nguyen ($4,097)
40. Ralph Porter ($4,097)
41. Matthew Woodward ($4,097)
42. Ciaran Begley-Carter ($4,097)
43. Kenneth Krouner ($4,097)
44. Lisa Wagoner ($4,097)
45. Wesley Huff ($4,097)

ESPN.com
Andrew Feldman is ESPN.com's Poker Editor. He is the host of the Poker Edge Podcast and co-host of ESPN Inside Deal. Andrew has covered the poker industry for ESPN since 2004.
SPONSORED HEADLINES
MORE POKER HEADLINES
MOST SENT STORIES ON ESPN.COM
World Series of Poker Coverage

ESPN.com's poker team is bringing you all the action from the 2010 World Series of Poker.
Poker Home
STORIES
VIDEO
RESULTS AND SCHEDULE
POKER PODCAST
CHATS