Commentary
Year of the Brits continues with Ashby
Praz Bansi set the stage, James Dempsey followed suit, and now, Richard Ashby has made it a trifecta for England. Welcome to the World Series of Poker's Year of the Brits! Richard Ashby became the third Englishman to win a bracelet during the 2010 WSOP by outlasting a field of 408 in Event 21, $1,500 seven-card stud. Ashby, a 38-year-old online cash game specialist, made his way through a pro-heavy final table that included former bracelet winner Dan Heimiller, 2010 Bluff magazine player of the year leader Sorel Mizzi, Jon Turner and Team PokerStars Pro Canda's Pat Pezzin to win the $140,467 in top-prize money. He made a great comeback against Christine Pietsch during heads-up play to win bracelet No. 1.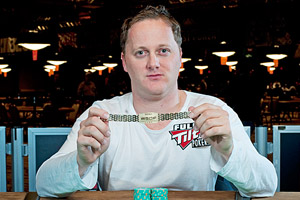 WSOPPhotos.comOnline poker pro Richard Ashby won his first WSOP bracelet in Event 21.
Ashby has been playing poker for 10 years and prefers pot-limit Omaha to seven-card stud, which was the first game he learned to play. He has six major tournament wins throughout his career, over $1 million in live tournament winnings and now, a gold bracelet.
"Stud was actually the first game I started playing," said Ashby after his victory. "I've been playing it a very long time. There is a tournament in Baden [Germany] that I won earlier this year. I have been running very well in stud lately. I play a lot of mixed games [online]. But maybe I should be playing stud a little bit more, after this."
The turning point for Ashby came when he spiked a third deuce during heads-up play. He was being aggressive and Pietsch was calling him down, but with the key card, the massive pot was shipped to Ashby and put him back in contention. He was very impressed with the play of Pietsch as they battled.
"She was playing really well," he said. "She was playing very aggressively. She was never scared when [I] hit three to a flush or made an open pair. She kept on being aggressive. Once the pots started getting big, it was hard to put on the brakes. I got lucky on a couple of pots and she played really well."
Meanwhile, Heimiller's success has become quite the story to follow during the 2010 WSOP. His fourth-place finish in this event marked the third final table this year, and despite netting only $243,042 in prize money, Heimiller leads in the 2010 WSOP Player of the Year race.
As for Mizzi, his success outside of the WSOP this year has also been incredible, but a sixth-place finish wasn't enough to bring him the bracelet he's searching for. He has three WSOP final tables and 11 career WSOP cashes.
Here's a clip of the final table of this event, including an interview with the champion Ashby.
Other notable finishers from Event 21 include Alexander Kravchenko (ninth), Scott Seiver (19th) and Chip Jett (33rd).
Below are the complete results of Event 21 at the 2010 World Series of Poker:
Event 21: seven-card stud
Buy-in: $1,500
Entries: 408
Prize pool: $550,800
Players in the money: 40

1. Richard Ashby ($140,467)
2. Christine Pietsch ($86,756)
3. Darren Shebell ($55,955)
4. Dan Heimiller ($40,544)
5. Owais Ahmed ($29,809)
6. Sorel Mizzi ($22,235)
7. Pat Pezzin ($16,826)
8. Jon Turner ($12,916)
9. Alex Kravchenko ($10,057)
10. Raymond Walter ($10,057)
11. Vorakboth Eam ($7,942)
12. Eric Friedman ($7,942)
13. Brian Johnson ($6,356)
14. Steven Albini ($6,356)
15. Julian Herold ($5,155)
16. Said Elsanafiri ($5,155)
17. John Regan ($4,241)
18. James Laird ($4,241)
19. Scott Seiver ($4,241)
20. Sergey Pomerantsev ($4,241)
21. Greg Mascio ($4,241)
22. Peter Klaus-Stohner ($4,241)
23. Michael Rocco ($4,241)
24. Scott Epstein ($4,241)
25. Hani Awad ($3,558)
26. David Shapiro ($3,558)
27. Barbara Lewis ($3,558)
28. Lewis Lipsey ($3,558)
29. Cory Zeidman ($3,558)
30. Marco Liesy ($3,558)
31. Erich Kollmann ($3,558)
32. George Trigeorgis ($3,558)
33. Chip Jett ($2,985)
34. James Geary ($2,985)
35. Philip Collins ($2,985)
36. Edward Nilosek ($2,985)
37. Rod Pardey ($2,985)
38. Rodeen Talebi ($2,985)
39. Alexander Dovzhenko ($2,985)
40. James Maguire ($2,985)

ESPN.com
Andrew Feldman is ESPN.com's Poker Editor. He is the host of the Poker Edge Podcast and co-host of ESPN Inside Deal. Andrew has covered the poker industry for ESPN since 2004.
World Series of Poker Coverage

ESPN.com's poker team is bringing you all the action from the 2010 World Series of Poker.
Poker Home
STORIES
VIDEO
RESULTS AND SCHEDULE
POKER PODCAST
CHATS
MOST SENT STORIES ON ESPN.COM