Commentary
Proulx takes Omaha bracelet to Quebec
The 856th gold bracelet in World Series of Poker history will head from Las Vegas to Canada as Miguel Proulx, a semi-professional poker player from Saint Charles, Quebec, defeated 596 players to win Event 28, a pot-limit Omaha tournament. Proulx typically plays pot-limit Omaha cash games online, and it's no surprise to know that this is his favorite game.
[+] Enlarge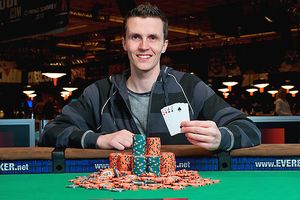 WSOPPhotos.comMiguel Proulx won his first bracelet and $315,311 in Event 28.
The 27-year-old Proulx cashed in the WSOP only one other time in 2007. That 50th-place finish in a $1,500 no-limit hold 'em event earned him $4,188, which pales in comparison to the $315,311 he's taking home along with his first bracelet. He says it'll go a long way to providing for his family. His victory marks the third Canadian title of the 2010 WSOP, as Aadam Daya and Pascal LeFrancois earned their bracelets earlier this Series.
"It feels really great," said Proulx after his win. "It's an accomplishment that not many players will be able to get. I mean, they will spend a lot of money to get one. But in my case the field was large, so it feels great to come over the top and win the gold bracelet. I have a family in Quebec. I already have one daughter and another child on the way. The family is expanding. [The money is] a pretty nice gift for the family."
His previous WSOP adventures consisted of just the cash games, but this year, Proulx decided to enter a few tournaments.
"This year, I was tired of playing in cash games," said Proulx. "So, I tried my chances in tournaments to see how it goes. I could have played more in the [other games], but I am better at PLO and the fields are not as large, so I thought my chances to win a bracelet were better in this event."
Proulx edged out Loren Klein for the victory. Klein, a Las Vegas poker pro, has six cashes over the past three years and earned $195,147 for second place, the biggest WSOP score of his career. British actor Michael Greco earned $129,691 for his second third-place finish in the WSOP.
Watch the video below for some key moments during Proulx's victory in Event 28:
Other notable finishers from Event 28 include Chau Giang (20th), Scott Clements (20th) and T.J. Cloutier (38th).
Below are the complete results of Event 28 at the 2010 World Series of Poker:
Event 28: pot-limit Omaha
Buy-in: $2,500
Entries: 596
Prize pool: $1,370,800
Players in the money: 54

1. Miguel Proulx ($315,311)
2. L.J. Klein ($195,147)
3. Michael Greco ($129,691)
4. Stephane Tayar ($96,243)
5. Joerg Engels ($72,227)
6. Karl Gal ($54,736)
7. Trevor Pope ($41,850)
8. Tommy Le ($32,254)
9. Patrick Hanoteau ($25,044)
10. Dilyan Kovachev ($19,588)
11. Joe Serock ($19,588)
12. Matthew Reed ($19,588)
13. Dmitrii Valouev ($15,517)
14. Kevin Iacofano ($15,517)
15. Adam Junglen ($15,517)
16. Andy Seth ($12,296)
17. Jonathan Depa ($12,296)
18. Eoghan Odea ($12,296)
19. Bryce Yockey ($9,842)
20. Chau Giang ($9,842)
21. Justin Gardenhire ($9,842)
22. Ilya Briskin ($9,842)
23. Harold McDonald ($9,842)
24. Roger McDow ($9,842)
25. Sandra Naujoks ($9,842)
26. Christian Harder ($9,842)
27. Joshua Tieman ($9,842)
28. Scott Clements ($7,950)
29. Brian Powell ($7,950)
30. Lee Habern ($7,950)
31. Anthony Cousineau ($7,950)
32. Carter Gill ($7,950)
33. David Iammarino ($7,950)
34. Norman Collingsworth ($7,950)
35. Tad Jurgens ($7,950)
36. John Feder ($7,950)
37. Daniel Smith ($6,470)
38. T.J. Cloutier ($6,470)
39. Sean Getzwiller ($6,470)
40. Richard Ashby ($6,470)
41. David Ashby ($6,470)
42. John Shipley ($6,470)
43. Daniel Hindin ($6,470)
44. Scott Armstrong ($6,470)
45. Pete Vilandos ($6,470)
46. Tyson Christensen ($5,304)
47. Eric Rabl ($5,304)
48. Chase Steely ($5,304)
49. Lee Grove ($5,304)
50. Michael Binger ($5,304)
51. Daniel Hirschberg ($5,304)
52. Thomas Bichon ($5,304)
53. Richard Tucker ($5,304)
54. Jeffrey Schnettler ($5,304)

ESPN.com
Andrew Feldman is ESPN.com's Poker Editor. He is the host of the Poker Edge Podcast and co-host of ESPN Inside Deal. Andrew has covered the poker industry for ESPN since 2004.
SPONSORED HEADLINES
MORE POKER HEADLINES
MOST SENT STORIES ON ESPN.COM
World Series of Poker Coverage

ESPN.com's poker team is bringing you all the action from the 2010 World Series of Poker.
Poker Home
STORIES
VIDEO
RESULTS AND SCHEDULE
POKER PODCAST
CHATS