Commentary
Mahmood crowned heads-up champ
After nearly a decade spent on the poker tournament trail, Ayaz Mahmood had the biggest payday of his poker career as he won the $10,000 no-limit hold 'em heads-up world championship event at the 2010 World Series of Poker. The Sugar Land, Texas, native was a former furniture retailer who turned to tournament poker eight years ago. By winning nine heads-up matches in a row, Mahmood became the first Bangladesh-born bracelet winner in WSOP history and earned $626,674.
His path to WSOP success was anything but easy. Mahmood needed to overcome some tough opponents including Brian Rast, Jim Collopy, Faraz Jaka and Jason Somerville before battling it out over two days against Ernst Schmejkal. The finals featured a best-of-three competition for the bracelet. The first match lasted six hours and 20 minutes and ended at 5:30 a.m. with Mahmood earning the win. The players agreed to postpone the conclusion until 7 p.m. that night and after five hours, Mahmood eliminated Schmejkal when he made a straight on the river to overcome Schmejkal's top pair.
[+] Enlarge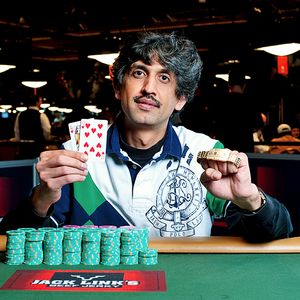 WSOPPhotos.comAyaz Mahmood won his first WSOP bracelet in the $10,000 heads-up world championship Event 35.
"This is the first time I have participated in the $10,000 heads-up championship," said Mahmood. "It seemed I was very successful the first few rounds. All of the rounds are full of very tough players. I just played my game and was very successful. I'm very, very happy to beat such a very tough field."
In addition to the bracelet and the money, Mahmood also earns an automatic bid into the 2011 National Heads-Up Poker Championships.
The field in Event 35 reached capacity at 256 players. Only 32 players would make the money in the event, meaning that they needed to win three matches before seeing any return on their investments. Poker Edge podcast host Phil Gordon was eliminated by a three-outer to Faraz Jaka in the Sweet 16. Jaka would then fall to Mahmood in the Elite Eight.
Others eliminated in the Elite Eight included Vanessa Rousso, Ludovic Lacay and Thang Pham. Alexander Kostritsyn lost to Schmejkal in the semifinals to set up the final confrontation between the German Schmejkal and Mahmood.
"He's a very tough player," Mahmood said of Schmejkal. "It took me 11 hours to finish him off. Yesterday, it took us almost seven hours and then we went another almost five hours here. It's very tough, but I am very happy with how things went."
Other players who earned spots in the top 16 include Vivek Rajkumar, Bertrand Grospellier and Gavin Smith.
Below are the complete results of Event 35 at the 2010 World Series of Poker:
Event 35: heads-up world championship
Buy-in: $10,000
Entries: 256
Prize pool: $2,406,400
Players in the money: 32

1. Ayaz Mahmood ($625,682)
2. Ernst Schmejkal ($386,636)
3. Jason Somerville ($214,289)
3. Alexander Kostritsyn ($214,289)
5. Vanessa Rousso ($92,580)
5. Faraz Jaka ($92,580)
5. Ludovic Lacay ($92,580)
5. Kido Pham ($92,580)
9. Gavin Smith ($38,424)
9. Phil Gordon ($38,424)
9. Martin Kabrhel ($38,424)
9. Bertrand Grospellier ($38,424)
9. Alexander Kravchenko ($38,424)
9. Vivek Rajkumar ($38,424)
9. Chris Moorman ($38,424)
9. Brian Rast ($38,424)
17. Maxim Lykov ($17,987)
17. Melanie Weisner ($17,987)
17. Amritraj Singh ($17,987)
17. Keith Block ($17,987)
17. Samuel Stein ($17,987)
17. Sorel Mizzi ($17,987)
17. Michael Glasser ($17,987)
17. Kevin Saul ($17,987)
17. David Williams ($17,987)
17. Timothy Adams ($17,987)
17. Nicholas Rampone ($17,987)
17. Scott Clements ($17,987)
17. Darren Woods ($17,987)
17. Antonio Esfandiari ($17,987)
17. Anton Kozlovskiy ($17,987)
17. Julian Herold ($17,987)

ESPN.com
Andrew Feldman is ESPN.com's Poker Editor. He is the host of the Poker Edge Podcast and co-host of ESPN Inside Deal. Andrew has covered the poker industry for ESPN since 2004.
SPONSORED HEADLINES
MORE POKER HEADLINES
MOST SENT STORIES ON ESPN.COM
World Series of Poker Coverage

ESPN.com's poker team is bringing you all the action from the 2010 World Series of Poker.
Poker Home
STORIES
VIDEO
RESULTS AND SCHEDULE
POKER PODCAST
CHATS