Commentary
Kwasser wins pot-limit championship
Valdemar "Luigi" Kwaysser won his first WSOP bracelet in Event 38, the pot-limit hold 'em world championship. The $10,000 event featured a field of 268 players and after six previous cashes at the WSOP, the Hungarian defeated Matt Marafioti to win the tournament and $617,214. Over the last three years, Kwaysser now has major victories on the Latin American Poker Tour, the Italian Poker Tour and now, the WSOP. He has over $1.2 million in career tournament earnings and was thrilled to be holding his first bracelet early Wednesday morning.
Kwaysser became the third Hungarian to win a WSOP bracelet and the second of the 2010 Series. The other bracelet this year belongs to Peter Gelencser, who won the $2,500 deuce-to-seven lowball event, while Peter Tarply took down the six-handed no-limit hold 'em shootout event in 2009.
[+] Enlarge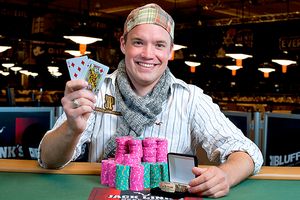 WSOPPhotos.comValdemar Kwaysser became the second Hungarian to win a bracelet at the 2010 WSOP.
"We help each other a lot," said Kwaysser of the Hungarian poker team. "I truly believe that Hungary has done so well, considering the size of the country which is small, is because we all stick together, and we learn together, and discuss poker together."
The final table of this event included only one former bracelet winner, Blair Rodman, but a slew of other talented notables including 2009 WSOP main event 13th-place finisher James Calderaro, Dani Stern, NAPT Venetian champion Tom Marchese and Peter Jetten.
Here's a look at the highlights from Kwaysser's win in Event 38:
Other notable finishers from Event 38 include Sam Stein (10th), Amnon Filippi (14th) and Allen Kessler (15th)-
Below are the complete results of Event 38 at the 2010 World Series of Poker:
Event 38: pot-limit hold 'em world championship
Buy-in: $10,000
Entries: 268
Prize pool: $2,519,200
Players in the money: 27

1. Valdemar Kwaysser ($617,214)
2. Matt Marafioti ($381,507)
3. James Calderaro ($284,845)
4. Konstantin Bucherl ($214,106)
5. Dani Stern ($161,934)
6. Tom Marchese ($123,264)
7. Peter Jetten ($94,394)
8. Blair Rodman ($72,754)
9. Alexander Kuzmin ($56,404)
10. Sam Stein ($44,010)
11. Nathan Doudney ($44,010)
12. Clement Thumy ($44,010)
13. Marc Inizan ($34,639)
14. Allen Kessler ($34,639)
15. Sandra Naujoks ($34,639)
16. Amnon Filippi ($27,282)
17. Amit Makhija ($27,282)
18. Steve Landfish ($27,282)
19. Nikolai Yakovenko ($21,665)
20. Thomas Pettersson ($21,665)
21. Noah Boeken ($21,665)
22. Patrick Walsh ($21,665)
23. Dustin Woolf ($21,665)
24. Vitaly Lunkin ($21,665)
25. John Dwyer ($21,665)
26. Mike Matusow ($21,665)
27. Marco Traniello ($21,665)

ESPN.com
Andrew Feldman is ESPN.com's Poker Editor. He is the host of the Poker Edge Podcast and co-host of ESPN Inside Deal. Andrew has covered the poker industry for ESPN since 2004.
World Series of Poker Coverage

ESPN.com's poker team is bringing you all the action from the 2010 World Series of Poker.
Poker Home
STORIES
VIDEO
RESULTS AND SCHEDULE
POKER PODCAST
CHATS