Commentary
Kassela earns double-bracelet honors
Someway, somehow, it happens every year: a player wins two bracelets at the World Series of Poker. In 2010, the honors go to semi-pro and Las Vegas businessman Frank Kassela who took down Event 40, razz, to win his second bracelet of the Series in less than two weeks. The double-bracelet owner was crowned on the heels of an amazing comeback that basically lasted throughout the entire tournament.
[+] Enlarge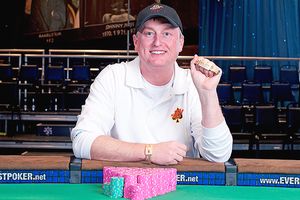 WSOPPhotos.comFrank Kassela became the first double-bracelet winner of the 2010 WSOP with his victory in Event 40.
"It's awesome. It's really exciting," said Kassela of his second win. "I've been playing in a ton of events since I won that last one, just because I knew I had a decent chance at Player of the Year. Now, with this, I think I am tied. Vladimir [Shchemelev] is up there, so it is going to be close."
Beginning with 365 players, the $2,500 event was whittled down on Day 1 to 157 players. On Day 2, Kassela found himself 105th out of 105 players and was ready to make his way out the door, but a few double-ups came his way and Kassela was back in contention.
He made his way into the money and finally reached the final table where he was down to his final chips once again with four players left. Down to the felt, he believed his run was over when … the lights at the Rio went out. Yes, for 20 minutes, darkness dominated the Rio until the generators kicked on and play would resume. The break would be exactly what he needed as from that point on, Kassela seemed unstoppable and finally eliminated Maxwell Troy to win the tournament.
"It was startling," Kassela said of the power outage. "All we did was cover our chips. I was just sitting in my chair in the darkness and lowered my hands and covered my chips. We had an emergency light from someone's cell phone. The tournament director told us to pull back our antes and we sat there and waited until the lights came back on. Then, the lights came back on enough for us to play four more minutes until the end of the level. After that we moved to the main table. It was a good thing."
The move to the main table meant more lights and more money for Kassela who earned $214,085. He is now tied with Juanda for Player of the Year with fourth-place finisher Vladimir Shchemelev trailing the duo by a very small margin. Shchemelev made his fourth WSOP final table of the year and two-time WSOP bracelet winner Jennifer Harman finished in sixth in her second final table appearance of the Series. Both Shchemelev and Harman were at the final table during Kassela's first win in Event 15, the seven-card stud high-low split eight-or-better world championship.
Here are the highlights from Frank Kassela's second bracelet win:
Other notable finishers from Event 40 include Chris Bjorin (eighth), Joe Hachem (22nd) and Daniel Negreanu (29th).
Below are the complete results of Event 40 at the 2010 World Series of Poker:
Event 40: razz
Buy-in: $2,500
Entries: 365
Prize pool: $839,500
Players in the money: 40

1. Frank Kassela ($214,085)
2. Maxwell Troy ($132,229)
3. Melville Lewis ($85,284)
4. Vladimir Shchemelev ($61,795)
5. Mikko Pispala ($45,433)
6. Jennifer Harman ($33,890)
7. Stuart Rutter ($25,646)
8. Chris Bjorin ($19,686)
9. Thomas Tiller ($15,329)
10. Arthur Cobb ($15,329)
11. Daniel Ospina ($12,105)
12. Scott Packer ($12,105)
13. Steven Diano ($9,687)
14. William Wood ($9,687)
15. Nick Helm ($7,857)
16. Linda Johnson ($7,857)
17. John Nguyen ($6,464)
18. Morris Klevansky ($6,464)
19. Dario Minieri ($6,464)
20. David Chiu ($6,464)
21. Andrew Robl ($6,464)
22. Joe Hachem ($6,464)
23. Hasan Habib ($6,464)
24. Allen Bari ($6,464)
25. Fred Adriano ($5,423)
26. Yuval Bronshtein ($5,423)
27. Theresa Groarkeviganola ($5,423)
28. Kevin Bradley ($5,423)
29. Daniel Negreanu ($5,423)
30. Michael Mariakis ($5,423)
31. Rich Morrella ($5,423)
32. Tommy Vedes ($5,423)
33. Chris Wallace ($4,550)
34. Matt Glantz ($4,550)
35. Shawn Sheikhan ($4,550)
36. Dustin Pattinson ($4,550)
37. Greg Raymer ($4,550)
38. Yevgeniy Timoshenko ($4,550)
39. Eric Conti ($4,550)
40. Randy Kaas ($4,550)

ESPN.com
Andrew Feldman is ESPN.com's Poker Editor. He is the host of the Poker Edge Podcast and co-host of ESPN Inside Deal. Andrew has covered the poker industry for ESPN since 2004.
World Series of Poker Coverage

ESPN.com's poker team is bringing you all the action from the 2010 World Series of Poker.
Poker Home
STORIES
VIDEO
RESULTS AND SCHEDULE
POKER PODCAST
CHATS