Commentary
Gavin the Great
Event 44 didn't feature just another final table at the WSOP. The first final table streamed live on ESPN3.com featured one of poker's brightest stars and one who unfortunately was a member of the "best without a bracelet club", Gavin Smith. As soon as play began on Saturday, the seats were packed as fans hoped to catch a glimpse of a Smith in action. With many of his friends and supporters sitting behind him and cheering his every move throughout the night, Smith remained focused and would collect his first WSOP bracelet early Sunday morning.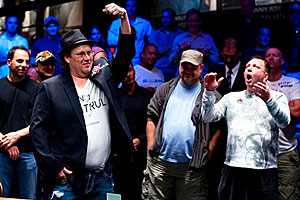 WSOPPhotos.comGavin Smith holds up his bracelet after his victory in Event 44.
Featuring a mixed hold 'em structure (30 minutes of no-limit followed by 30 minutes of limit hold 'em), the final table saw most of its eliminations come during the limit portion where each hand had the potential to create a major swing in the chip counts. The final table played out in that fashion with each player seeing the highs and lows during the day. As each limit hold 'em level passed, one item remained true: Smith's domination during that portion of the level. While it seemed that the rest of the table was waiting on the no-limit portion to arrive, Smith took advantage and was able to build his chip stack while others were more passive. It was that timely aggression that put Smith as the massive chip leader with three to go and allowed him to play heads-up for the bracelet.
The battle that ensued with Danny Hannawa was intense. Despite the inexperience on this stage, Hannawa challenged Smith in every pot.
"First off, congratulations to Dan," said Smith after the win. "You played fantastic and you'll definitely be back."
Hannawa, making his first WSOP cash, lived the roller-coaster ride in the chip counts perhaps more than any player and when he eliminated Tim Finne, he'd create a heads-up battle to remember. The two traded jabs, but Smith was able to hold the chip lead for the duration and finally eliminated the 28-year-old from West Bloomfield, MI for the title.
It's extremely rare to see Smith speechless, but choked up a bit, he thanked everyone for their support after the win. In true Gavin fashion, he turned this experience into a punch line asking why everyone was watching him during a Saturday night in Vegas when they should be out partying.
With everyone still standing and applauding, WSOP Media Director Nolan Dalla presented Smith with his first bracelet.
"You know that list about the best poker players never to win bracelets? Shred that thing," said Dalla to Smith. "You see somebody pay their dues in this game. Pay their dues like really nobody else has … It's really remarkable to look around and see the love that [your friends and fans] have for you. To share this moment with you and to see how emotional you are and how much this means to you."
Smith, the 2005-06 World Poker Tour player of the year, has over $5.3 million in career earnings including the $268,238 first-place money for this event. Fans can watch the replay of this event on ESPN3.com.
Other notable finishers from Event 44 include Dwyte Pilgrim (eighth), Eli Elezra (23rd) and Matt Stout (25th).
Below are the complete results of Event 44 at the 2010 World Series of Poker:
Event 44: mixed hold 'em
Buy-in: $2,500
Entries: 507
Prize pool: $1,166,100
Players in the money: 54

1. Gavin Smith ($268,238)
2. Danny Hannawa ($166,005)
3. Timothy Finne ($110,324)
4. Michael Michnik ($81,871)
5. Jamie Rosen ($61,441)
6. Jarred Solomon ($46,562)
7. Daniel Idema ($35,601)
8. Dwyte Pilgrim ($27,438)
9. Mike Santoro ($21,304)
10. Alfonso Amendola ($16,663)
11. Steven Kelly ($16,663)
12. Jonathan Tamayo ($16,663)
13. Valdemar Kwaysser ($13,200)
14. Kenny Hsiung ($13,200)
15. Luke Vrabel ($13,200)
16. Kyle Zartman ($10,459)
17. Cyriel Dohmen ($10,459)
18. Jovon Williams ($10,459)
19. Johanssy Joseph ($8,372)
20. Tay Nguyen ($8,372)
21. Renaud Desferet ($8,372)
22. Randy Lew ($8,372)
23. Eli Elezra ($8,372)
24. Aaron Steury ($8,372)
25. Matt Stout ($8,372)
26. Jim Collopy ($8,372)
27. Roberto Romanello ($8,372)
28. Adam White ($6,763)
29. Brian Aleksa ($6,763)
30. Guang Lu ($6,763)
31. Chris Bell ($6,763)
32. Ray Henson ($6,763)
33. Manish Patel ($6,763)
34. Steven Goosen ($6,763)
35. Elliot Smith ($6,763)
36. Tyron Krost ($6,763)
37. Andreas Hoivold ($5,503)
38. Alexandre Gomes ($5,503)
39. Kyle Ray ($5,503)
40. Cathleen Tran ($5,503)
41. Alex Moore ($5,503)
42. Daniel Kochan ($5,503)
43. Eelke Arjaans ($5,503)
44. Matt Matros ($5,503)
45. Erica Schoenberg ($5,503)
46. Claudio Rinaldi ($4,512)
47. Alexander Freitez ($4,512)
48. Barry Werthmann ($4,512)
49. Timothy Vansant ($4,512)
50. Jeff Shulman ($4,512)
51. Ivo Donev ($4,512)
52. Svetlana Gromenkova ($4,512)
53. Eric Froehlich ($4,512)
54. Narendra Banwari ($4,512)

ESPN.com
Andrew Feldman is ESPN.com's Poker Editor. He is the host of the Poker Edge Podcast and co-host of ESPN Inside Deal. Andrew has covered the poker industry for ESPN since 2004.
World Series of Poker Coverage

ESPN.com's poker team is bringing you all the action from the 2010 World Series of Poker.
Poker Home
STORIES
VIDEO
RESULTS AND SCHEDULE
POKER PODCAST
CHATS
MOST SENT STORIES ON ESPN.COM