Commentary
Ian Gordon wins HORSE championship
When the $50,000 HORSE became the $50,000 eight-game Players' Championship, the highest HORSE buy-in of the 2010 World Series of Poker became merely a $10,000 event. Event 43 attracted 241 entries, created a $2.2 million prize pool and boasted a field filled with all the biggest names in the game. In search of a WSOP title, every player would need to be at their best in each of the five games if they wanted to bring home the $611,666 in first-place prize money. With a talented final table on hand, it was Ian Gordon, a 24-year-old poker pro from Missoula, MT that emerged victorious after eliminating Richard Ashby and preventing a second double-bracelet winner at the 2010 WSOP.
[+] Enlarge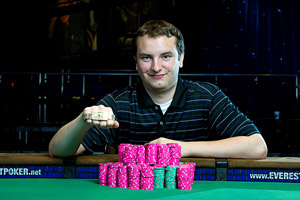 WSOPPhotos.comIan Gordon earned $611,666 for his victory in the $10,000 HORSE world championship.
Every seat at the final table was occupied by established and talented poker players. Besides Ashby, Nick Schulman and Carlos Mortensen represented the bracelet holders out of the eight. Eugene Katchalov, Marco Johnson, Matt Glantz and Marco Traniello filled out the rest of the table with each of them having at least $400,000 in career WSOP earnings. Then there Gordon who fit in neither category as he was making his first WSOP cash in this event. Nevertheless, Gordon would emerge victorious and is happy to bring the bracelet back to Montana.
"It means a ton to me, especially the $10,000 HORSE," he said of the win. "It is a field full of pros who all know what they are doing. To be able to win that is special. You have to get a little lucky to win a tournament, but this feels really good to be able to hold my own against all the top pros and come out on top."
Gordon has enjoyed playing poker full time over the last two years, but even after the victory, is unsure about what comes next.
"I do not necessarily think poker is something I want to do my whole life," Gordon said about his current career choice. "I feel like right now it is a money-making opportunity. There is a lot of potential. After I get some decent capital, I think I would like to own a business someday. It's just in the back of my mind for sometime in the future."
A few weeks ago, Richard Ashby was holding his first bracelet. It seemed very likely that a double-bracelet Series was in his future, but when he needed the cards to hold, they wouldn't oblige. He fell short in second place and earned $378,027 from this event and now has a total of $604,245 in career WSOP winnings.
Carlos Mortensen made his 20th cash, seventh final table and finished in sixth, earning $102,237. Despite the lack of a bracelet win since 2003, Mortensen has been on fire in 2010 with four six-figure scores and a total of $936,741 in tournament earnings.
Other notable finishers from Event 43 include Scott Fischman (ninth), Brian Townsend (10th) and Steve Billirakis (11th). Allen Kessler finished 23rd and made his sixth cash of the Series.
Below are the complete results of Event 43 at the 2010 World Series of Poker:
Event 43: HORSE world championship
Buy-in: $10,000
Entries: 241
Prize pool: $2,265,400
Players in the money: 24

1. Ian Gordon ($611,666)
2. Richard Ashby ($378,027)
3. Eugene Katchalov ($248,831)
4. Marco Johnson ($181,503)
5. Matt Glantz ($135,040)
6. Carlos Mortensen ($102,237)
7. Nick Schulman ($78,654)
8. Marco Traniello ($61,414)
9. Scott Fischman ($48,638)
10. Brian Townsend ($48,638)
11. Steve Billirakis ($39,078)
12. Cuong Do ($39,078)
13. Michael Chow ($31,851)
14. John Hennigan ($31,851)
15. Roman Yitzhaki ($26,459)
16. Brandon Adams ($26,459)
17. Robert Mizrachi ($21,997)
18. Todd Brunson ($21,997)
19. Scotty Nguyen ($21,997)
20. Pawel Andrzejewski ($21,997)
21. Abe Mosseri ($21,997)
22. Al Barbieri ($21,997)
23. Allen Kessler ($21,997)
24. Tommy Hang ($21,997)

ESPN.com
Andrew Feldman is ESPN.com's Poker Editor. He is the host of the Poker Edge Podcast and co-host of ESPN Inside Deal. Andrew has covered the poker industry for ESPN since 2004.
World Series of Poker Coverage

ESPN.com's poker team is bringing you all the action from the 2010 World Series of Poker.
Poker Home
STORIES
VIDEO
RESULTS AND SCHEDULE
POKER PODCAST
CHATS
MOST SENT STORIES ON ESPN.COM