Commentary
James Bord wins WSOPE main event
The World Series of Poker Europe main event offers one of the most prestigious fields of any event in the year. The high £10,000 buy-in ensues that only the most elite players in the game compete and the 2010 edition didn't disappoint at all. James Bord, a 29-year-old poker player from Stanmore, United Kingdom, felt the support of his friends and fans throughout the entire final table and made a great comeback to earn the title of WSOPE main event champion. Bord collected £830,401 for first place and earned his first WSOP gold bracelet.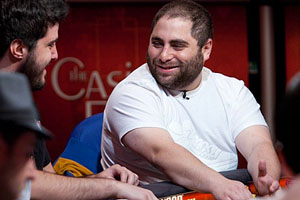 Coutesy of WSOPPhotos.comJames Bord won his first WSOP bracelet with his win in the 2010 WSOP Europe main event
Bord battled throughout the final table and only when he was heads-up with Fabrizio Baldassari did he obtain the chip lead. He began the final table fourth in chips and from the very start would mix up his game with all the players at the table. His opportunity to surge early presented itself when he was involved in a key hand with Ronald Lee, who made an impressive move on the river to get Bord off the best hand. From that point on it was about survival, and slowly but surely Bord chipped up and made it to heads-up play.
Baldassari had control during most of the heads-up match, but made a slight mistake forcing the issue holding Q-8 when Bord held A-K. From that point on, Bord dominated the slightly tilted Baldassari until finally the two had all the chips in the center with Bord dominating Baldassari with 10-10 against 5-5. The 10-10 would hold and Bord was mobbed by his friends before finally shaking Baldassari's hand and complimenting him on a match well played.
"I never thought I would win a bracelet," Bord said. "Being so close, you just never know when it's going to come again. And it's even more special to win it in my hometown. It's just something very special."
This was the first British champion in the four-year existence of the WSOPE, which Bord said, "means everything." He joins some amazing company as a WSOPE main event winner, including Annette Obrestad, John Juanda and Barry Shulman, but the amazing fact is that no-limit hold 'em isn't his best game.
"I am a mixed games cash player," he said. "For the past four years, I have been playing high-low games. No-limit hold 'em has moved on a lot [the players have gotten much better]. I was a pretty awful tournament player."
One of Bord's best friends is Sam Trickett, who Bord said taught him how to play. After watching Bord's performance on Tuesday, Trickett might have new students.
The final table included some incredible action, most of which Lee dominated. The Jericho, N.Y., native had control of the table for almost the entire time, but would eventually lose some steam, and a race, and would be eliminated by Bord in third place. The chip leader entering the final table, Dan Fleyshman, finished in seventh, and the only bracelet winner at the table and one of poker's triple crown winners (wins on the WPT, EPT and WSOP), Roland de Wofle, was knocked out in fourth.
The 11-hour final table was streamed with hole cards on a five hour delay on ESPN3.com and fans can watch the replay of this event on demand.
Other notable finishers included Hoyt Corkins (15th), Viktor Blom (16th) and Phil Ivey (19th).
Below are the complete results of WSOPE Event 5:
Event 5: No-limit hold 'em
Buy-in: £10,000
Entries: 346
Prize pool: £3,460,000
Players in the money: 36
1. James Bord (£830,401)
2. Fabrizio Baldassari (£513,049)
3. Ronald Lee (£376,829)
4. Roland De Wolfe (£278,945)
5. Nicolas Levi (£208,119)
6. Daniel Steinberg (£156,530)
7. Dan Fleyshman (£118,643)
8. Brian Powell (£90,617)
9. Marc Inizan (£69,754)
10. David Peters (£54,114)
11. Andrew Pantling (£54,114)
12. Arnaud Mattern (£54,114)
13. Barny Boatman (£42,454)
14. Clint Coffee (£42,454)
15. Hoyt Corkins (£42,454)
16. Viktor Blom (£33,285)
17. Bojan Gledovic (£33,285)
18. Anthony Newman (£33,285)
19. Phil Ivey (£26,400)
20. Thomas Bichon (£26,400)
21. Jani Sointula (£26,400)
22. Greg Mueller (£26,400)
23. Barry Greenstein (£26,400)
24. Yevgeniy Timoshenko (£26,400)
25. Hoi Cheung (£26,400)
26. Alex Keating (£26,400)
27. John Eames (£26,400)
28. Michael Benvenuti (£21,106)
29. Bryn Kenney (£21,106)
30. Freddy Deeb (£21,106)
31. James Mitchell (£21,106)
32. Jean Paul Seatelli (£21,106)
33. Matthew Waxman (£21,106)
34. Magnus Persson (£21,106)
35. Darren Woods (£21,106)
36. Mark Thurgood (£21,106)

ESPN.com
Andrew Feldman is ESPN.com's Poker Editor. He is the host of the Poker Edge Podcast and co-host of ESPN Inside Deal. Andrew has covered the poker industry for ESPN since 2004.
MOST SENT STORIES ON ESPN.COM