Commentary
Live limit pro Wilder wins Event 6
The events of "Black Friday" changed the day-to-day lifestyle for many professional poker players. Online pros had to determine if poker was going to remain a part of their lives or if it would become an occasional hobby. Some players opted to go abroad and continue online, while others headed to the live felt, seeing if their poker chops could cut it. Harrison Wilder was one of the players who fell into the latter category. He moved from Oregon to Las Vegas just a few months ago and was grinding it out in the $40/$80-$100/$200 limit games around the city before the World Series of Poker. When the WSOP came along, he decided to test his hand and after winning Event 6, $1,500 limit hold 'em, he'll be able to grind a bit higher with the newly added $205,065 in prize money.
[+] Enlarge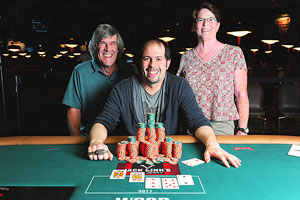 WSOPHarrison Wilder's parents convinced him to drop out of school and focus his energy on poker.
"I did not know what to do," said Wilder regarding his recent move. "It was a temporary move to stay here, because it happened right before the WSOP. I was thinking of moving to California, but I may stay here now."
Wilder can thank his parents for supporting his journey into the poker world. While he was in college, his parents saw how interested he was into the game and told him to leave school and pursue it.
"They have always been very supportive of me," he said of his parents. "When I was in college, I was racking up student debt; they told me to drop out of college and start playing professionally. One of the biggest regrets I have was that I did not listen to them and I continued to be responsible and stay in college. They encouraged me to get better."
His parents were by his side throughout the final table and watched their 29-year-old son earn a piece of poker history.
Wilder had only played in one other WSOP event prior to this one, failing to cash.
The final table featured nine Americans, including Scott Clements and John Myung. Clements, ninth, earned his second cash so far of this WSOP. Myung, making his second final table in his WSOP career (both in limit hold 'em), was eliminated in third.
Other notable finishers included defending champion Matt Matros (11th), John Monette (26th) and J.J. Liu (30th).
Below are the complete results of Event 6 at the 2011 World Series of Poker:
Event 6: Limit hold 'em
Buy-in: $1,500
Entries: 675
Prize pool: $911,250
Players in the money: 63

1. Harrison Wilder ($205,065)
2. Thomas Jamieson ($126,654)
3. John Myung ($89,840)
4. William Davis ($64,625)
5. Matthew Elsby ($47,138)
6. Sean Nguyen ($34,864)
7. Craig Laben ($26,134)
8. Mitch Schock ($19,856)
9. Scott Clements ($15,281)
10. Timothy Chauser ($11,910)
11. Matt Matros ($11,910)
12. Chris Overgard ($11,910)
13. Bryan Pimlott ($9,467)
14. Jeff Williams ($9,467)
15. Paul Schumer ($9,467)
16. Michael Moore ($7,526)
17. Charles Vargas ($7,526)
18. Robert Slezak ($7,526)
19. Tom Brownscombe ($6,096)
20. Clayton Newman ($6,096)
21. Jeremy Heartberg ($6,096)
22. Darin Thomas ($6,096)
23. Daniel Idema ($6,096)
24. Gabriel Nassif ($6,096)
25. Arash Yazdanpanah ($6,096)
26. John Monnette ($6,096)
27. Steve Stencil ($6,096)
28. Arkadiy Tsinis ($4,993)
29. Benjamin Scholl ($4,993)
30. J.J. Liu ($4,993)
31. Michele Limongi ($4,993)
32. Michael Winnett ($4,993)
33. Kenneth Bruno ($4,993)
34. Melanie Banfield ($4,993)
35. Mike Ungurean ($4,993)
36. Matthew Dames ($4,993)
37. Brian Feder ($4,146)
38. Erik Lopez ($4,146)
39. Chung Law ($4,146)
40. Jose Barbero ($4,146)
41. Dan Alspach ($4,146)
42. Scott Zakheim ($4,146)
43. Robert Rasmussen ($4,146)
44. Daniel Ospina ($4,146)
45. Brian Tate ($4,146)
46. Dutch Boyd ($3,480)
47. Raymond Hinde ($3,480)
48. Scott Silverman ($3,480)
49. Ron Freitag ($3,480)
50. Domenico Denotaristefani ($3,480)
51. Fred Hansen ($3,480)
52. Garry Smith ($3,480)
53. Jason Kim ($3,480)
54. Timothy Finne ($3,480)
55. Kevin Iacofano ($2,961)
56. Jeffrey Fraustein ($2,961)
57. Chris Tryba ($2,961)
58. Cyriel Dohman ($2,961)
59. Mark Sykes ($2,961)
60. Maxime Dubois ($2,961)
61. Jonathan Aguiar ($2,961)
62. Noah Bronstein ($2,961)
63. Zackary Koerper ($2,961)

ESPN.com
Andrew Feldman is ESPN.com's Poker Editor. He is the host of the Poker Edge Podcast and co-host of ESPN Inside Deal. Andrew has covered the poker industry for ESPN since 2004.
SPONSORED HEADLINES
MORE POKER HEADLINES
MOST SENT STORIES ON ESPN.COM
World Series of Poker Coverage

ESPN.com's poker team is bringing you all the action from the 2011 World Series of Poker.
Poker Home
STORIES
VIDEO
RESULTS AND SCHEDULE
POKER EDGE PODCAST
CHATS