Commentary
Amir Lehavot scores in first PLH tourney
The first $10,000 buy-in tournament on the World Series of Poker schedule, Event 7, $10,000 pot-limit hold 'em, attracted a field of 249 players (down from 268 in 2010) and produced a $2.3 million prize pool. Many of the most talented and well-known players in the game took their seats, but it was Amir Lehavot who outlasted the field to win his first WSOP bracelet and $573,465 in first-place prize money. Lehavot, 36, from Weston, Fla., was born in Israel and immigrated to the U.S. when he was 16. He worked in software development after college and during some time away from his job, became interested in poker. From that point on, Lehavot merged his two interests, creating a poker training site (pokerwit.com) and perfecting his game in tournaments around the world.
[+] Enlarge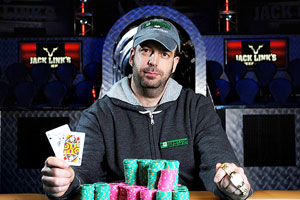 WSOP Amir Lehavot won his first WSOP bracelet in the $10,000 pot-limit hold 'em world championship.
This was Lehavot's third and largest WSOP cash, having cashed in the main event the past two years. More recently, he finished fourth at the $10,000 buy-in World Poker Tour event at the L.A. Poker Classic. Prior to this event, Lehavot had never played in a live pot-limit tournament, but the lack of experience didn't stop him, as he felt it played similar to a no-limit tournament.
"It definitely means a lot," said Lehavot of his newly acquired WSOP bracelet. "It is a great achievement for a poker player. It is so tough. There are so many great players, so it feels really good to win this."
In any $10,000 event, the final tables will almost always be filled with recognizable players. This event was no exception. Almost every player at the final table had a major victory, either live or online, under his belt. Two of the game's biggest rising stars, McLean Karr (eighth) and Sam Stein (third), made their first WSOP final tables.
Lehavot now sets his sights on doing something that no other poker player has ever done: repeating a victory in this discipline. According to the WSOP, there has never been a two-time WSOP champion in this game with 48 pot-limit hold 'em winners in WSOP history.
Other notable finishers included defending champion Robert Mizrachi (12th), Mike Matusow (20th), Jennifer Tilly (21st) and Nenad Medic (25th).
Below are the complete results of Event 7 at the 2011 World Series of Poker:
Event 7: Pot-limit hold 'em World Championship
Buy-in: $10,000
Entries: 249
Prize pool: $2,340,600
Players in the money: 27

1. Amir Lehavot ($573,456)
2. Jarred Solomon ($354,460)
3. Sam Stein ($264,651)
4. Stephen Chidwick ($198,927)
5. Tommy Vinas ($150,453)
6. Nicolas Levi ($114,525)
7. Eric Cloutier ($87,702)
8. McLean Karr ($67,596)
9. Michael Benvenuti ($52,406)
10. Jonathan Jaffe ($40,890)
11. Toby Lewis ($40,890)
12. Robert Mizrachi ($40,890)
13. Jason DeWitt ($32,183)
14. Jason Somerville ($32,183)
15. Owen Crowe ($32,183)
16. Gary Rabin ($25,348)
17. Thorsten Schafer ($25,348)
18. Chris Moorman ($25,348)
19. Takashi Ogura ($20,129)
20. Mike Matusow ($20,129)
21. Jennifer Tilly ($20,129)
22. Binh Nguyen ($20,129)
23. Marco Traniello ($20,129)
24. Noah Schwartz ($20,129)
25. Nenad Medic ($20,129)
26. Steve Gross ($20,129)
27. Darren Kramer ($20,129)

ESPN.com
Andrew Feldman is ESPN.com's Poker Editor. He is the host of the Poker Edge Podcast and co-host of ESPN Inside Deal. Andrew has covered the poker industry for ESPN since 2004.
SPONSORED HEADLINES
MORE POKER HEADLINES
MOST SENT STORIES ON ESPN.COM
World Series of Poker Coverage

ESPN.com's poker team is bringing you all the action from the 2011 World Series of Poker.
Poker Home
STORIES
VIDEO
RESULTS AND SCHEDULE
POKER EDGE PODCAST
CHATS