Commentary
Another Russian star is born in Event 11
It's been a trend for the past few years at the World Series of Poker that a formerly unknown Russian player comes in and immediately finds success. Following in the footsteps of Alexander Kravchenko, Vladimir Shchemelev and Vitaly Lunkin, it's time for the poker world to meet Viacheslav Zhukov, the champion of Event 10, the $10,000 buy-in Omaha high-low split eight-or-better world championship. The 22-year-old professional poker player defeated a tough field of 202 players to earn $465,216 for his first WSOP cash and his first WSOP bracelet.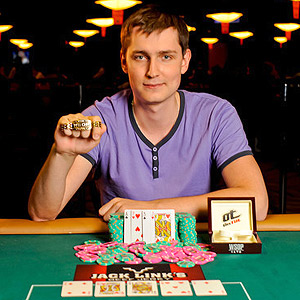 Courtesy of WSOPViacheslav Zhukov is the fourth Russian poker player to win a WSOP bracelet.
Zhukov's path to victory started off pretty poorly, as he was down to just 2,000 in chips from the starting stack of 30,000 in early Day 1 action. He maintained his composure, pulled himself together and went on a run to remember.
"I lost about 14 pots in a row," he said of his early play. "I was ready to go out. Nothing went my way. But I was patient and I started to get chips. I finished the day at 30,000 and then started to move [on Day 2]."
By earning this title, Zhukov became the fourth Russian player in history to earn WSOP gold. Zhukov believes there's many more to come.
"I think a lot of Russian players can't get here because they are under 21," Zhukov said. "But there are a lot of good players. Russian poker is really coming up and you will see a lot of big wins. In one or two years, more will come [to the WSOP]."
This is Zhukov's second major victory on the felt. He previously won the $3,000 buy-in six-handed tournament at EPT Kiev in 2009. He also plays online, something that he states has influenced more young Russians to play poker over chess.
Zhukov defeated online dynamo George Lind for the title. Lind held a slight edge as heads-up play began, but Zhukov scooped (winning both the high and the low) a few key hands and was able to turn the tables and apply pressure. Steve Billirakis, who won his first bracelet in 2007, finished in third. He now has two cashes this WSOP; his other being his Round of 16 elimination in the $25,000 heads-up world championship.
Other notable finishers included Mikael Thuritz (eighth), Josh Arieh (ninth), Alessio Isaia (12th) and Jason Mercier (27th). Poker Hall of Famer Mike Sexton finished in 15th and has now cashed at the WSOP in 23 consecutive years.
Below are the complete results of Event 11 at the 2011 World Series of Poker:
Event 11: Omaha high-low split eight-or-better world championship
Buy-in: $10,000
Entries: 202
Prize pool: $1,898,800
Players in the money: 27

1. Viacheslav Zhukov ($465,216)
2. George Lind ($287,554)
3. Steve Billirakis ($214,697)
4. Richard Ashby ($161,379)
5. Mack Lee ($122,054)
6. Guillaume Rivet ($92,908)
7. Jason Steinberg ($71,148)
8. Mikael Thuritz ($54,837)
9. Josh Arieh ($42,514)
10. Todd Barlow ($33,172)
11. Kirill Gerasimov ($33,172)
12. Alessio Isaia ($33,172)
13. Michael Chow ($26,108)
14. Brendan Taylor ($26,108)
15. Mike Sexton ($26,108)
16. Mikhail Tulchinskiy ($20,564)
17. Perry Green ($20,564)
18. Shaun Deeb ($20,564)
19. Fabrizio Gonzalez ($16,329)
20. Freddy Deeb ($16,329)
21. Eric Buchman ($16,329)
22. Jim Grove ($16,329)
23. Christopher George ($16,329)
24. Amnon Filippi ($16,329)
25. Raymond Dehkarghani ($16,329)
26. Damjan Radanov ($16,329)
27. Jason Mercier ($16,329)

ESPN.com
Andrew Feldman is ESPN.com's Poker Editor. He is the host of the Poker Edge Podcast and co-host of ESPN Inside Deal. Andrew has covered the poker industry for ESPN since 2004.
World Series of Poker Coverage

ESPN.com's poker team is bringing you all the action from the 2011 World Series of Poker.
Poker Home
STORIES
VIDEO
RESULTS AND SCHEDULE
POKER EDGE PODCAST
CHATS