Commentary
Twist of fate leads Rast to WSOP win
Panorama Towers is an apartment building in Las Vegas that many professional poker players call their home. Some of the best poker minds in the world live and discuss the game there, just a few minutes away from the Rio, including Brian Rast and Antonio Esfandiari. According to the World Series of Poker, the two unexpectedly bumped into each other Thursday morning, just prior to the start of WSOP Event 15, the $1,500 pot-limit hold 'em event. Rast was planning on passing on the event as he had just returned from a trip to Brazil, but Esfandiari would have none of it and offered to back him. Fast forward just a few days, and on Sunday, the two would celebrate Rast's first WSOP bracelet.
[+] Enlarge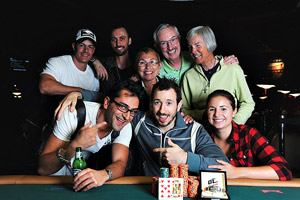 WSOP Brian Rast won his first WSOP bracelet in Event 15, pot-limit hold 'em.
Rast defeated Allen Kessler for the bracelet in a heads-up battle of two talented players without WSOP gold.
"I haven't been a hardcore tournament player during my career," said Rast after the win. "But at this point after seven years, I've racked up a decent number of tournaments between the $10,000 WPTs and WSOP events. So yeah, it means a lot to me that I was finally able to take one down. … It's different because you're almost always disappointed in a tournament, unless you win. … It's not really about the money. I like winning the money, but for this tournament the bracelet really does mean a lot. It's something I've finally accomplished in my poker career. I feel like I'm pretty well known in the poker community of professionals who respect my game, but now maybe people who haven't heard will recognize me. I think respect from your peers is pretty important and everyone wants respect from people within their profession and a bracelet kind of gives you that recognition."
There's little doubt that at this point, Rast has earned the respect. Throughout his live career, he has earned just under $1 million in earnings and online, while tournaments have provided him with a couple hundred thousand more. On top of all of that Rast is truly a cash-game stud. He plays in the high stakes games and the $227,232 he earned from this title is hardly the biggest payday of his career. Including this event, Rast now has six WSOP cashes for a total of $506,553.
Kessler earned $140,309 for his runner-up performance. The poker tournament circuit regular, who owns the WSOP record for cashing in seven different poker disciplines in 2010, jokingly commented on Twitter how the final hand played out, saying "Who would have thought that a supernit like me would lose a WSOP bracelet going all in with 3-5 of clubs?"
On that final hand, Rast flopped a flush while Kessler hit two pair. Kessler moved all-in and Rast, holding the nuts, instantly made the call.
Also making the final table was Ali Eslami, who finished in sixth-place. It was his second final table of the WSOP and third cash. In 2011, Eslami has $761,341 in tournament earnings. WSOP Europe main event third-place finisher Ronald Lee finished in ninth.
Other notable finishers included two members of the 2010 WSOP main event final table John Racener (39th) and John Dolan (71st), as well as Christian Harder (17th) and Randall Flowers (19th).
Below are the complete results of Event 15 at the 2011 World Series of Poker:
Event 15: Pot-limit hold 'em
Buy-in: $1,500
Entries: 765
Prize pool: $1,032,750
Players in the money: 72

1. Brian Rast ($227,232)
2. Allen Kessler ($140,309)
3. Dajuan Whorley ($91,212)
4. Daisuke Endo ($66,994)
5. Mika Paasonen ($49,902)
6. Ali Eslami ($37,654)
7. John Gordon ($28,741)
8. Ted Lawson ($22,183)
9. Ronald Lee ($17,298)
10. Andrew Cohen ($13,601)
11. Elias Brussianos ($13,601)
12. Jeremy Vaughn ($13,601)
13. Tommy Felice ($10,864)
14. Ariel Celestino ($10,864)
15. Nick Davies ($10,864)
16. Charles Ritchie ($8,685)
17. Christian Harder ($8,685)
18. David Mercer ($8,685)
19. Randall Flowers ($7,043)
20. Eric Ladny ($7,043)
21. Luke Marsh ($7,043)
22. Bradley Craig ($7,043)
23. James Carroll ($7,043)
24. Walter Harris ($7,043)
25. Christopher DeMaci ($7,043)
26. Mickey Petersen ($7,043)
27. Stewart Newman ($7,043)
28. Mikhail Lakhitov ($5,783)
29. Joe Baldwin ($5,783)
30. Marek Blasko ($5,783)
31. Benjamin Robinson ($5,783)
32. Derek Palmer ($5,783)
33. Sean Nolan ($5,783)
34. Balazs Botond ($5,783)
35. Matthew Emmel ($5,783)
36. Stephen O'Dwyer ($5,783)
37. David Minto ($4,802)
38. Kurt Maier ($4,802)
39. John Racener ($4,802)
40. Justin Daley ($4,802)
41. Karlo Lopez ($4,802)
42. Gerard Denham ($4,802)
43. Andrew Teng ($4,802)
44. Barry Wiedemann ($4,802)
45. Nick Brancato ($4,802)
46. Kirill Rabtsov ($4,027)
47. Benjamin Maerefat ($4,027)
48. Jason Newburger ($4,027)
49. Hoyt Corkins ($4,027)
50. Gordon Collins ($4,027)
51. ALessio Isaia ($4,027)
52. Dennis Jeffrey ($4,027)
53. Cyriel Dohmen ($4,027)
54. Jeff Kimber ($4,027)
55. Matt Widdoes ($3,408)
56. Jonathon Poche ($3,408)
57. K.U. Davis ($3,408)
58. Michael Leah ($3,408)
59. Jeff Sluzinski ($3,408)
60. Joe Sebok ($3,408)
61. Evan Lamprea ($3,408)
62. Matthew Hawrilenko ($3,408)
63. Tommy Vinas ($3,408)
64. Davidi Kitai ($2,912)
65. John Louis ($2,912)
66. Donald Boivin ($2,912)
67. Jeff Hakim ($2,912)
68. Stuart Marshak ($2,912)
69. Simon Charette ($2,912)
70. Richard Chase ($2,912)
71. John Dolan ($2,912)
72. Daniel Hirleman ($2,912)

ESPN.com
Andrew Feldman is ESPN.com's Poker Editor. He is the host of the Poker Edge Podcast and co-host of ESPN Inside Deal. Andrew has covered the poker industry for ESPN since 2004.
World Series of Poker Coverage

ESPN.com's poker team is bringing you all the action from the 2011 World Series of Poker.
Poker Home
STORIES
VIDEO
RESULTS AND SCHEDULE
POKER EDGE PODCAST
CHATS
MOST SENT STORIES ON ESPN.COM