Commentary
Canadian Radoja wins WSOP shootout
The growth and development of online poker affected all aspects of the poker industry. During its early boom, online players flooded to the sit-and-go tournaments that offered nine players (or however many were at one single table) the chance to compete in a one-table freezeout. Sit-and-go strategy sites and books flooded the market and the WSOP bought into the trend and offered their first shootout in 2002.
[+] Enlarge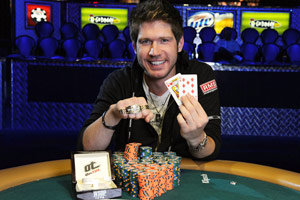 WSOPMark Radoja won the $5,000 shootout at the 2011 WSOP.
Event 24, the $5,000 no-limit hold 'em shootout, offers three rounds of play where the winner of each table advances to the next round. Mark Radoja, a 25-year-old self-described "Sit-and-go grinder" from Guelph, Ontario, won the event and $436,568. This was Radoja's first bracelet, second final table and ninth cash at the WSOP in the past five years. He was the second Canadian to win a WSOP bracelet in 2011.
"You will not find a tougher $5,000 or lower buy-in field for the World Series or anywhere else in the world than this one," he said. "This was the best field ever assembled for a tournament like this. You can ask anyone in it … the final table was tough [too]. I was fortunate, because two of the best players went out early. You have to catch cards at the right time. Looking back, I have no regrets about decisions I made. But you have to get lucky too, along the way. I played my best, got lucky at times, and here I am."
Radoja's biggest challenge came in the second round of the shootout when he was heads-up against Yasuhiro Waki. He had Waki nearly down to the felt with a 11-to-1 chip lead, but the roles were then reversed and Radoja was on the ropes. One critical flip ended their battle, with Radoja hitting a six-outer on the river to advance to the final table.
"I would say no one has ever had a heads-up match like that before," he said. "I had him 550,000 to 50,000. Then, he had me 550,000 to my 50,000. I came back and won. At one point, he had flopped trips on an 8-8-6 board. He had A-8 and I had A-6. I ended up making the runner-runner flush, or I wouldn't even be here. There were so many incredible, mind-boggling things that happened when we were heads-up. It was definitely the most epic heads-up ever."
After finishing third in a $5,000 six-handed event in 2010, Radoja wouldn't let another opportunity pass him by. The final heads-up battle against Jeffrey Gross in this round was smoother. While Gross managed to double up one time, Radoja was in command most of the way and needed just over an hour of heads-up play to win the bracelet. Gross, who shares a residence with Olympic swimming star Michael Phelps, won $269,742 for finishing second. This was his seventh WSOP cash. His best previous finish was fifth-place showing in a $1,000 buy-in event in 2010.
The headliner at the final table was Sean Getzwiller, who won his first bracelet during the opening week of the WSOP and could've potentially been the first double-bracelet winner of 2011. His journey ended quickly on Day 3 as he was eliminated ninth out of the 10 players at the final table. The last round also included NAPT champion and 2010 CardPlayer Player of the Year Tom Marchese, Adam Junglen and Todd Terry.
Players who cashed by winning their first table included Erik Seidel, Gavin Smith and James Akenhead.
Below are the complete results of Event 24 at the 2011 World Series of Poker:
Event 24: No-limit hold 'em shootout
Buy-in: $5,000
Entries: 387
Prize pool: $1,818,900
Players in the money: 40

1. Mark Radoja ($436,568)
2. Jeffrey Gross ($269,742)
3. Nicolas Fierrogottner ($198,096)
4. Scott Baumstein ($146,639)
5. Adam Junglen ($109,406)
6. Nikita Lebedev ($82,287)
7. Todd Terry ($62,370)
8. Tom Marchese ($47,636)
9. Sean Getzwiller ($36,669)
10. Daniel Smith ($28,447)
11. Yasuhiro Waki ($13,368)
12. Kyle Frey ($13,368)
13. Nicholas Mitchell ($13,368)
14. Jordan Young ($13,368)
15. James Akenhead ($13,368)
16. Gavin Smith ($13,368)
17. Erik Seidel ($13,368)
18. J.P. Kelly ($13,368)
19. Alan Goehring ($13,368)
20. Thorsten Schafer ($13,368)
21. Justin Bonomo ($13,368)
22. Toby Lewis ($13,368)
23. Ben Tollerene ($13,368)
24. Gareth Teatum ($13,368)
25. Marc Inizan ($13,368)
26. Luke Staudenmaier ($13,368)
27. Gilbert Diaz ($13,368)
28. Jason Young ($13,368)
29. Dan O'Brien ($13,368)
30. Orson Young ($13,368)
31. Joseph Elpayaa ($13,368)
32. Jeff Williams ($13,368)
33. Chris Klodnicki ($13,368)
34. Matthew Berkey ($13,368)
35. Jeanfrancois Talbot ($13,368)
36. Christopher DeMaci ($13,368)
37. Tommy Vedes ($13,368)
38. Maxim Lykov ($13,368)
39. James Dempsey ($13,368)
40. Darren Kramer ($13,368)

ESPN.com
Andrew Feldman is ESPN.com's Poker Editor. He is the host of the Poker Edge Podcast and co-host of ESPN Inside Deal. Andrew has covered the poker industry for ESPN since 2004.
SPONSORED HEADLINES
MORE POKER HEADLINES
MOST SENT STORIES ON ESPN.COM
World Series of Poker Coverage

ESPN.com's poker team is bringing you all the action from the 2011 World Series of Poker.
Poker Home
STORIES
VIDEO
RESULTS AND SCHEDULE
POKER EDGE PODCAST
CHATS