Commentary
Viox stops Sexton to win Event 25
Chris Viox almost had everything going for him at the final table of Event 25, a $1,500 seven-card stud high-low split eight-or-better event. He had the momentum and the chips, but the crowd at the Rio just wasn't in his corner. Across the table from Viox was poker's greatest ambassador and hall of famer Mike Sexton, who was searching for his second bracelet. Despite the crowd support, Sexton was always the one on the ropes as Viox played tremendously well throughout the final table to build up a huge, and seemingly insurmountable, chip lead. After the two players returned on Day 4 (after the WSOP's hard-stop rule was enforced on Day 3), Viox quickly put an end to Sexton's quest and won his first World Series of Poker bracelet.
[+] Enlarge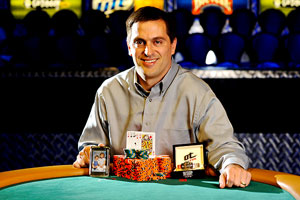 PokerNews/WSOPChris Viox defeated Mike Sexton heads-up to win his first WSOP bracelet.
It was an early Father's Day present for the 35-year-old professional poker player from Glen Carbon, Ill., who had been waiting his career for his shining moment.
"It's a big relief to win," he said. "I had two third place finishes [at the WSOP]. On one, I had over half the chips in play when we were three-handed. In the other one, I took four or five bad beats … so it's a really big relief to finally win it."
Viox earned $200,459 for the victory, the biggest cash of his poker career. He has 13 lifetime WSOP cashes in the past six years at the WSOP and one WSOP Circuit title.
"You dream about a [winning] moment like that, but you do not know how you are going to react," said Viox regarding his instant emotional response after the final hand. "I thought I would remain calm, and I did afterward, but during that one instant, I had a burst of energy."
Sexton earned $123,925 for second-place and has cashed at the WSOP for 24 consecutive years. His first bracelet came in the same event in 1989.
"You have to play your best and just accept what happens," said Sexton. "I could have gone out when there were three tables left, or whenever. So, you have to step back and look at it and say, 'I'm proud of the way I played.' But when you get so close, you want to win. Anyway, I had a great run and I'm going to try again next time."
This was Sexton's 50th career WSOP cash, totaling more than $1 million in earnings. His duties as the announcer for the World Poker Tour have continued to keep him in the public spotlight, but he wasn't the only commentator who made a deep run in this event. ESPN's own Norman Chad finished in 12th place for his second career WSOP cash and $10,676. The two played at the table together on Day 3.
Other notable finishers include 2010 WSOP Player of the Year Frank Kassela (20th), Jeff Madsen (36th) and Scott Clements (50th).
Below are the complete results of Event 25 at the 2011 World Series of Poker:
Event 25: Seven-card stud high-low eight-or-better
Buy-in: $1,500
Entries: 606
Prize pool: $818,100
Players in the money: 56

1. Chris Viox ($200,459)
2. Mike Sexton ($123,925)
3. Gerard Rechnitzer ($77,097)
4. Hakon Lundberg ($55,917)
5. Tyson Marks ($40,782)
6. Cory Zeidman ($30,228)
7. Sean Urban ($22,767)
8. Hernan Salazar ($17,417)
9. David Warga ($13,531)
10. Tony Ma ($13,531)
11. Christopher Mchugh ($10,676)
12. Norman Chad ($10,676)
13. Kirill Gerasimov ($8,549)
14. Marc Fluss ($8,549)
15. Cyndy Violette ($6,945)
16. James Wheatley ($6,945)
17. John Pappas ($5,726)
18. Brian Twete ($5,726)
19. Filippos Stavrakis ($5,726)
20. Frank Kassela ($5,726)
21. Ming Reslock ($5,726)
22. Kristy Gazes ($5,726)
23. Karina Jett ($5,726)
24. Kevin Calenzo ($5,726)
25. Zak Gilbert ($4,794)
26. Jack Rosenfeldt ($4,794)
27. James Bucci ($4,794)
28. Sam Feinberg ($4,794)
29. Ron Fast ($4,794)
30. Steve Hohn ($4,794)
31. Donald Olivas ($4,794)
32. Joseph Spinali ($4,794)
33. Larry Stjean ($4,065)
34. Noah Boeken ($4,065)
35. Shane Giese ($4,065)
36. Jeff Madsen ($4,065)
37. Unknown ($4,065)
38. Hadwen Coughlin ($4,065)
39. Pawel Andrzejewski ($4,065)
40. Nikolai Yakovenko ($4,065)
41. Alex Kravchenko ($3,526)
42. Ryon Nicholson ($3,526)
43. John Cernuto ($3,526)
44. Edmond Schwartz ($3,526)
45. Michael Leah ($3,526)
46. Jonathan Vuong ($3,526)
47. Peter Moore ($3,526)
48. David Levi ($3,526)
49. Artie Cobb ($3,051)
50. Samuel Clements ($3,051)
51. Yuval Bronshtein ($3,051)
52. Dutch Boyd ($3,051)
53. Ahmad Yaghoubi ($3,051)
54. Chris Bell ($3,051)
55. Michael Eckstut ($3,051)
56. Mark Bershad ($3,051)

ESPN.com
Andrew Feldman is ESPN.com's Poker Editor. He is the host of the Poker Edge Podcast and co-host of ESPN Inside Deal. Andrew has covered the poker industry for ESPN since 2004.
SPONSORED HEADLINES
MORE POKER HEADLINES
MOST SENT STORIES ON ESPN.COM
World Series of Poker Coverage

ESPN.com's poker team is bringing you all the action from the 2011 World Series of Poker.
Poker Home
STORIES
VIDEO
RESULTS AND SCHEDULE
POKER EDGE PODCAST
CHATS