Commentary
Ten games no problem for Chris Lee
For the first time in World Series of Poker history, the 2011 schedule offered a 10-game mixed event. In this innovative event, 10 games (no-limit hold 'em, razz, limit hold 'em, Badugi, seven-card stud, no-limit 2-7 draw lowball, Omaha high-low split, pot-limit Omaha, 2-7 triple draw lowball and seven card stud high-low split eight-or-better) would challenge the field with hopes of determining who is the best all-around player. Although not a mixed-game specialist, Chris Lee accepted the challenge of the $2,500 buy-in event and emerged with his first bracelet and $254,955.
[+] Enlarge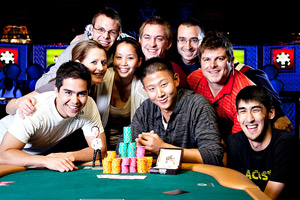 Courtesy of PokerNews/WSOP After starting off the 2011 WSOP cashless in his first 10 events, Chris Lee turned it around with a victory in Event 29.
Early Monday morning, Lee made it back-to-back bracelets for Duke alumni, as he joined Andy Frankenberger with a bracelet win. Lee previously was an online sit-and-go specialist and had entered the WSOP for the past three years with no positive return. This year, he had entered 10 events prior to Event 29 and had failed to cash as well. The rough start has now turned into a great summer and he became the seventh player this WSOP to earn a victory as his first WSOP cash.
"It means a lot [to win]," said Lee. "I've been mostly an online player and I've had a decent amount of success on the internet, but I've been playing live tournaments on and off the last three years and I've never really had any success. … I was always busting out early and I was really starting to doubt myself. Was I really a good live player? But this summer I came out here planning to play a lot of events and really started off slow. This is my 11th event.
"This is my first cash and I'm actually not a mixed game player at all. I usually play just no-limit hold 'em and pot-limit Omaha. So a lot of these games are new to me, so I didn't go in with high expectations, but I ran really good all four days and I learned that in limit tournaments you have to get really lucky because the blinds get really big and you know. I thought I played really good and I'm really, really excited. It feels like I have a big monkey off my back."
One of the 10 games included in the rotation was Badugi, a game where players hope to make the lowest hand possible with each card being of a different suit. Lee said he had minimal experience playing the game besides two sessions at the Commerce Casino.
Perhaps the only player at the final table who had any sort of an edge in Badugi was fourth-place finisher Shaun Deeb. This was Deeb's fifth cash of the 2011 Series and 15th of his career. He earned $67,146 from this event and is having a career-best year on the live felt.
Also making the six-handed final table was former Nutrisystem CEO Brian Haveson. Haveson has 12 WSOP cashes among his numerous poker successes. He has $1.1 million in career earnings. Finishing in sixth was John D'Agostino, who cashed for the third time at the 2011 WSOP. D'Agostino finished 17th in the WSOP's eight-game event in 2010.
Given the recent surge of mixed-game activity across the world, it was no surprise to see a turnout of 431 players in this event. The eight-game mixed event had a slightly bigger field of 489 players.
Other notable finishers include David Benefield (15th), Brandon Adams (21st) and Daniel Alaei (23rd).
Below are the complete results of Event 29 at the 2011 World Series of Poker:
Event 29: 10-game mix
Buy-in: $2,500
Entries: 431
Prize pool: $980,525
Players in the money: 42

1. Chris Lee ($254,955)
2. Brian Haveson ($157,491)
3. Travis Pearson ($101,258)
4. Shaun Deeb ($67,146)
5. Kendall Fukumoto ($45,839)
6. John D'Agostino ($32,200)
7. Kevin Chance ($23,248)
8. Don McNamara ($23,248)
9. David Whitis ($17,237)
10. Josh Weiland ($17,237)
11. Tad Jurgens ($13,119)
12. Septi Popescu ($13,119)
13. Roland Isra ($10,246)
14. Daniel Makowsky ($10,246)
15. David Benefield ($10,246)
16. Jason Stern ($10,246)
17. Scott Bohlman ($10,246)
18. Matt Vengrin ($10,246)
19. Brian Powell ($8,197)
20. Jared Davis ($8,197)
21. Brandon Adams ($8,197)
22. Shawn Buchanan ($8,197)
23. Daniel Alaei ($8,197)
24. Ali Sarkeshik ($8,197)
25. Sam Silverman ($6,726)
26. Chris Wallace ($6,726)
27. Freddy Deeb ($6,726)
28. Lyle Berman ($6,726)
29. Brent Roberts ($6,726)
30. Ron Ware ($6,726)
31. Meikle Partin ($5,716)
32. Steve Sung ($5,716)
33. Eric Sclavos ($5,716)
34. Marco Traniello ($5,716)
35. Jim McCrink ($5,716)
36. Brandon Demes ($5,716)
37. David Stroj ($4,853)
38. Cyndy Violette ($4,853)
39. Jeff Kahntroff ($4,853)
40. John Cernuto ($4,853)
41. Michael Wattel ($4,853)
42. Travis Erdman ($4,853)

ESPN.com
Andrew Feldman is ESPN.com's Poker Editor. He is the host of the Poker Edge Podcast and co-host of ESPN Inside Deal. Andrew has covered the poker industry for ESPN since 2004.
World Series of Poker Coverage

ESPN.com's poker team is bringing you all the action from the 2011 World Series of Poker.
Poker Home
STORIES
VIDEO
RESULTS AND SCHEDULE
POKER EDGE PODCAST
CHATS