Commentary
Stein's streak continues with bracelet
In 2009, the poker world was introduced to a young, easy-going player named Sam Stein. That year he earned eight cashes, including one at the World Series of Poker and a final table at the WPT Legends of Poker. At the same time, "KingKobeMVP" was crushing the online felt with a victory in the PokerStars 500, final tables at SCOOP and deep runs in FTOPS events. Quietly, Stein was approaching stardom.
In 2010, Stein officially hit the radar of poker fans everywhere as he made six live final tables, two televised, and earned nearly $1 million in live earnings. At one of those final tables, at the NAPT Venetian, Stein gave up a solid chip lead heads-up to Tom Marchese and watched for the past year as Marchese would rise to poker prominence. When would it be his turn?
The calendar changed to 2011 and Stein finished fourth in the PCA main event for $1 million. Just weeks ago, he notched his first WSOP final table with a third-place finish in Event 7. He had everything going for him … but the win.
[+] Enlarge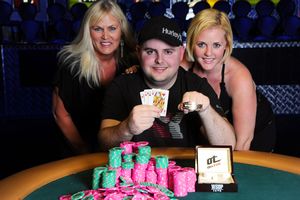 Courtesy of PokerNews/WSOPAfter numerous runner-up finishes in other tournaments, Sam Stein won his first major and first bracelet in WSOP Event 31.
On Monday, Stein remedied that situation. After securing his second final table of the Series in the $3,000 pot-limit Omaha Event 31, Stein defeated Ben Lamb to win his first WSOP bracelet and $420,802. After a long final table that was minutes away from the day's hard stop time, the 23-year-old poker professional would finish the job to emerge on top of the field of 685 players. His reaction on Twitter: "I just won a WSOP bracelet? Cool."
Lamb has had multiple deep runs at the WSOP, including a 14th-place finish in the 2009 WSOP main event. He has nearly $1.5 million in career live earnings and two WSOP final tables.
The nine-handed final table included many established pros, including Christian Harder, Adam Junglen and Brock Parker. This was Harder's first WSOP final table, 13th career cash and third of the 2011 WSOP. Harder, who finished fourth, has had successes around the world that amount to $1.8 million in life earnings. For the second time in a week, Junglen made a WSOP final table and was hoping to be the second PokerVT instructor to claim gold after Jason Somerville. After finishing fifth in the $5,000 shootout, Junglen rebounded for a fifth-place finish in this event and the two cashes combined resulted in more than $200,000 in earnings. Parker was a double-bracelet winner during the 2009 WSOP and followed his success up in 2010 with a final table in the limit hold 'em championship. This seventh-place result was his first cash of the 2011 Series and second of the year.
Other notable finishers include Tex Barch (11th), Jeffrey Lisandro (35th) and Joe Hachem (50th).
Below are the complete results of Event 31 at the 2011 World Series of Poker:
Event 31: Pot-limit Omaha
Buy-in: $3,000
Entries: 3,752
Prize pool: $1,870,050
Players in the money: 396

1. Sam Stein ($420,802)
2. Ben Lamb ($259,918)
3. Warren Fund ($184,368)
4. Christian Harder ($132,623)
5. Adam Junglen ($96,737)
6. Zimnan Ziyard ($71,548)
7. Brock Parker ($53,633)
8. Austin Scott ($40,748)
9. Dilyan Kovachev ($31,360)
10. Tex Barch ($24,441)
11. Romik Vartzar ($24,441)
12. Jeremy Harkin ($24,441)
13. Andrew Chen ($19,429)
14. Dallas Wottlin ($19,429)
15. Henning Dethlefsen ($19,429)
16. Gabor Gyarmati ($15,446)
17. Rami Boukai ($15,446)
18. Johnathan Cuevas ($15,446)
19. Ismail Abou Sharkh ($12,510)
20. Tommy Le ($12,510)
21. Jens Hansen ($12,510)
22. Kory Kilpatrick ($12,510)
23. Jeanphilippe Leandri ($12,510)
24. Joshua Gibson ($12,510)
25. Tsubasa Manabe ($12,510)
26. Benjamin Keiley ($12,510)
27. Brian Mogeleffky ($12,510)
28. Emmanuel Sebag ($10,247)
29. Alessandro Chiarato ($10,247)
30. Roger Hairabedian ($10,247)
31. Gabe Patgorski ($10,247)
32. Carsten Joh ($10,247)
33. Ruben Levy ($10,247)
34. Millard Hale ($10,247)
35. Jeffrey Lisandro ($10,247)
36. Chris Back ($10,247)
37. Thomas Rice ($8,508)
38. Cory Wood ($8,508)
39. Jussi Jaatinen ($8,508)
40. Andrew Rosskamm ($8,508)
41. Eli Elezra ($8,508)
42. Joseph Ressler ($8,508)
43. Christopher Landgraff ($8,508)
44. Inesa Paberzs ($8,508)
45. Tyler Patterson ($8,508)
46. Paul Volpe ($7,143)
47. Matt Sterling ($7,143)
48. Sonu Sharma ($7,143)
49. Tony Cousineau ($7,143)
50. Joe Hachem ($7,143)
51. Karen Longfellow ($7,143)
52. Douglas Meyer ($7,143)
53. Brian Roberts ($7,143)
54. Joe Gualtieri ($7,143)
55. Alber Hanna ($6,077)
56. Ricardo Furuguem ($6,077)
57. Philip Cordano ($6,077)
58. Bryce Yockey ($6,077)
59. Bryn Kenney ($6,077)
60. Mitch Schock ($6,077)
61. Bjorn Verbakel ($6,077)
62. Vladislav Vashtai ($6,077)
63. Dan Heimiller ($6,077)

ESPN.com
Andrew Feldman is ESPN.com's Poker Editor. He is the host of the Poker Edge Podcast and co-host of ESPN Inside Deal. Andrew has covered the poker industry for ESPN since 2004.
World Series of Poker Coverage

ESPN.com's poker team is bringing you all the action from the 2011 World Series of Poker.
Poker Home
STORIES
VIDEO
RESULTS AND SCHEDULE
POKER EDGE PODCAST
CHATS