Commentary
Jason Mercier wins second bracelet
If there has been one player from poker's "younger generation" who has consistently stood out from the crowd, it's Jason Mercier. Early Thursday morning, Mercier continued his incredible run by winning his second World Series of Poker bracelet in the $5,000 six-handed pot-limit Omaha event, besting a field of 507 players. Along with his second piece of WSOP hardware, Mercier earned $619,575 in prize money and, at age 24, has now eclipsed the $6 million mark on the live felt. He also is known for his incredible cash-game prowess and dominating online abilities, making him one of the best all-around players in the world.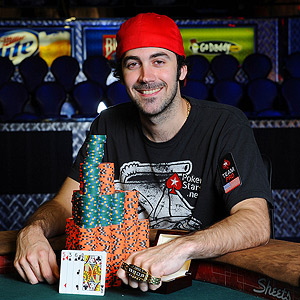 PokerNews/WSOPJason Mercier won his second WSOP bracelet in Event 35.
This was the first time a six-handed pot-limit Omaha was ever held at the WSOP and, as expected, it played out in an extremely aggressive fashion. Mercier's surge to the top came at the beginning of Day 3. He eliminated Peter Jetten and David "Devilfish" Ulliott on the same hand as he turned a straight to win the 1.3 million-chip pot, the largest pot of the tournament at that time. The final two tables played out quickly and Mercier entered the final table with the chip lead and maintained one of the top stacks throughout.
Mercier's win in pot-limit Omaha was the second of his WSOP career in that discipline. His first win came in the $1,500 pot-limit Omaha event in 2009 when he defeated 809 players.
"It's important to me for people to think I am one of the best," said Mercier, ESPN.com's third-ranked player. "I think I am getting to that level, if I am not already there. Obviously, winning tournaments and winning bracelets just adds to that. I feel like if I win a third one, it will do even more for me. I'm ready to play in as many World Series events as I can to get as many gold bracelets as I can."
As Gary Wise predicted before the start of the WSOP, Mercier has been very active and was listed by the WSOP as one of the players who has entered the most events so far this Series. His attempts have been rewarded, though, with four cashes and two final tables. He previously finished seventh in the 2-7 lowball Event 9.
"Winning is not expected," he said. "Putting myself in a position to win is always expected. Being able to close the job when I get there just makes me more confident as I move forward. I expect to make deep runs, and eventually win some tournaments, but I don't expect to show up at every tournament expecting to win."

Mercier's résumé speaks for itself. All four years of his live career have resulted in at least seven figures of prize money. He was the 2008 EPT San Remo Champion, finished fourth in the WSOP Europe main event in 2009 and has earned numerous high roller titles, including back-to-back victories at NAPT Mohegan in 2010 and 2011. He also won a WCOOP Event in 2010. If playing great poker wasn't profitable enough, Mercier is a backer who has profited during the 2011 WSOP thanks to numerous big cashes, including Allen Bari's win in Event 4.

"When Allen [Bari] won, that was one of the biggest rushes I've ever had," he said. "It's awesome and fun to see your friends win, especially if you have a financial interest in how they do."

Mercier defeated Hans Winzeler after a two-hour heads-up match. The second-place score by Winzeler, 25, is the highest in WSOP history by any player from Nicaragua.

The final table also offered some great play by David Chiu, the eventual fourth-place finisher who was looking to win his fifth WSOP bracelet, and Michael "Timex" McDonald, who at 21 was making his first WSOP cash after running over Europe for $2.7 million in earnings over the past few years.

Other notable finishers include Chris Moorman (11th), Tom Dwan (16th), Erick Lindgren (17th) and Vanessa Selbst (18th).

Below are the complete results of Event 35 at the 2011 World Series of Poker:

Event 35: Six-handed pot-limit Omaha
Buy-in: $5,000
Entries: 507
Prize pool: $2,382,900
Players in the money: 48


1. Jason Mercier ($619,575)
2. Hans Winzeler ($383,075)
3. Steven Merrifield ($239,100)
4. David Chiu ($156,628)
5. Joseph Ressler ($105,967)
6. Michael McDonald ($73,965)
7. Gregory Brooks ($53,210)
8. David Callaghan ($53,210)
9. Robert Fellner ($39,413)
10. Jared Bleznick ($39,413)
11. Chris Moorman ($30,024)
12. Daniel Fuhs ($30,024)
13. David Ulliott ($23,519)
14. Peter Jetten ($23,519)
15. Shawn Bennani ($23,519)
16. Tom Dwan ($23,519)
17. Erick Lindgren ($23,519)
18. Vanessa Selbst ($23,519)
19. Robert Shortway ($18,920)
20. Emil Patel ($18,920)
21. Kevin Murphy ($18,920)
22. Bror Kivelio ($18,920)
23. Andreas Krause ($18,920)
24. Will Failla ($18,920)
25. Christopher DeMaci ($15,631)
26. Jeffrey Lisandro ($15,631)
27. Stefan Rapp ($15,631)
28. Micah Smith ($15,631)
29. Tommy Le ($15,631)
30. John Kabbaj ($15,631)
31. Layne Flack ($13,248)
32. Jani Sointula ($13,248)
33. Ryan Dellazizzo ($13,248)
34. Tony Cousineau ($13,248)
35. Gregory Bastin ($13,248)
36. Steven Burkholder ($13,248)
37. Isaac Baron ($11,652)
38. David Benefield ($11,652)
39. Hac Dang ($11,652)
40. Jordan Cairns ($11,652)
41. Jamie Rosen ($11,652)
42. Gary Pollak ($11,652)
43. Roland Israelashvili ($10,246)
44. Jesper Hougaard ($10,246)
45. Karen Sarkisyan ($10,246)
46. Markus Ristola ($10,246)
47. Joseph Cheong ($10,246)
48. Blaz Svara ($10,246)

ESPN.com

Andrew Feldman is ESPN.com's Poker Editor. He is the host of the Poker Edge Podcast and co-host of ESPN Inside Deal. Andrew has covered the poker industry for ESPN since 2004.
SPONSORED HEADLINES
MORE POKER HEADLINES
MOST SENT STORIES ON ESPN.COM
World Series of Poker Coverage

ESPN.com's poker team is bringing you all the action from the 2011 World Series of Poker.
Poker Home
STORIES
VIDEO
RESULTS AND SCHEDULE
POKER EDGE PODCAST
CHATS