Commentary
Soulier wins HORSE championship
Fabrice Soulier is now the proud owner of one of the most prestigious bracelets of the 2011 WSOP. The 42-year-old professional poker player defeated the 240-player field in the $10,000 HORSE world championship to emerge with his first WSOP victory and $609,130. Soulier had been waiting for his moment and six years after making his first WSOP final table, he finally completed his quest for WSOP gold.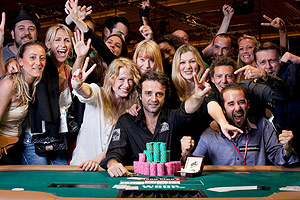 PokerNews/WSOPFabrice Soulier has $3.2 million in lifetime live career earnings.
Before poker, Soulier was actively involved in France's film and television industry. He directed award-winning TV shows and while it may seem glamorous, Soulier tired of the industry and took a year off to try and play poker professionally. Sure enough he became one of France's top players and with this victory, became the third French champion of the 2011 WSOP joining Bertrand Grospellier and Elie Payan. This was Soulier's 10th major tournament win.
"I feel very emotional right now," he said after his victory. "I almost cried when I won. I had to hold back my tears. I feel great. This is the best day of my poker career, by far."
That career has encompassed eight six-figure cashes and $3.2 million in career live earnings. He's made final tables on the World Poker Tour, Partouche Poker Tour and all over France and is now fourth all-time on France's money list. His success seems to come easy, but Soulier admitted he's often struggling to stay focused.
"I am very emotional as a player," he said. "It is very demanding for me. I have to control myself and work on this part of my game. In this tournament, I did pretty well. I went to yoga many times. I did meditation. It cooled me down a little bit and maybe it allowed me to win today."
Soulier defeated Shawn Buchanan heads-up when the two players returned on Day 4. Buchanan, perhaps one of the best players without a bracelet, has 22 WSOP cashes and $3.8 million in total earnings, $1.5 million of that amount coming from the WSOP. This was his second WSOP runner-up finish with his first coming in the prestigious $25,000 six-handed event in 2010.
The chip leader entering the final table was Tom Dwan. This was Dwan's first final table of the 2011 Series and third of his career, but his journey to that final table was anything but simple. He was one of the shortest stacks to begin action on Day 3 and quickly made his move to jump into the chip lead within the first two levels of play. The final table struggle ensued and Dwan, faced with numerous difficult decisions in stud-8 and razz, would be eliminated in fifth place. He earned $134,480, but had the opportunity to win much more if he were able to win a bracelet and cash in on his numerous bracelet bets.
Other notable finishers include Joe Cassidy (11th), Chau Giang (15th) and Daniel Alaei (24th).

Below are the complete results of Event 37 at the 2011 World Series of Poker:

Event 37: HORSE world championship
Buy-in: $10,000
Entries: 240
Prize pool: $2,256,000
Players in the money: 24


1. Fabrice Soulier ($609,130)
2. Shawn Buchanan ($376,458)
3. Andrey Zaichenko ($247,799)
4. Daniel Ospina ($180,750)
5. Tom Dwan ($134,480)
6. Matthew Ashton ($101,813)
7. Michael Binger ($78,328)
8. Jacobo Fernandez ($61,160)
9. Max Pescatori ($48,436)
10. Kyle Loman ($48,436)
11. Joe Cassidy ($38,916)
12. Ram Vaswani ($38,916)
13. Erik Sagstrom ($31,719)
14. Fu Wong ($31,719)
15. Chau Giang ($26,350)
16. Tommy Hang ($26,350)
17. Frankie O'Dell ($21,905)
18. John Monnette ($21,905)
19. Tom McCormick ($21,905)
20. Brett Richey ($21,905)
21. Yuval Bronshtein ($21,905)
22. Robert Williamson III ($21,905)
23. Chris Klodnicki ($21,905)
24. Daniel Alaei ($21,905)

ESPN.com
Andrew Feldman is ESPN.com's Poker Editor. He is the host of the Poker Edge Podcast and co-host of ESPN Inside Deal. Andrew has covered the poker industry for ESPN since 2004.
World Series of Poker Coverage

ESPN.com's poker team is bringing you all the action from the 2011 World Series of Poker.
Poker Home
STORIES
VIDEO
RESULTS AND SCHEDULE
POKER EDGE PODCAST
CHATS