Commentary
Schock wins mixed pot-limit event
It's often argued that a pot-limit event is tougher to win than a no-limit event. Pot-limit games offer players a change to the typical "all-in preflop fests" that we've become accustomed to and make players really prove they have what it takes during more strategic postflop play. In Event 39, the mixed pot-limit championship, players were challenged with both pot-limit hold 'em and pot-limit Omaha with the game changing each level. Mitch Schock, a 40-year-old professional poker player, had made 19 previous WSOP cashes, but his 20th was the sweetest yet as it came with a coveted WSOP bracelet.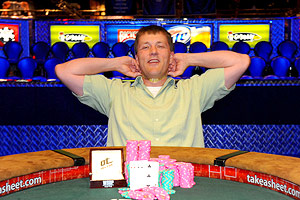 PokerNews/WSOPMitch Schock became the first person from North Dakota to win a WSOP bracelet.
Schock began playing professionally in 1996. His first WSOP cash was in 2005 and he made some incredible strides toward a bracelet over the past six years, including a third-place finish in a $1,500 HORSE event in 2009 and a 29th-place finish in the 2006 WSOP main event (worth $329,865). His previous results spoke volumes about his ability with cashes in a variety of games in a myriad of buy-in levels. His results typically fell under the radar, but there's no denying that Schock deserves respect as his performance in 2011 so far has put him in the race for WSOP Player of the Year.
His appearance at this event's final table was his third of the Series, with sixth- and eighth-place results in limit hold 'em events during the first two weeks. In addition to those accomplishments, he also just missed his fourth final table despite outlasting 3,132 players in Event 34 where he'd finish 12th. The secret to his success? A short hiatus away from the game.
"I actually got burned out earlier this year," he said. "So I took a few months off. I took a step back and then came back into it. I came to the World Series feeling confident that I was going to play as well as I have ever played before."
Schock joins all other bracelet winners in an elite club, but he's actually the founder of an even more elite club with a membership of only 1: WSOP champions from North Dakota.
"There are probably like 500 people following me online back in North Dakota," he said immediately after his victory. "I know a lot of different people in poker from many of the things I do. And so, I think I am the first player from North Dakota to win. There was a kid who is very good who came in second a few years ago, but I think I am the first. So, I am going to go back home with the gold bracelet and everyone is going to be patting me on the back …."
The first place prize of $310,225 was his second-largest payday of his career after the main event finish. Despite the two major six-figure scores, he still falls just short of joining the $1 million earnings club with $993,489 in live lifetime prize money.
Schock defeated first-time final table participant Rodney Brown for the title. The two battled for more than three hours and at one point, Brown was one card away from victory. The cards didn't comply for Brown and it was Schock who emerged with the bracelet.
Other notable finishers include Joseph Hachem (12th), David Baker (13th) and Scott Clements (14th).
Below are the complete results of Event 39 at the 2011 World Series of Poker:
Event 39: Mixed pot-limit hold 'em/pot-limit Omaha
Buy-in: $2,500
Entries: 606
Prize pool: $1,378,650
Players in the money: 63

1. Mitch Schock ($310,225)
2. Rodney Brown ($191,618)
3. Jan Collado ($135,921)
4. Carter Gill ($97,773)
5. Tyler Patterson ($71,317)
6. James Vanneman ($52,747)
7. David Lestock ($39,539)
8. Jonas Mackoff ($30,040)
9. Rami Boukai ($23,119)
10. Cameron New ($18,018)
11. Shawn Hattem ($18,018)
12. Joseph Hachem ($18,018)
13. David Baker ($14,324)
14. Scott Clements ($14,324)
15. Roger Hairabedian ($14,324)
16. Wilfried Harig ($11,387)
17. Carsten Joh ($11,387)
18. Nathan Wade ($11,387)
19. Eugene Du Plessis ($9,223)
20. Kyle Zartman ($9,223)
21. Claudio Rinaldi ($9,223)
22. Jens Hansen ($9,223)
23. Ryan Milisits ($9,223)
24. David Williams ($9,223)
25. Adam Junglen ($9,223)
26. Tom Schneider ($9,223)
27. Roger Easterday ($9,223)
28. Bryce Yockey ($7,555)
29. Jason potter ($7,555)
30. Joshua Budin ($7,555)
31. Cedric Adam ($7,555)
32. David Hedley ($7,555)
33. Scott Gledhill ($7,555)
34. Fabien Perrot ($7,555)
35. Frederic Bussot ($7,555)
36. Mark Rodoja ($7,555)
37. Siegfried Stockinger ($6,272)
38. Stewart Yancik ($6,272)
39. Humberto Brenes ($6,272)
40. Quinn Do ($6,272)
41. Attila Kovesi ($6,272)
42. Lee Grove ($6,272)
43. Mike Schneider ($6,272)
44. Karen Sarkisyan ($6,272)
45. Owais Ahmed ($6,272)
46. Dominykas Karmazinas ($5,266)
47. Darryll Fish ($5,266)
48. Konstantin Bucherl ($5,266)
49. Inesa Paberzs ($5,266)
50. Joshua Field ($5,266)
51. Stephen Chidwick ($5,266)
52. James Mitchell ($5,266)
53. Trevor Whiteway ($5,266)
54. Stephen Sola ($5,266)
55. Sharokh Sarrafzadeh ($4,480)
56. Ashkan Razavi ($4,480)
57. Moshin Charania ($4,480)
58. Robert Saltiel ($4,480)
59. Nessim Hadiji ($4,480)
60. Athipoo Phahurat ($4,480)
61. Peter Clark ($4,480)
62. Davidi Kitai ($4,480)
63. Jonas Entin ($4,480)

ESPN.com
Andrew Feldman is ESPN.com's Poker Editor. He is the host of the Poker Edge Podcast and co-host of ESPN Inside Deal. Andrew has covered the poker industry for ESPN since 2004.
World Series of Poker Coverage

ESPN.com's poker team is bringing you all the action from the 2011 World Series of Poker.
Poker Home
STORIES
VIDEO
RESULTS AND SCHEDULE
POKER EDGE PODCAST
CHATS