Commentary
Justin Pechie wins limit shootout
A field of 538 players turned out for the final shootout of the 2011 World Series of Poker - $1,500 limit hold 'em Event 41. Justin Pechie outlasted a tough final table which included 2011 bracelet winner Eugene Katchalov, Jordan Rich and Alan "BodogAri" Engel to earn his first WSOP bracelet. Pechie earned $167,060 for the victory.
"It means a lot [to win a bracelet]," he said. "But I must be honest that the money means more, because of the "Black Friday" thing. I have a bigger cushion to fall back on, with the uncertainty of online poker, but the gold bracelet does mean a lot to me."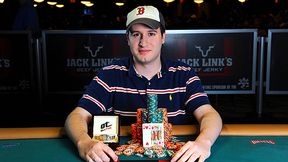 PokerNews/WSOPJustin Pechie won his first WSOP braclet in the limit hold 'em shootout.
The Putnam, CT poker whiz is a respected online poker player and had accumulated over $1.5 million on the virtual felt. After "Black Friday", he began to debate a move to Canada, but he decided that for one month, he'd head to Vegas and test his chops at the WSOP. The decision paid dividends and the shootout victory was his third cash of the 2011 Series and his 14th of his career. Out of the entire 58-event schedule, Pechie believed this event offered him one of his best chances at success.
"Shootouts are my favorite kind of tournament because there is more short-handed play throughout the tournament," he said. " That gives an edge to people who play short-handed. In a regular tournament, it's always a full ring game until you make it to the final table. The shootout format gives people who play short-handed well an edge."
This shootout consisted of three rounds where the player who defeated his table advanced to the next round. Each round of this shootout included a different number of players at table. The first round played nine-handed, the second round was six-handed and the final table consisted of 10 talented players.
Pechie is far from being a limit hold 'em specialist, but that game is where he found his live poker roots. He played at the $4/$8 limit hold 'em game at Foxwoods and gradually moved up in limits. He also played tournaments at Foxwoods and earlier this year, won a $1,375 buy-in "Deepstack" event, outlasting a field of 127 players. His very profitable online success came as "looshle" notched numerous big scores, including a $112,049 payout from a PokerStars Sunday Warm-Up.
Entering the final table, the attention was most definitely on the Event 5 champion Katchalov. With hopes of being the first double-bracelet winner of the '11 Series, Katchalov got off to a quick start and held the chip lead through a few eliminations and into the dinner break. Once the players returned, Pechie took over and won a key pot off of Katchalov that started his downward trend. Katchalov would ultimately finish in fourth.
Players who cashed by winning their first table included Hal Lubarsky, Brock Parker and Victor Ramdin. This was Ramdin's fifth cash of the '11 Series.
Below are the complete results of Event 41 at the 2011 World Series of Poker:
Event 41: Limit hold 'em shootout
Buy-in: $1,500
Entries: 606
Prize pool: $1,378,650
Players in the money: 60

1. Justin Pechie ($167,060)
2. Dale Eberle ($103,454)
3. Mathieu Jacqmin ($68,715)
4. Eugene Katchalov ($50,993)
5. Jordan Rich ($38,268)
6. Stephen Bass ($29,001)
7. Adam Tyburski ($22,173)
8. Dom Denotaristefani ($17,089)
9. Chris Kwon ($13,269)
10. Ari Engel ($10,378)
11. Hal Lubarsky ($4,118)
12. James Cohn ($4,118)
13. Noah Boeken ($4,118)
14. J.J. Liu ($4,118)
15. Brock Parker ($4,118)
16. Sergey Rybachenko ($4,118)
17. Dale Burner ($4,118)
18. Kirill Rabtsov ($4,118)
19. Leonardo Fernandez ($4,118)
20. Jeff Siegal ($4,118)
21. Karen Manfrede ($4,118)
22. Christopher Woodbury ($4,118)
23. Michele Limongi ($4,118)
24. Steven Hustoft ($4,118)
25. Randy Lew ($4,118)
26. Ricky Fohrenbach ($4,118)
27. Ha Pham ($4,118)
28. Luke Nettles ($4,118)
29. Matthew Schreiber ($4,118)
30. Eric Crain ($4,118)
31. Jameson Painter ($4,118)
32. Markus Herbel ($4,118)
33. David Speicher ($4,118)
34. Todd Witteles ($4,118)
35. Alexander Borteh ($4,118)
36. Richard Walter ($4,118)
37. Jason Wilson ($4,118)
38. Yegor Tsurikov ($4,118)
39. Matthew Leshonsky ($4,118)
40. Alexander Dovzhenko ($4,118)
41. Thomas Schulze ($4,118)
42. Al Riccobono ($4,118)
43. Brian Faber ($4,118)
44. Harrison Wilder ($4,118)
45. Matthew Elsby ($4,118)
46. Mark Rumbaugh ($4,118)
47. Jimmy Hinson ($4,118)
48. Diwei Huang ($4,118)
49. Ben Yu ($4,118)
50. Al Barbieri ($4,118)
51. Victor Ramdin ($4,118)
52. Iakov Nepomnyashchiy ($4,118)
53. Hoyt Corkins ($4,118)
54. Pawal Andrezejewski ($4,118)
55. Ivo Donev ($4,118)
56. Brian Tate ($4,118)
57. William Soffin ($4,118)
58. Columba Duffy ($4,118)
59. Randy Duffy ($4,118)
60. Sean Nguyen ($4,118)

ESPN.com
Andrew Feldman is ESPN.com's Poker Editor. He is the host of the Poker Edge Podcast and co-host of ESPN Inside Deal. Andrew has covered the poker industry for ESPN since 2004.
World Series of Poker Coverage

ESPN.com's poker team is bringing you all the action from the 2011 World Series of Poker.
Poker Home
STORIES
VIDEO
RESULTS AND SCHEDULE
POKER EDGE PODCAST
CHATS