Commentary
Ben Lamb defines bouncebackability
On June 20, Ben Lamb suffered the agony that came with a runner-up WSOP finish. He was heads-up against Sam Stein in the $3,000 pot-limit Omaha Event 31 and Stein, who had never won a major tournament, defeated his friend to take home the title. Lamb, consoled by $259,918 in prize money, knew that one day, he'd be the one standing on stage receiving his bracelet in the Pavilion Room at the Rio. A week later, it was Lamb's turn to hold his bracelet high as he defeated the field of 361 players to win the $10,000 pot-limit Omaha world championship and win $814,436. In doing so, he became the leader in the WSOP Player of the Year race and also the first player of the Series to have earned over $1 million in cashes.
[+] Enlarge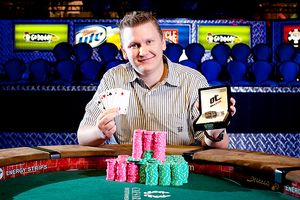 Jonathan Boncek PokerNews/WSOPBen Lamb won his first WSOP bracelet in the pot-limit Omaha world championship.
Lamb's WSOP success dates back to 2006. The 26-year-old professional poker player from Las Vegas, NV, had made one final table before 2011, but his biggest career score prior to this event came in the 2009 WSOP main event when he finished in 14th place ($633,022 ). For years he's been dominating the pot-limit Omaha action live and online and it only made sense that he'd win his first bracelet in the discipline that he calls his best game.
"It feels great," Lamb said, commenting on his first bracelet. "The money is good. But this bracelet stays with me forever."
The back-to-back Omaha results for Lamb have made him the all-time largest Omaha winner during a single WSOP. As incredible as his run may have been, Stein also deserves some credit as he finished 24th in this event.
The final table consisted of eight players from five nations, each with notable successes previously in his poker career. Lamb defeated Finland's Sami "LarsLuzak" Kelopuro for the title. Kelopuro was often found in the highest stakes cash games online, but according to HighStakesDB.com, suffered a downswing before reducing his volume dramatically. The $503,173 was the largest live cash of his career.
Three former WSOP champions made the final table, but none would advance past fifth place. Dario Alioto, Josh Tieman and John Kabbaj were all stopped short of obtaining another bracelet.
Other notable finishers include Matt Glantz (10th), Alexander Kravchenko (17th) and Abe Mosseri (20th).
Below are the complete results of Event 42 at the 2011 World Series of Poker:
Event 42: Pot-limit Omaha world championship
Buy-in: $10,000
Entries: 361
Prize pool: $3,393,400
Players in the money: 36

1. Ben Lamb ($814,436)
2. Sami Kelopuro ($503,173)
3. John Shipley ($369,575)
4. Christopher King ($273,575)
5. Dario Alioto ($204,113)
6. John Kabbaj ($153,517)
7. Cory Wood ($116,359)
8. Josh Tieman ($88,873)
9. Hans Winzeler ($68,410)
10. Matt Glantz ($53,072)
11. Benjamin Kaupp ($53,072)
12. Michael Weyer ($53,072)
13. Justin Schwartz ($41,637)
14. Felipe Ramos ($41,637)
15. Jesus Cortes ($41,637)
16. Tristan Clemencon ($32,644)
17. Alex Kravchenko ($32,644)
18. David Iammarino ($32,644)
19. Aaron Schaff ($25,891)
20. Abe Mosseri ($25,891)
21. Todd Barlow ($25,891)
22. Andy Seth ($25,891)
23. Jared Bleznick ($25,891)
24. Sam Stein ($25,891)
25. Joao Barbosa ($25,891)
26. Will Failla ($25,891)
27. Max Pescatori ($25,891)
28. Samuel Ngai ($20,699)
29. Adeeb Harp ($20,699)
30. David Ashby ($20,699)
31. Davidi Kitai ($20,699)
32. Mike McDonald ($20,699)
33. Richard Anthony ($20,699)
34. Florian Langmann ($20,699)
35. Ludovic Lacay ($20,699)
36. Surindar Sunar ($20,699)

ESPN.com
Andrew Feldman is ESPN.com's Poker Editor. He is the host of the Poker Edge Podcast and co-host of ESPN Inside Deal. Andrew has covered the poker industry for ESPN since 2004.
SPONSORED HEADLINES
MORE POKER HEADLINES
MOST SENT STORIES ON ESPN.COM
World Series of Poker Coverage

ESPN.com's poker team is bringing you all the action from the 2011 World Series of Poker.
Poker Home
STORIES
VIDEO
RESULTS AND SCHEDULE
POKER EDGE PODCAST
CHATS