Commentary
Ahmed defeats Mizrachi for bracelet
It looked like it was going to be another big night for Michael Mizrachi. At the start of the eight-handed final table, the "Grinder" had more than half the chips in play and a cool disposition as he continued to build his chip stack. However, on his radar was Owais Ahmed, a tough competitor who also successfully worked his way through the final table. The two would meet heads-up and have a battle that resulted in the collapse of a world champion and the rise of a another talented pro. Mizrachi's stack was quickly depleted once Ahmed had the momentum in his corner, and Ahmed earned the Event 47 ($2,500 buy-in Omaha eight-or-better/seven-card stud high-low split) title, his first World Series of Poker bracelet and $255,959.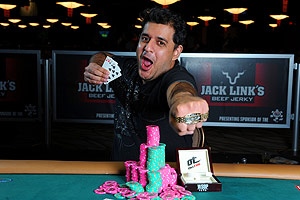 PokerNews/WSOP Although the official records will call him an amateur, Owais Ahmed has $321,244 in live earnings.
"I can't believe it's real, right now," he said. "I played my heart out. I played my A-game and in the end, it all worked out for me. I'm ecstatic."
Ahmed had a friends in the crowd cheering him on, but Mizrachi's supporters were louder and seemingly everywhere. The distractions presented a new challenge for Ahmed who just tried to stay focused.
"Actually, when we started the match, it was like a 50 to 1 crowd advantage for Mizrachi," Ahmed recalled after his victory. "I had a chip disadvantage. The whole room felt really small, and it felt like it was me against the world … I meditated a little bit, and I said, 'You know, I am just going to come out and play my A-game, and that is going to win me that bracelet. The crowd doesn't matter.' I put my glasses on, I was in my zone, and when I do that, I am as good as anyone in the world."
The champion from Irvine, Calif., has attended the WSOP the past four years. He was cashless for the first two, but has amassed six cashes (four in 2011) and two final tables since 2010. This was the largest career cash for the current professional poker player and former data warehouse analyst and supply chain manager who was born in Pakistan.
"I spent a lot of time in America, but my family is from Pakistan," he said. "I'm just representing Pakistan in the World Series of Poker. It's a great honor. Growing up, I watched Pakistan win the Field Hockey World Cup, the Cricket World Cup, and now, Pakistan has a World Series of Poker champion. And that is a great honor for me."
Defeating this final table was no easy task and the talent at the table extended far beyond Mizrachi. 1998 WSOP main event champion Scotty Nguyen made his first cash in the event with a fifth-place finish and 2009 bracelet winner Abe Mosseri, one of the top mixed game player in the world, finished in third.
Other notable finishers include Chris Bell (14th), Barry Greenstein (19th) and Los Angeles Lakers owner Jerry Buss (25th).
Below are the complete results of Event 47 at the 2011 World Series of Poker:
Event 47: Omaha eight-or-better/seven-card stud high-low split
Buy-in: $2,500
Entries: 450
Prize pool: $1,023,750
Players in the money: 48

1. Owais Ahmed ($255,959)
2. Michael Mizrachi ($158,148)
3. Abe Mosseri ($100,532)
4. Scott Bohlman ($72,491)
5. Scotty Nguyen ($53,091)
6. Gerard Rechnitzer ($39,475)
7. Gregory Jamison ($29,791)
8. Thomas Whitehair ($22,819)
9. Antony Lellouche ($17,731)
10. Matthew Ashton ($17,731)
11. Benjamin Lukas ($13,984)
12. Brandon Shack-Harris ($13,984)
13. Kyle Loman ($11,179)
14. Chris Bell ($11,179)
15. Hoyt Verner ($9,060)
16. Brent Carter ($9,060)
17. Thomas Keller ($7,452)
18. Kevin Iacofano ($7,452)
19. Barry Greenstein ($7,452)
20. Richard Ashby ($7,452)
21. Thomas Koral ($7,452)
22. Ben Yu ($7,452)
23. Jerrod Ankenman ($7,452)
24. Michael Mariakis ($7,452)
25. Jerry Buss ($6,214)
26. Jason Potter ($6,214)
27. Paul Honas ($6,214)
28. Kevin Chance ($6,214)
29. Perry Friedman ($6,214)
30. Mayu Roca Uribe ($6,214)
31. Michael Leah ($6,214)
32. Nikolai Yakovenko ($6,214)
33. Michael Binger ($5,282)
34. Stuart Rutter ($5,282)
35. Francesco Barbaro ($5,282)
36. Josh Arieh ($5,282)
37. Simon Kearney ($5,282)
38. Peter Gelencser ($5,282)
39. Bart Hanson ($5,282)
40. Mickey Appleman ($5,282)
41. Matthew Wood ($4,494)
42. Kyle Burnside ($4,494)
43. Robert Mangino ($4,494)
44. George Rechnitzer ($4,494)
45. Alex Kravchenko ($4,494)
46. Allen Kessler ($4,494)
47. Maksim Karandeyev ($4,494)
48. Jesse Hollander ($4,494)

ESPN.com
Andrew Feldman is ESPN.com's Poker Editor. He is the host of the Poker Edge Podcast and co-host of ESPN Inside Deal. Andrew has covered the poker industry for ESPN since 2004.
SPONSORED HEADLINES
MORE POKER HEADLINES
MOST SENT STORIES ON ESPN.COM
World Series of Poker Coverage

ESPN.com's poker team is bringing you all the action from the 2011 World Series of Poker.
Poker Home
STORIES
VIDEO
RESULTS AND SCHEDULE
POKER EDGE PODCAST
CHATS