Commentary
Ebanks earns seven-figure victory
During the last few episodes of ESPN Inside Deal, we spoke about the excitement that consistently surrounds the six-handed events and the $10,000 world championships at the World Series of Poker. The WSOP put the two successful formats together in Event 46, with 474 players turning out for the $10,000 six-handed no-limit hold 'em world championship to create the largest prize pool of the 2011 WSOP to date ($4,455,600). Joe Ebanks, a professional poker player from Stow, Ohio, emerged with the victory and the $1.1 million payday, his largest career cash by more than $1 million.
[+] Enlarge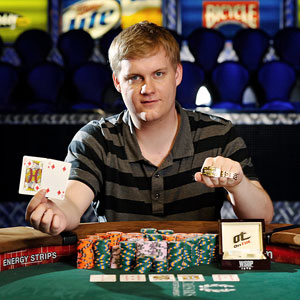 PokerNews/WSOP Professional poker player Joe Ebanks earned $1.1 million for his victory in Event 46.
"This is what it's all about," Ebanks said. "When I first started playing poker seriously seven years ago, my goal was to get to this stage, and now I've achieved it."
Ebanks' story is a familiar one that we've heard numerous times from champions throughout the 2011 WSOP. Primarily an online poker player, Ebanks has, and still is, considering moving outside the United States to continue playing a game where he's earned more than $3 million in during his career. Now he's pocketed his first million on the live felt and is on top of the poker world.
"This is a dream come true," he said. "It's what I have been working on ever since I came into poker, like seven years ago. I always wanted to win a World Series of Poker bracelet. And, I also won it in one of the best events to win it in, so it's great."
Ebanks defeated Chris Moorman heads-up to win his first bracelet. Moorman's five cashes at the 2011 WSOP includes finishes in second, third, 11th, 18th and 66th. He earned $716,282 from this event and has a total of $1,051,466 for the Series, which ranks in the top five in that category.
The two began heads-up play with Moorman holding a slight chip lead, but the tables were turned during one key hand where Ebanks flopped a straight and got paid off the entire way. The hard-stop time was achieved on Day 3, forcing them to take the action to Day 4 with Ebanks holding 11 million in chips to Moorman's three million. Just 20 minutes into play on Thursday, Ebanks called Moorman's all-in after a turn that game him top pair and a flush draw. Moorman had an open-ended straight draw and although he'd hit the river, the card also gave Ebanks a flush and the title.
Each of the final six players had their moments to shine thus far in 2011. Bertrand Grospellier finished third to earn $447,074 but falling just short of earning that coveted double-bracelet honor. Tristan Wade, fresh off a seventh-place finish in a $1,500 no-limit hold 'em event, finished in fourth to earn his largest live career cash of $292,866. Fifth place went to Taylor Paur, his fifth cash of the Series, and sixth place went to Mike Sowers, who now has more than $2.4 million in his career on the live felt and more than $900,000 this year.
Other notable finishers include Ben Lamb (12th), Chris Klodnicki (19th) and Joe Cada (26th).
Below are the complete results of Event 46 at the 2011 World Series of Poker:
Event 46: Six-handed no-limit hold 'em world championship
Buy-in: $10,000
Entries: 474
Prize pool: $4,455,600
Players in the money: 48

1. Joe Ebanks ($1,158,481)
2. Chris Moorman ($716,282)
3. Bertrand Grospellier ($447,074)
4. Tristan Wade ($292,866)
5. Taylor Paur ($198,140)
6. Mike Sowers ($138,301)
7. Ben Tollerene ($99,493)
8. Jeremy Menard ($99,493)
9. Nick Grippo ($73,695)
10. Matthew Hyman ($73,695)
11. Christopher DeMaci ($56,140)
12. Ben Lamb ($56,140)
13. William Thorson ($43,976)
14. Gabe Patgorski ($43,976)
15. Tyler Smith ($43,976)
16. Lee Markholt ($43,976)
17. Greg Dyer ($43,976)
18. Daniel Reijmer ($43,976)
19. Chris Klodnicki ($35,377)
20. David Benefield ($35,377)
21. Thorsten Schafer ($35,377)
22. Russell Carson ($35,377)
23. Youcef Benzerfa ($35,377)
24. Michael Pesek ($35,377)
25. Jim Collopy ($29,228)
26. Joe Cada ($29,228)
27. Michael Gagliano ($29,228)
28. Phil Laak ($29,228)
29. Jason Koon ($29,228)
30. Zachary Hyman ($29,228)
31. Aaron Jones ($24,773)
32. Mikhail Shalamov ($24,773)
33. Cary Katz ($24,773)
34. Dmitry Gromov ($24,773)
35. Sean Getzwiller ($24,773)
36. Noah Schwartz ($24,773)
37. Bassel Moussa ($21,787)
38. Bjorn Verbakel ($21,787)
39. Isaac Baron ($21,787)
40. Dimitar Danchev ($21,787)
41. Frank Argano ($21,787)
42. Gilbert Diaz ($21,787)
43. Daniel Alaei ($19,159)
44. William Reynolds ($19,159)
45. Davidi Kitai ($19,159)
46. Samuel Bernstein ($19,159)
47. Tom Marchese ($19,159)
48. Gabriel Frank ($19,159)

ESPN.com
Andrew Feldman is ESPN.com's Poker Editor. He is the host of the Poker Edge Podcast and co-host of ESPN Inside Deal. Andrew has covered the poker industry for ESPN since 2004.
SPONSORED HEADLINES
MORE POKER HEADLINES
MOST SENT STORIES ON ESPN.COM
World Series of Poker Coverage

ESPN.com's poker team is bringing you all the action from the 2011 World Series of Poker.
Poker Home
STORIES
VIDEO
RESULTS AND SCHEDULE
POKER EDGE PODCAST
CHATS