Commentary
Matros wins 2nd bracelet in two years
In 2010, the commentary was 'about time'. In 2011, those same pundits are saying 'no surprise'. Matt Matros won his second WSOP bracelet in two years in Event 52, $2,500 mixed hold 'em, to win $303,501, the second-largest live tournament cash of his career. The professional poker player from Brooklyn, NY won a $1,500 limit hold 'em event a year ago and defeated a field of 580 players this year to secure his place in poker history. Less than 100 players have earned double gold at the WSOP and Matros has officially joined a very elite group of talented players.
[+] Enlarge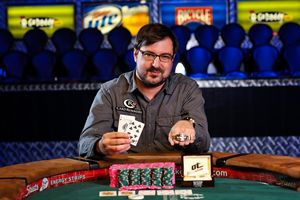 PokerNews/WSOPMatt Matros won his second WSOP bracelet in Event 52.
The Yale graduate and author of "The Making of a Poker Player" has more than $2 million in career live earnings, including five WSOP final tables and 23 WSOP cashes.
"The first was a unique feeling," Matros said of winning his second bracelet. "You cannot really repeat the feeling of winning your first bracelet at the World Series. This one feels great. It is not like the first one, but it is an amazing feeling."
The event featured alternating 30-minute limit hold 'em and no-limit hold 'em levels and Matros believes that limit players had the edge.
"Levels are based on half hour time limits instead of number of hands. No-Limit hands just take longer," he said. "You have to ante every hand and decisions just take longer to think about, so we ended up playing a lot more limit hands than no-limit hands. Another thing is the blinds are so much bigger in limit. Early in the tournament it doesn't really matter how big the blinds are because you have tons of blinds in both games so they do not really play big. When you get late, if you can pick up a couple of blinds here and there it is just huge for your stack size."
Matros defeated Jonathan Lane to win the bracelet. It was Lane's second-final table appearance of the Series and worth $187,844 for second place. He finished sixth in last weekend's $1,000 buy-in event won by Ken Griffin. The other former bracelet winner at the nine-handed final table was one of Matros' friends, Matt Hawrilenko. After winning his first bracelet in 2009, Hawrilenko cashed once in 2010 and has made it into the money four times in 2011. Hawrilenko has nearly $1.5 million in live career tournament earnings.
Other notable finishers include Noah Boeken (seventh), Max Pescatori (12th) and Scott Montgomery (16th).
Below are the complete results of Event 52 at the 2011 World Series of Poker:
Event 52: Mixed hold 'em
Buy-in: $2,500
Entries: 580
Prize pool: $1,319,500
Players in the money: 54

1. Matt Matros ($303,501)
2. Jonathan Lane ($187,844)
3. Matt Hawrilenko ($124,837)
4. Brandon Meyers ($92,642)
5. Brian Smith ($69,524)
6. Nikolay Losev ($52,687)
7. Noah Boeken ($40,284)
8. Aalok Arora ($31,047)
9. Adam Sanders ($24,107)
10. Dylan Drazen ($18,855)
11. Pieter De Korver ($18,855)
12. Max Pescatori ($18,855)
13. Daniel Sindelar ($14,936)
14. Jason Berilgen ($14,936)
15. Vincent van der Fluit ($14,936)
16. Scott Montgomery ($11,835)
17. Patrick Renkers ($11,835)
18. Andrey Danilyuk ($11,835)
19. Jonathan Jaffe ($9,474)
20. Jimmy Fricke ($9,474)
21. Matt Sterling ($9,474)
22. Janno Cazemier ($9,474)
23. Peter Akery ($9,474)
24. Joseph Couden ($9,474)
25. William Kakon ($9,474)
26. Nicholas Wilbur ($9,474)
27. Brian England ($9,474)
28. James Calderaro ($7,653)
29. Kaveh Payman ($7,653)
30. Thomas Roupe ($7,653)
31. Michael Chu ($7,653)
32. Daniel Weinman ($7,653)
33. Richard Harroch ($7,653)
34. Gregory Ronaldson ($7,653)
35. Chris Bell ($7,653)
36. Isaac Haxton ($7,653)
37. Joseph Cheong ($6,228)
38. Kevin Saul ($6,228)
39. Kyle Loman ($6,228)
40. Justin Schwartz ($6,228)
41. Mayu Roca Uribe ($6,228)
42. Konstantin Puchkov ($6,228)
43. Sergey Konkin ($6,228)
44. Michael Layton ($6,228)
45. Ray Henson ($6,228)
46. Daniel Ratigan ($5,106)
47. Jeremy Kottler ($5,106)
48. Leonard Tannenbaum ($5,106)
49. Stephen Buchanan ($5,106)
50. Jared Jaffee ($5,106)
51. Dom Denotaristefani ($5,106)
52. Taylor Raines ($5,106)
53. Rafael Matte ($5,106)
54. Mike Matusow ($5,106)

ESPN.com
Andrew Feldman is ESPN.com's Poker Editor. He is the host of the Poker Edge Podcast and co-host of ESPN Inside Deal. Andrew has covered the poker industry for ESPN since 2004.
World Series of Poker Coverage

ESPN.com's poker team is bringing you all the action from the 2011 World Series of Poker.
Poker Home
STORIES
VIDEO
RESULTS AND SCHEDULE
POKER EDGE PODCAST
CHATS
MOST SENT STORIES ON ESPN.COM