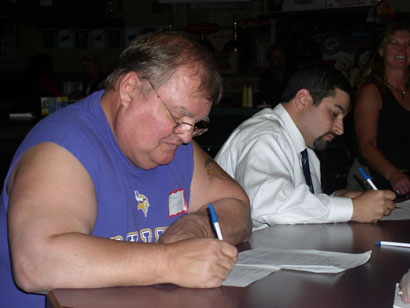 Great Falls Dreamers dressed to impress as some came in their favorite team's colors while others suited up for the day.
DEARBORN, MI - Patrick MacKillop waited in line through the early morning, confident enough he'd become the next SportsCenter anchor that he was ready to parlay his Dream Job into a more far-reaching assignment with ESPN.
"I really want to be a SportsCenter anchor [but] actually I want my own show," explained the 18-year-old Wal-Mart Cartpusher from Howell, Michigan.
Three years experience of guiding shopping carts through parking lots gave MacKillop material for his Dream Job audition. The ESPN hopeful gave a day-on-the-job account through his own SportsCenter highlight call.
"Pat MacKillop lines up in aisle three, grabs ten carts and pushes them up& has to dodge a red Caravan... goes up to the corral - ten people take his carts, and ... that's it."
MacKillop was one of 303 people to bring their own personal flavor to Dream Job auditions Monday at Cheli's Chili Bar & Restaurant. Lawyers, teachers, automotive industry workers, housewives, and realtors joined an airline skycap, future professional bowler, casino dealer, pipefitter apprentice, tree trimmer, Slim-Fast model, and a former boxing champion among others to pursue their dream to be on SportsCenter.
"It's been my goal for the past eight years," claimed Terrence Ealy, 28, an electrician from Detroit.
Joel Sackenheim, 18, a Miami (OH) University student had his eyes set on his Dream Job even earlier. "When I was three years old, my mom said Joel, you're so smart you should be a doctor. I told her no, I want to be a sports announcer - even then."
Sackenheim appealed to the casting team with an impromptu song showcasing his experience as a barber shop quartet singer. Fellow candidates were entertained by the plea, sung to the tune of "Amazing Grace," and the rendition inspired others to show their musical talents.
Some of Detroit's best freestyle rappers, human beatboxes, and champion karaoke singers crooned their aspirations to be on ESPN's new reality show, Dream Job. And that was just on line outside while the competition heated up inside with each candidate justifying why they should make the cut.
Sunjata Smith, 26, an educator from Detroit, Michigan was sure it would be his "flavor, style, and quick wit."
Dreamers exuded confidence throughout the day as Bernie Fratto, 46, a general sales manager from Noul, Michigan asserted, "It's in my blood - I was born to do this!"
And nothing was going to hold back Michael Godwin, 29, a quality technician from West Bloomfield, Michigan. "I would bring the ultimate combination of intellect and urbaness that has never been seen on ESPN. I haven't encountered anyone who can communicate and captivate like me. I am not being conceited - just honest."
Honesty was a common trait in Dearborn. When asked why his friends would say he might not make a good SportsCenter anchor, Sean Paraventi, 37, a waiter from Dearborn Heights, MI laughed that they'd say, "I'm too short, I don't have enough hair, [and] I'm unable to hold down a real job."
Paraventi and the rest of the Dreamers were certain they'd overcome any resistance to be cast for Dream Job and win an on-air SportsCenter contract, prepared to work hard.
"[I will] do ANYTHING the producer asks me to do," explained Chris Shank, 29, a communications specialist from East Detroit, Michigan.
Stacy Vlisides, 24, of Northville, Michigan confirmed, "I'll do the dirty work - not just the glam stuff."
Candidates were confident they'd bring dedication and more to ESPN. John Paesano, 39, a sales director from Medina, OH was ready to bring "enthusiasm, a passion for sports, showmanship, a fresh attitude, and positive mojo."
Paesano detailed why his smooth delivery and writing skills give him an advantage while other Dreamers focused on the intangibles. Orlando Ronden, 28, a press operator from Holland, MI simply proclaimed, "For some reason, women like me."
*All candidates must bring is a knowledge and passion for sports, a great personality and a state-issued I.D. verifying that they are at least 18 years of age.