Monday, April 23, 2007
Updated: April 24, 5:33 PM ET
Stone Cold Steve Austin Goes Hollywood

---
By John Gaudiosi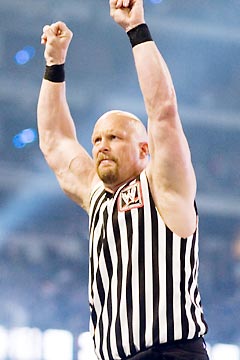 Stone Cold Steve Austin
DETROIT -- WWE superstar Stone Cold Steve Austin has spent the better part of 15 years inside a 20-by-20 foot ring, kicking ass in front of tens of thousands of fans. Austin was in town to pull triple duty for the WWE. Before he stepped into the ring in front of 80,103 fans to referee Wrestlemania 23's Battle of the Billionaires match between Vince McMahon's Umaga and Donald Trump's Bobby Ashley, Austin attended the world premiere of his first Hollywood feature, The Condemned. The WWE Films and Lionsgate Entertainment action movie was shown to a packed house of over 4,000 fans and a who's who of WWE superstars past and present. The very next night, Austin was in the same venue to accept his induction into the WWE Hall of Fame.
Despite his busy schedule, Austin spent some time talking about his career in the ring and the next chapter of his life on the big screen. The Condemned opens nationwide on April 27. When it comes to entertainment, he's very knowledgeable about controlling a crowd in a packed arena and he's learning how to mesmerize a crowd on the big screen. The only entertainment area where the WWE has excelled beyond Austin's realm is in the videogame space.
"I don't follow those videogames too much and I'm a little off of them," said Austin. "I've made a lot of money off of them through royalties off of them. I grew up basically doing outdoor stuff, playing sports in high school and then hunting and fishing for fun. Being with this company, I get all of those games given to me, but I just don't have the patience to learn how to play them. I tried to play one kid one time years ago and he smoked me real bad."
Gamers can take control of Stone Cold Steve Austin in the current THQ best-seller, WWE Smackdown! vs. RAW 2007. In the Xbox 360 game, his high-definition likeness is almost photorealistic. While Austin's glad that fans can live through his virtual exploits, he's focusing his time and energy these days on two things--WWE and Hollywood.
"Any time you're lucky enough to be in the entertainment industry you got a helluva job," said Austin. "When you're on the top, like I was a long time in the WWE, it's even better. So to be at the top of this movie and be starring in it, it's an honor. It was a great learning experience and I have a lot more to learn, but I look forward to that learning process."
One thing Austin has learned is that Hollywood is very slow. He said it's almost too slow. He's been working on The Condemned for two years.
"When we work on 'Monday Night RAW' we work on being very time efficient because we're filming stuff backstage and we're fixing to go live," said Austin. "We're used to making things happen very, very quickly. With the way Hollywood works you have to be patient and you have to have thick skin. I do have thick skin because I've been in the entertainment business for 15 years, so I'm used to people not liking everything you do. But you do what you do to try to push the envelope and make some headway into different things. There's a lot of bureaucratic red tape and a lot of BS in Hollywood. It's a very interesting ballgame. As I learn more of it, I'm certainly able to appreciate it. It's a whole new system, with a lot of similarities, but a lot of differences."
Although Austin has signed a three-picture deal with WWE Films, he hopes to make 20 films with the company. He said his team has been scouring everywhere looking for the next script.
"We've had some that have come close, but nothing that's been, 'Hey, that's it," said Austin. "I'm so proud of this movie. I think it was a great selection to pick this movie. Picking the right sophomore effort to follow this up is very important. I think the next one that we do won't be quite so much an ensemble cast, but a little bit more focused on me. We really want to make smart, long-term decisions in picking the next movie."
In The Condemned, Steve Austin (he only uses Stone Cold in the WWE) plays Jack Conrad, a former special ops soldier who's brought to an island with nine other death row inmates to play a game live on the Internet. The premise, which is The Running Man meets "Survivor," gives freedom to the man, or woman, who kills all the other contestants.
Although Jack Conrad may have some of the same qualities as Stone Cold, Austin said this character's not loud and he's not brash.
"I'd say he's a reluctant hero, at best," said Austin. "For so long, with my time here in the WWE. I got here in 1995. People have seen me do what I dobe loud, drink beer, cuss people out, drink more beer and beat people up. I entertain. I was a professional wrestler. I think sometimes people think that's all that I am, but I'm a lot more than that."
While filming in Australia's Gulf Coast, there wasn't even any beer available on set. But Austin was right at home in the jungle, where he spent a lot of time even when the cameras weren't rolling.
"When we were out in the jungle, I'd sleep in my bus and sometimes I'd stay out there for three or four days at a time," said Austin. "People would come up to me and say, 'We heard you're sleeping in your bus, why don't you go home.' And I'm like, I've been camping my whole life, to me it's like a day off to not have to drive back to my apartment in a high rise. It was a very nice apartment, but to me one of the most fun things about the movie was being able to sleep out there in the bus. One of the girls from the movie said, 'Steve, you're sleeping in your bus?' And I said, 'Yeah.' She said, 'You don't have a life, do you?' They didn't get it. I got a great life. I'm camping."
Austin said that a lot of people thought that him moving from professional wrestling to action star was going to be a simple transition. But when he showed up for fight training before the cameras rolled, he learned that Hollywood is much different than live wrestling.
"Technical fighting is a lot different then what I do," said Austin. "I'm putting on a show. Everything was so tight and so technical and translating that for the screen and the way you hit for the camera is a lot different. In the ring, we'd actually make contact. That was very frustrating. I've never memorized a match in my life and I certainly never memorized a fight. That was actually kind of hard. I did all of my stunts except for three major stunts that were pretty dangerous and they wouldn't let me do. There's one of them I would have volunteered to do, but the other two were so extreme that I didn't."
Austin recalled one fight that occurred really early in the filming that left him with a black eye. Despite the fact that it was supposed to be a simple fight in which the other actor was supposed to hit him first, it didn't play out as planned.
"In the ring, if someone hits you too hard, you can only take too many of those, and you have to send back a receipt, meaning you have to settle down," said Austin. "Like if a guy has a bad night in the office and he catches you in the check, you need to fire one back and pop him and let him know what's going on. In this fight sequence, the guy's supposed to hit me in the stomach, but he hits me in the eye and gives me a black eye. We covered it up in make-up and continued shooting before my eye swelled up. I really wanted to give that guy a receipt, but I couldn't. I still haven't given it to him, but maybe one of these days I will."
Austin wouldn't say which actor it was, but he knows who he is. WWE fans don't have to worry about Austin leaving the ring. He said he's always wanted to be a wrestler and he'll remain with the WWE, while filming movies as well.
I'm very thankful for the opportunities I've been given here," said Austin. "And every opportunity I've been given I've tried to knock out of the park. You only go around once, so every time you do something you have to try to do it to the best of your ability. That's just the way I was brought up. I never was the biggest or most talented, or best-looking, or best wrestler, or best nothing when I got here. But I've done enough things well enough and I worked hard enough that I did what I did."
---