How much can we glean from one game? What kind of predictions can we project from that first box score? Well, if I told you that this mega-hyped player scored 10 points on 2-11 shooting, along with 5 turnovers, would you assume he'll struggle all season? I'd suggest not, because those numbers are what LeBron James posted Wednesday night. By comparison, Sonics rookie
Kevin Durant
had a fairly productive night in the mountain air of Denver, scoring 18 points in 31 minutes, but shooting just 7-of-22 in a 120-103 loss. And while we won't look too deeply into his stats from game one, we can see the present and visualize the future from studying how he played. The first thing that jumps out at me, outside of his sheer size and agility, is his courage. Yes, he destroyed the college kids last season, but to come into his first real NBA game and launch 22 shots (most unsuccessfully) tells us all we need to know about how much he believes in his game and how unafraid he is to fail. That his teammates and coaches allowed it to happen is impressive as well -- everyone wants him to shine. But Durant needs to mix a healthy dose of discipline into his offensive game and stop shooting the ball every time he thinks he is open. His skill level with the dribble, combined with his length, stride, and feel, makes him very tough to defend on dribble drives, so we can expect to see far more of those as Sonics coach P.J. Carlesimo teaches his young pupil how to play more efficiently (four free throws on 22 shots is all the evidence P.J. needs). He still plays just like most college players, way too fast and not very smart. Being more patient with the ball, and passing up early 3-point opportunities, will allow him to better use his size and skill advantages. Durant, unlike another tall scoring machine from college,
Adam Morrison
, does spend time trying to get touches inside. As the starting shooting guard, he will always be taller than his opponent, and can use that size to create easier scoring opportunities and free throws. Durant is also a willing passer, and even threw a sweet "dime" to a trailing
Chris Wilcox
for a dunk when KD probably could have scored on his own. Unselfishness will help him continue to get looks from his veteran teammates. Durant had three steals in the game (all in the first half), but they came due to his freakish size moreso than anything he did. He was beat on a backdoor and a facecut, but the Nuggets made passes that would have worked against an average sized shooting guard, not a 6-10 beanpole with very long arms. They were more careful in the second half, and Durant became a non-factor on that end of the floor. He struggles to see both the ball and his man, so consequently, when he looks for one he often loses the other. His awareness is good; once he gets more of the techniques down then he can indeed be a difficult guy to score on. As it is now, the few times he managed to stay in between his man (even Carmelo Anthony) and the bucket he made it hard to score over his massive reach. His rebounding habits are poor, mostly turning and hoping the ball comes his way instead of finding and hitting his opponent before "going glass." Melo got a tip dunk in the first half while Durant just stood next to him and watched. Durant ran the floor in defensive transition, but the Nuggets raced the floor. So will players from Phoenix, Golden State, Memphis, etc. As the season evolves, we should see Durant score 18-25 points pretty frequently due to his courage and the opportunities Carlesimo will give him (and his talent). But will we see his game evolve into a cleaner and more efficient version? If the answer is yes, we'll clearly have a superstar in the making. If not, then Rookie of the Year may be the last award he wins for a long time to come.
David Thorpe is an NBA analyst for ESPN.com and the executive director of the Pro Training Center at the IMG Academies in Bradenton, Fla., where he oversees the player development program for the NBA and college players.
By Brian Windhorst | Special to ESPN.com
CLEVELAND -- There were certainly sexier offseason acquisitions than Eddie Jones and Trenton Hassell, the Dallas Mavericks' perimeter defensive imports. But they've already helped their team win at least one game, combining on Wednesday to shut down LeBron James on what was supposed to be a special night in Cleveland.
The Cavs raised their Eastern Conference Championship banner, but it was Jones and Hassell who had the real banner night. They harassed James into his worst season opener ever, holding him to 10 points on 2-of-11 shooting. With Jones, who started on James, and Hassell, who played the bulk of the game on him, giving him no space on the outside and anticipating his moves to the basket, the Cavs were never in the game in Dallas' 92-74 win. "That's why we have those guys here," Mavs coach Avery Johnson said. "They tried to make it as tough on him as they could." James didn't score in the entire first half, the first time that's ever happened in his career. He ended up with more turnovers (5), than baskets (2) or assists (4). When the Cavs posted James up, a feature of coach Mike Brown's new yet still quite raw offense, Dallas brought double teams and rotated very well when he passed out of them. When he did get to the basket, DeSagana Diop (four blocks officially, but it was really more like six) and
Dirk Nowitzki
(two blocks) defended the hoop well. The Cavs finished the preseason in a total funk, losing in Toronto by 33 points and in Boston by 25 with their starters playing heavy minutes last week.

Wednesday's Best

Antoine Wright, Nets
Who? The third-year Nets afterthought from Texas A&M went off for 21 points, including 14 in the fourth quarter and overtime, helping deliver the opening win over the Bulls.
Wednesday's Worst

LeBron James, Cavs
Maybe it's hangover from L'Affaire Yankees Chapeau. Shut out in the first half. Bron shot just 2-of-11 from the field and had five turnovers as the Cavs were thrashed at home by Dallas.
Quote of the Night

"They don't look like robots this year. They look like a totally different team."
-- Wizards guard Gilbert Arenas on the Pacers team that beat the Wiz, 119-110.
• See how Wednesday's best fared
-- Andrew Ayres
By Chris Sheridan
|
ESPN.com
EAST RUTHERFORD, N.J. -- Luol Deng is very much in play in the conversations between Chicago and Los Angeles, ESPN.com has learned. And it's mainly because of Bryant's wishes that Deng is still wearing a Chicago uniform. A source with knowledge of the trade talks said Deng has been included in proposals swapped between the teams, but Bryant has continually threatened to veto almost any deal in which Deng would be included. Bryant wants to be sure that the team he joins has enough talent remaining to compete for the NBA title. The source said talks between the teams had stagnated, though by no means were they dead. And while the difficulties involved in the deal -- making the salaries match, and trying to trade players onto 15-man rosters now that the preseason roster flexibility has elapsed -- continued to be formidable, the Bulls remained determined to pursue every avenue toward acquiring Bryant from the Lakers. As ESPN.com reported on Saturday, the Lakers have asked for Deng, Thomas, guard Ben Gordon and rookie Joakim Noah as the core parts of any trade for Bryant. Contrary to most reports, the Bulls remain ready and willing to deal Deng, the source said. But if they're going to include Deng in a deal, they will not part with more than one of the other three, said the source. Even then, it is not clear that any trade involving Deng would be acceptable to Bryant, who is wielding the power of the NBA's only no-trade clause by threatening to veto certain deals.
• Full Sheridan story
Mike Tirico Show: NBA Views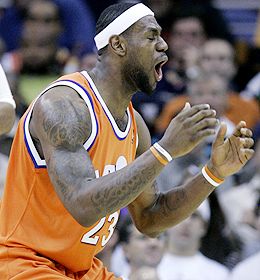 AP Photo/Tony Dejak
LeBron can't believe his team was en route to its worst home loss since April 5, 2005.
---