DALLAS -- Trivia time: Do you know what happened to the last team that used
Jason Terry
as a sixth man? It's actually not much of a stumper because Terry has been reminding everyone lately. Ever since coach Avery Johnson told Terry that he was planning to bring him off the bench after three seasons as the Dallas Mavericks' primary successor to
Steve Nash
, Terry has been bringing up the collegiate championship he helped Arizona win in 1997 in the same role. He won't flat-out call it an omen, but his usual reaction to the O word is pretty telling. Terry's response to an omen question Monday evening: "You see me smiling, right?" See that? Not
all
of the bravado was beaten out of the Mavericks in that first-round beatdown administered by Golden State last spring. The grins were impossible to miss on this night, when the hosts' new sixth man was the best man at American Airlines Center, sparking Dallas to a 107-98 victory over the new darlings from Houston. This was supposed to be the revamped Rockets' opportunity to announce themselves to the nation and prove that they've really narrowed the gap on the rest of the stat. They were reveling in a 3-0 start and sporting a roster filled with impressive new names to give
Tracy McGrady
and
Yao Ming
more help than they've ever had . . . with a stage to themselves beckoning with no other games on the schedule. Yet Houston simply couldn't capitalize on the injury absences of
Devin Harris
,
Erick Dampier
,
Devean George
and
Brandon Bass
-- and the foul trouble which ensnared
Dirk Nowitzki
and
Josh Howard
-- largely because it couldn't contain Terry. The little guard scored 31 points which, combined with Jerry Stackhouse's 16, enabled Dallas' reserve duo to outscore all seven Rockets who played besides T-Mac and Yao. Terry started the second half in place of the ineffective J.J. Barea, reeled off the final seven points of the third quarter to haul Dallas out of a 75-70 hole and upped his season average through four games to 22.8 points on ridiculous 60-percent shooting as the Mavs eventually pulled away. It's early days, true, but this is a powerful statement at any time: "We are very surprised when he misses," Johnson said. Of course, as with everything in Mavsland after back-to-back playoff unravelings, nothing can be proven conclusively until the playoffs start. Terry could shoot 60 percent from the floor for the entire regular season and impress no one living outside of North Texas unless it carries over to the postseason. Yet you to have wonder, given how well Terry has taken to this switch, if Johnson has found a way to productively shake things up without significant change to the roster. Anointing Harris as his unquestioned starter at the point has clearly taken playmaking pressure off Terry, who comes into games firing now as opposed to trying to get everyone else involved because that's what he thought he was supposed to do. Terry's partnership with Stackhouse, furthermore, strengthens a major area of weakness from last season. "We had to get back to how it was when we made our Finals run," Terry said, "where our bench had been our strong point." It was certainly good enough to rescue Dallas in a great game for November. Yao Ming and Josh Howard each turned an ankle in the second half thanks to independently awkward landings, but both refused to come out of the game injured, highlighting how seriously both teams took it. Thanks to that bench and maybe the best game of DeSagana Diop's career -- Diop had 10 points, 13 rebounds, four blocks and, amazingly, zero fouls as Dallas' primary Yao defender -- Nowitzki's struggles with the refs and his shot (7-for-20) didn't hurt. Nor did McGrady's 35 points and eight assists, with T-Mac needing 31 shots to get there and with too many other Rockets relying on T-Mac to bail them out offensively. Yao, meanwhile, totaled 21 points and 11 boards but was limited to just 12 shots from the field by countless double-team swarms and the confusion/hesitation they caused Houston. "They feel like they've made some improvements to their roster," Stackhouse said of the Rockets. "But we feel the same way." Now to see what sort of feelings are stirred by the Mavericks' next game. Thursday on TNT, they're back in Oakland for the first time since the
Golden State Warriors
thrashed the 67-win Mavs in Round 1. Nowitzki took (and is still taking) most of the media heat for the Mavs' failings against the Warriors, but Terry's play was no less worrisome. In the first year of a new six-year deal worth nearly $58 million -- and regarded as an unfailingly clutch shooter -- Terry missed 23 of 32 attempts from 3-point range against the Warriors, rarely capitalizing on all the attention Nowitzki was commanding as the chief target of coach Don Nelson's defenses. "I share a lot of that with him," Terry said of Nowitzki and the Golden State blame, knowing that recent history will overshadow any of his Arizona tales until the Mavs atone.
Marc Stein is the senior NBA writer for ESPN.com. To e-mail him, click here.
Dimes Past:
October 31
|
November 1
|
2
|
3-4
|
5

By Henry Abbott | ESPN TrueHoop
Watching Atlanta put a little scare into Detroit Sunday night, I was struck by the love/hate relationship I have with Tyronn Lue. He plays his brains out, and he's strong enough and determined enough that for long stretches his size is not a problem. In that, he is a hero to little people everywhere. And his defense on Allen Iverson is a key reason the Lakers beat the Sixers in the 2001 Finals.
But the Hawks are apparently scared to let Lue guard a big aggressive guard like
Chauncey Billups
full-time, so they tried to hide him on
Jarvis Hayes
a little, and Hayes just killed him in the post for two key buckets down the stretch. Meanwhile, when the Hawks have the ball, they are essentially a bundle of multi-faceted threats -- usually
Joe Johnson
,
Josh Smith
,
Marvin Williams
, and
Al Horford
-- waiting to explode on the older, slower defense. The players move around, and scoring opportunities arise, but with Lue handling the ball, a good chunk of his open teammates seem not to get the ball until they are covered.
• See TrueHoop's complete Monday Bullets

Monday's Best

Jason Terry, Mavericks
The Jet soars. His spark off the bench helps the Mavs take control. Scores 31 points on 11-for-17 shooting.

Monday's Worst

Bonzi Wells, Rockets
Give the Bonz credit for his eight boards in 16 minutes. But then remove the credit for 1-for-7 shooting and three turnovers. Bonz will get better.
Quote of the Night

"It's early, I've got a long career. You can't win a championship in November, but you can lose one, you know what I'm saying? I just want to make sure I take my time and get back right so I'm able to go to war with these guys the next few months."
-- Suns center Amare Stoudemire, on taking time to rest his swollen right knee.
• See how Monday's best fared
-- Andrew Ayres
Tim (Toronto):
Rajon Rondo
looks totally lost. How long until the C's get their hands on
Sam Cassell
?
Marc Stein:
Awfully greedy, aren't you? Adding KG and
Ray Allen
wasn't enough? But I get what you're saying. Sam I Am asking to be bought out so he can pick his contender to sign with is a widely anticipated scenario. Unless the Clips intend to turn this 2-0 start into an extended We Showed You run without
Elton Brand
.
Mike (Albany, NY):
Say the Lakers bring in Jerry West to repair things with Kobe- What are some realistic players they can get to win now?
Marc Stein:
If the Lakers can convince Jerry to work as a consultant, it would be mostly to put someone Kobe respects in L.A.'s front office. The limits of the roster when it comes to making upgrades wouldn't be any different with The Logo in charge. They need him because there's no one in basketball that Kobe listens to like Jerry.
• Read the full Marc Stein chat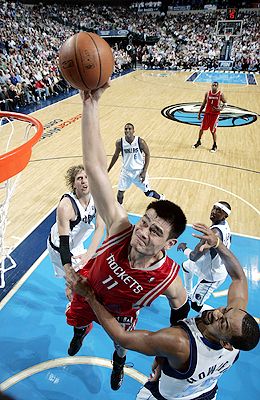 Layne Murdoch/NBAE/Getty Images
While Yao might spend more time in the high post this year, he can still shoot it from zero feet, here against Juwan Howard.
Celtics guard Rajon Rondo told ESPN Radio's Erik Kuselias about playing with the new Big 3 in Boston.
Distribution Center
---