Issac Baldizon/Getty Images
Will all that Thanksgiving goodwill make it through the weekend? In the NBA, it's a valid question.
Valid because the season's maiden Florida Bowl comes Saturday night: Pat Riley coaching against Stan Van Gundy for the first time in a game that counts.
We've actually seen a good number of these less-than-festive occasions already considering that no team, as of Friday morning, had played more than 13 games. New York and Denver completed both legs of their season series (and did so brawl-free) by Nov. 17. Utah's Carlos Boozer survived his second career return to the deep scorn of Cleveland on Nov. 16. Boozer's teammate Deron Williams and New Orleans' Chris Paul -- friendly rivals, but you get the gist -- met for the first of their four regular-season hookups that will all be boiled down to a "which one is better?" debate.
The good news, if you're into the grudge thing, is that there's plenty of tension and backstory forthcoming over the next few months. The following 10 such games are the most intriguing we see on the schedule, resulting in a list so packed that it leaves no room for, say, Rick Adelman's return to Sacramento as Houston's coach (Dec. 1) or Zach Randolph's first trip to Portland as a Knick (Feb. 1) or the first Cleveland-San Antonio rematch (Jan. 17) since June's Finals.
In chronological order:
1. Saturday: Miami at Orlando
Riley and Van Gundy are bound to insist, over and over, that coaching against each other -- teams that share a division and a state and which are separated by just 250 miles -- is only a big deal to us media pests. You buyin' that? You buyin' that any more than these guys insisting to this day that Riles taking over the team from SVG in December 2005 was a mutual decision?
2. Dec. 18: Los Angeles Lakers at Chicago (NBA TV)
I'm sure you're well aware that Bulls fans, not ready to give up on their dreams of Chicago trading for the closest thing to Michael Jordan we've ever seen, have been regularly taunting their own struggling players with chants of "Ko-be, Ko-be, Ko-be" at the United Center. But here's something we don't know yet: What happens when Kobe Bryant is actually in the building with the Bulls and those fans?
3. Dec. 25: Phoenix at Los Angeles Lakers
Christmas is saved! Greg Oden isn't making a miracle comeback in time for Seattle at Portland and his first-ever pro showdown with Kevin Durant, no, but Suns at Lakers means Mike D'Antoni vs. Phil Jackson … which might be even better than Riley vs. Van Gundy. Or have you forgotten the stares, gestures and curses tossed back and forth between the coaches in the Lakers' rout at Phoenix on Nov. 2?
4. Jan. 2: Golden State at Dallas (NBA TV)
These teams have already met once since Golden State stunningly ran 67-win Dallas out of the first round last spring. But this rematch is in Dallas and won't exclude Stephen Jackson, who was suspended when the Mavs won, 120-115, in Oakland on Nov. 8. Figure on the Warriors showing up in a party mood, too, since they'll be finishing up a three-game trip with this game and thus celebrating New Year's Eve in Big D.
5. Jan. 4: Miami at Dallas (ESPN)
The distaste these teams still have for each other is as deep as you'll find anywhere, no matter how much time passes in the wake of the 2006 Finals. That should have been clear at the 2007 All-Star Game in Vegas, where the only two players who didn't shake hands before the opening tip were Dwyane Wade and Dirk Nowitzki. This is the first time since Vegas that those two will be in the same gym.
6. Jan. 16: Golden State at Indiana
Stephen Jackson has indeed been back in Indy since the teams' eight-player trade in January, scoring 36 points in a Warriors cruise at Conseco Fieldhouse on Feb. 5, 2007. But emotions are still pretty raw given the success Captain Jack has found with the Warriors and the Pacers' deepening struggles since he left. So expect another all-night shower of boos for him.
7. Jan. 31: San Antonio at Phoenix (TNT)
Robert Horry hits the desert for the first time since hip-checking Steve Nash in the playoffs, which led Amare Stoudemire and Boris Diaw to stray far enough from the bench to earn series-turning suspensions. Loathed in these parts for ages, going all the way back to the towel he flipped in the face of then-coach Danny Ainge in 1997, Horry might now be the most unwelcome Phoenix visitor not named David Stern.
8. Feb. 8: Boston at Minnesota (ESPN)
Wolves fans have to wait until the 48th game of Life After KG to see Kevin Garnett back at the Target Center. At least by then we'll know if Wolves front-office chief Kevin McHale traveled to Boston with Minnesota on Jan. 25 to get the standing ovation C's fans are undoubtedly planning for the next time they see him.
9. March 19: Denver at Philadelphia
Philly fans are scoffing at impatient Wolves fans, since they will have waited a full 15 months to see Allen Iverson in person again. The crowd's reaction, Iverson's reaction, what sort of welcome A.I. gets from the Sixers' organization … lots to wonder about in that year-plus.
10. April 13: Dallas at Seattle
Maybe this won't be the Sonics' last game in Seattle. Maybe it really will take the Sonics' new owners two or three more years to move the team to Oklahoma City as they desire. Yet since no one knows for sure, count on the Sonics' home finale to be an emotional event, more emotional than either Rashard Lewis' return with Orlando (Nov. 28) or Ray Allen's return with Boston (Dec. 27).
Marc Stein is the senior NBA writer for ESPN.com. To e-mail him, click here.
Dimes Past:
November 10-11
|
12
|
13
|
14
|
15
|
16
|
17-18
|
19
|
20

The bulk of the focus in Orlando on Saturday will obviously be on Riley and his faithful ex-assistant, but don't forget the actual bulk.
Just as deserving of close inspection is the not-so-small matter of Shaquille O'Neal dueling with the sensation of the early season -- Orlando's Dwight Howard -- only one night after O'Neal at least temporarily hushed his growing legion of critics by posting a look-at-me 26 points and 14 boards against Houston's Yao Ming on Friday.

Yet it's going to take more than one throwback performance from Shaq to pacify the fretting coach, who legitimately does have bigger concerns than the showdown with Van Gundy. "I don't think there's any doubt that we're starting to feel the pressure," Riley said this week, undoubtedly aware that it's going to be a lot harder for the Heat to rally into the playoffs this season than it was last season. Even in the East.
At least that's what history says. Miami is the 34th team in NBA annals, according to the Elias Sports Bureau, to begin a season with at least five consecutive home defeats. Only one of those 34 teams, Elias says, recovered to post a winning record: Washington at 42-40 in 1997-98.
The home woes were halted with Friday's 98-91 victory over the Rockets, but it's worth remembering that Riley's many teams in Los Angeles and New York never lost five straight home games at any juncture. This is the fourth time it's happened in his Miami career.

I sense a growing misperception that the impetus behind San Antonio's willingness to trade Luis Scola to Houston in July was purely financial. Not so.
As much as the Spurs feared helping a geographical rival -- Gregg Popovich said last week after Scola's 20-point game in San Antonio that the sight of the Argentine power forward in Rockets red "kills me" -- I know of at least three other reasons that they were willing to do the deal.
No. 1: The Spurs questioned whether Scola could play alongside Tim Duncan because his offensive comfort zone down low overlaps with Duncan.
No. 2: The Spurs wondered whether Scola's defensive shortcomings could be overlooked in a team culture that so cherishes D.
No. 3: The Spurs doubted whether Scola could be content with the limited playing time they'd be offering in a crowded frontcourt.
The Spurs, in short, see Fabricio Oberto as a more sensible South American counterpart to Duncan than Scola would have been. So when the Rockets were the only team in the league willing to take on Jackie Butler's contract in July for the right to acquire Scola, San Antonio decided that it couldn't say no. Not when the choices were forcing Scola to go back to Europe -- risking the possibility that it would never get anything of value in exchange for his rights because of buyout complications -- or consenting to a trade with Houston that would drag the Spurs away from the luxury-tax line.
The daunting risk that remains, of course, is that Scola comes back to haunt San Antonio in a playoff series someday. It's an image, in Pop's words, that's "enough to make you spit."
The reality, though, is that it's still a tad premature to bank on that scenario. Scola indeed posted consecutive 20-point games last week, but you can't overlook the fact that Tracy McGrady played in neither.
The good news for the Rockets is that Scola looks like he can help them immediately when McGrady or Yao Ming are out, which could prove crucial given that their two franchise players haven't appeared in more than 20 consecutive games together in either of the past two seasons. But it's too soon for the missing-piece chatter when Scola is still adjusting to the American game.
Before rumbling for 20 points and nine boards in Friday's loss at Miami, Scola had managed just 35 points in the 10 games in which Houston has dressed T-Mac and Yao, with
Chuck Hayes
ranking as Adelman's first-choice 4 man.
---

The two 3-pointers hoisted by Phoenix's
Grant Hill
during Friday night's home date victory over the Clippers were somewhat historic.
Now playing for a team that depends hugely on the long ball, Hill was 9-for-33 from behind the line entering the weekend. He's now 10-for-35 after going 1-for-2 against the Clips, but here's the historic part: Hill has attempted more than 33 triples in only one of his previous 12 seasons, going 34-for-98 in his final season with Detroit in 1999-2000. His second-busiest season as a 3-point shooter before this one was a 10-for-33 showing in 1996-97.
In the six injury-plagued seasons in Orlando before joining the Suns, Hill took just 40 3-pointers total and made nine. Which should explain why you'll hear about Hill's fortunes from deep -- as well as how many minutes he's logging -- even when he's playing as well as we've seen so far.
---

Back in August, you'll recall, we updated the status of
several mainstays from the 1990s
who were either showing unexpected interest in returning to the game or still generating interest from curious teams after at least one season of inactivity.
Yet there's at least one applicable player who's quite content that his name didn't even come up.
After playing for 12 teams in 14 seasons, most recently with the Lakers in 2005-06, Jim Jackson is apparently intent on staying retired. Besides working on his long-standing real-estate and business interests, Jackson was recently named as an analyst for the fledgling Big Ten Network.
Of the 13 teams to hold his NBA rights -- don't forget that Jackson refused to play for the Hornets in 2004-05 after being acquired from the Rockets, eventually forcing a trade to the Suns -- eight of them are Western Conference residents. The 37-year-old played for Dallas, Golden State, Portland, Sacramento, Houston, Phoenix and the Lakers in the West in addition to his brief stint as a non-playing Hornet. In the East, Jackson played for New Jersey, Philadelphia, Atlanta, Cleveland and Miami.

Andrew (Indianapolis): Since we are on this subject of your great prophetic powers, what is the exact date Jermaine O'Neal gets traded?
Stein: Rumblings persist that the Pacers are not interested in fielding calls for JO at this time. But I'll concede that could just be posturing intended to get the price up. In essence, I'm hearing two things out of Indy. No. 1: They're not looking to move him. No. 2: They definitely would move him if the right offer presents itself. Don't see this specific scenario happening, but let's say that the Lakers reversed course and were suddenly willing to give up Odom and Bynum. You'd have to presume that the Pacers would do it pronto. But the strongest signals coming out of Indy right now suggest that a JO trade is not in our near future.
• Read Stein's full chat


It's still too soon to say whether Chris Webber will return this season.
Yet it's likewise premature to suggest that he's missed his opportunity to rejoin the Pistons.
When he last addressed the subject publicly nearly two months ago, Webber told ESPN.com that he was turning down a lucrative offer to finish his career in Greece and that the Pistons are the only team he can see himself playing for this season. He's apparently still deliberating about whether to make an in-season return.
"If I'm going to play, I'm only going to play as a Piston … unless something crazy happens," Webber said Oct. 1. "At this point in my life, I only want to play for a championship contender."
That's a big reason why Dallas and Detroit are the only two teams Webber seriously considered joining in the offseason. It's believed that Orlando, Cleveland and the Los Angeles Lakers all retain varying levels of interest in signing the 34-year-old -- despite recent insistences from the Magic and Lakers that they're no longer pursuing him -- but Webber apparently hasn't budged on that stance. At least not yet.
What we know for sure at this point is that Detroit has not ruled out bringing Webber back later this season. The Pistons would still have to shed a salary or two for luxury-tax reasons -- finding a taker for Nazr Mohammed remains at the top of their wish list -- but I'm told that they do remain open to a reunion. That's even though Detroit has begun to give minutes to slender shot-blocker Cheick Samb in its rotation of bigs alongside Rasheed Wallace, Antonio McDyess, Jason Maxiell and tweener Amir Johnson.
---
Runner up to the Sam Mitchell offering in this week's quote corner is this sage reminder from an Eastern Conference executive who shall remain anonymous … but who shares some pertinent wisdom as we close in on the end of the season's opening month and the assessments we'll all be making:
"Bad teams tend to win early and late in the NBA, as you know. The next six to eight weeks will tell everyone where they truly stand."
---

The following bit of trivia won't provide much consolation in Indy. Not like Friday's win over Dallas did.
But any distraction was welcome before the 111-107 victory over the Mavs, with the Pacers mired in a 2-7 slide entering the weekend and with new coach Jim O'Brien announcing that Jermaine O'Neal has essentially been operating at 60 percent thanks to a left knee ailing anew.
The factoid: Indiana has the league's longest active success streak on Thanksgiving with five consecutive Turkey Day wins.
It's also a streak unlikely to be endangered any time soon, with the NBA having suspended its recent tradition of playing on Thanksgiving starting last season.
Our league, as Hubie Brown would say, staged at least one Thanksgiving game from 1993 through 2005 … except for 1998 when we were all in lockout mode. Yet it's become more of an American football holiday than ever, with the NFL going to three Thanksgiving games annually, thus prompting our league to scale back.
The NBA has also scrapped New Year's Day games this season, but there are five night games (and three day games) on New Year's Eve and an increase to three games on Christmas Day.

"What am I going to do? Lock him in the hotel room?"
Raptors coach Sam Mitchell, scoffing at the idea that Dallas-reared Chris Bosh returning home Tuesday night would actually be more distracting than motivating in the midst of Bosh's slow start to the season.
Mitchell's scoffing proved justified, too, when Bosh totaled 31 points and 12 rebounds in his homecoming. The breakout game couldn't prevent a painful 105-99 loss to the Mavericks in which visiting Toronto squandered a 24-point lead, but Bosh literally and figuratively rebounded the next night with 22 points and 19 boards in a six-point win at Memphis that lifted the Raps to 6-6.
The performances were by far Bosh's best back-to-back games of the season, after he had generated more turnovers (10) than baskets (nine) in his previous two games. He's clearly been struggling with his outside shot and his confidence -- confidence in his game as well as his body -- but Bosh believes he has finally "turned a corner" in his recovery from the plantar fasciitis that has plagued him since last season and a knee injury sustained early in training camp.
From the Stein Line e-mailbag:
Roger (Austin, Texas): What is your favorite city to visit?
You mean NBA city, right? Otherwise you'd better brace yourself for a detailed breakdown of Manchester and Tel-Aviv.
I've lived in three general areas in my lifetime: First an hour-plus outside Buffalo from ages 3 through 8, followed by Southern California for the next 20 years and then Dallas for the last decade. I consider all three to be home turf, so I'm going to exclude those locales from my list. Trips to see the Lakers or Clippers, for example, feel more like homecomings than visits.
My faves, then, are as follows:
1. Toronto: A greater lover of Canada you could not wish to meet. It hooked me at a young age and cemented my devotion in adulthood by combining the best of the United States and my beloved England. Nowhere else on the NBA map can you find a European feel like the Canadians give you. I'll never get over the demise of the NBA in Vancouver -- never! -- but I'll be the first guy in line if ESPN ever opens a Toronto bureau.
2. New York: Doesn't matter how far the Knicks sink. I still love going to Madison Square Garden more than any other arena -- although I have to admit that, after a long absence, I was wholly disappointed to hear a new PA guy when I finally made it back to MSG in October for an exhibition game -- and that's just half of the magical equation. Manhattan is Manhattan, obviously. One of the greatest cities in the world, now and forever.
3. Phoenix: I got hooked on what is now known as the US Airways Center before I even started covering the league when Cedric Ceballos got drafted by the Suns out of Cal State Fullerton and love the arena atmosphere to this day. Then I began to make frequent trips to the desert after the Suns returned to the West elite by stealing Steve Nash back from the Mavs and quickly discovered how scenic and special it is there … when you don't have to stay through the scorching summers.
4. San Antonio: Can't think of too many media types who'd put the Alamo City this high, but I've been an SA guy since my initial NBA travels in 1994. It's got nothing to do with the famous Riverwalk, either, as I always frequent local establishments away from the masses. I simply clicked with the Southwestern vibe and hospitality from the very first trip. Not sure why -- and don't know that I could live there, because I need frequent access to a full-fledged metropolis -- but it'll always be one of my spots.
5. Miami: Chicago and Washington are in the same major-city stratosphere, but the slight edge goes to the South Floridians. It's not so much a weather issue, because I'll take Eastern cold over that dreadful humidity any day. But like any business traveler, I give extra credit for hotels, restaurants and other amenities that make cities stand out. With South Beach so close and the genius of a top-shelf Nicaraguan steak house called Los Ranchos across the street from where the Heat play, I'm helpless.
Honorable mention: My sleepers are Cleveland, Indianapolis and Minneapolis. Very underrated downtowns in all three cities. Trust me.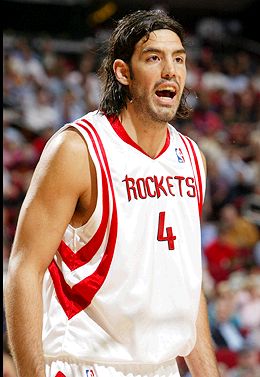 Bill Baptist/Contributor /Getty Images
Will the Spurs rue the day they sent Luis Scola away? Someday, perhaps, but not quite yet.

Five questions with Grizzlies forward Pau Gasol:
Q: We're used to seeing bigger numbers from you [than 17.1 points, 6.8 rebounds and 12 shots per game] and it's been a rough start record-wise. Is there an explanation?
A: It's been frustrating. We're right there in almost every game, but we only have [a few] wins … I haven't been 100 percent physically since the season started -- I had that sprained ankle and some other problems that I'm fighting -- but I never like to make any excuses and I'm not going to start now. I just have to keep fighting through these things.
Q: I imagine, though, that even with a slow start things have to be better than last season. Right?
A: It's definitely not like last year. Obviously last year is a year to forget. It's a much better situation now. We've got a new coach and a new system and some new players. And I have a very good friend here with me [in Juan Carlos Navarro], which is something that motivates me, because I want to see him do well also.
Q: But there's still a perception out there that you're not happy in Memphis or that your body language in a few recent games suggests unhappiness. Can you set the record straight on being back with the Grizz after all of last season's [trade] speculation?
A: I'm not unhappy. I've actually been more excited this year than I've been in a long time, seeing the direction we're going. But we're all adjusting to a new [up-tempo] system. It takes time. When you put it all together -- the losing, the physical stuff, the adjusting process -- maybe that's why my body language [has been questioned].
Q: You mentioned your friend who has joined you. How much did it change things that the Grizzlies found a way to get Navarro?
A: To me, it's real important. It's something I really wanted, [bringing] one of my best friends here, if not the best.
Q: So is it safe to say that the Grizzlies are a tad more popular in Spain than they are in the States?
A: Without a question. But that makes a little sense, doesn't it?

What's wrong with the Bulls? What's the latest in New York with Isiah Thomas? Marc Stein joins Freddie Coleman and Rob Parker on ESPN Radio's GameNight to discuss.
•
Stein

---