(AP Photo/Ed Betz)
NEW YORK -- The cheers that filled Madison Square Garden were louder than they have been all season.
The reason? No, they weren't for the Knicks -- not even on a night when had their most unlikely and lopsided victory of the season, an 89-65 drubbing of the road-weary
Detroit Pistons
. Instead, the roar was for the New York Giants at the very moment when they wrapped up their 21-17 victory over the Dallas Cowboys in an NFL playoff game, a scene that was shown live on the overhead scoreboard. The cheers were so loud, in fact, that
Nate Robinson
actually motioned with his arms for the fans to quiet down so they would not distract
Eddy Curry
as he tried to avoid missing his fourth consecutive free throw. The gesture didn't work and Curry missed the free throw, but it mattered not one iota on a night when the anxiety and tension surrounding the Knicks evaporated when it quickly became apparent the Pistons were playing as lifelessly as attendees at a corpse convention. "We got our ass kicked," Pistons coach Flip Saunders said. "They beat us bad, we didn't really do anything and gave an unacceptable effort. Now we have to bounce back." Only a three-point play by
Amir Johnson
with 13.4 seconds left prevented the Pistons from breaking the team record for fewest points in a game, 64, set in 1999 against San Antonio. The worst performer of the bunch was
Tayshaun Prince
, who shot 0-for-10, but
Richard Hamilton
(1-for-7),
Rasheed Wallace
(3-for-9, three rebounds) and
Jarvis Hayes
(0-for-5) were in contention. Detroit fell behind by as many as 31 against a Knicks team that had held a total of only five double-digit leads -- none larger than 24 -- in its first 35 games. "It was as ugly as it's been since I've been here," said
Chauncey Billups
, who rated the Pistons' four-game road trip "fair" after they completed it with two losses (this one and a defeat at Dallas on Wednesday) and two good victories (a road triumph in San Antonio on the second night of a back-to-back and an overtime victory at Charlotte on Saturday night). Wallace had a similar take, calling the trip "so-so." "There are going to be nights like this, but it's going to be a killer month for us coming up, so I'm not worried about it," Wallace said. An unbeaten trip would have sent the Pistons home with a 30-8 record, which would have left them tied in the victory column with a
Boston Celtics
team that suddenly has lost two of its last three. Instead, the Pistons are approaching the midpoint of their season on pace to win about 60 games -- a total that might not be enough by the end of the regular season to give them home-court advantage against Boston if the teams meet in the Eastern Conference finals. The Pistons' upcoming schedule includes three games against their closest pursuer, the
Orlando Magic
, before they play the Celtics for the final time in the regular season on March 5. By then, this debacle will be well behind them and long forgotten. But if the end of the season arrives and the Pistons find themselves one or two games away from having home-court advantage throughout the playoffs, this one -- on a night when the hapless Knicks were out-cheered by a football team on what might have been their best night of the season -- could come back to haunt them.
Chris Sheridan covers the NBA for ESPN Insider. To e-mail Chris, click here.
Dimes Past:
January 1
|
3
|
4
|
7
|
8
|
9
|
10
|
11
|
12-13

By Ian Whittell | Special to ESPN.com

BARCELONA, Spain -- The tapes and phone calls arrive frequently across the Atlantic for Fran Vazquez, the Orlando Magic's 2005 lottery pick.
But as the 24-year-old forward/center struggles for minutes and consistency with European powerhouse FC Barcelona this season, the chances of Vazquez ever making the journey in the opposite direction are looking increasingly remote. The 6-10, 238-pound Spaniard was chosen 11th overall by the Magic, who thought he would be joining them immediately, before the player controversially signed for Spanish side CB Girona. Two-and-a-half seasons later, the selection does not look like an inspired one and, coupled with the 2006 11th pick of Duke guard
J.J. Redick
, must leave Magic fans wondering just how big an Eastern Conference force their club could have been with better selections in those lottery positions.
"He is a real enigma," says one European-based NBA scout. "You never know what you are going to get with him. I saw him in one Euroleague game this season score 10 points in the first half, all on dunks. If you did not know who he was, you would have been blown away by him. "Then, the next time you see him, he might play five minutes and not score a point. The bottom line is, I don't think he's a real smart player." The enigma was in full evidence on Thursday when Barcelona lost a crucial -- and thrilling -- Euroleague game at home to reigning European champion Panathinaikos of Greece, 56-55.
Vazquez scored both of his baskets early -- on dunks -- but totalled only 14 minutes, finishing with four points and three boards. In the 11-game Euroleague season, he is averaging 5.5 points and 1.6 rebounds in 11 minutes, modest numbers given how dominant Barcelona (8-3) has been in many games.
More worryingly, in the domestic Spanish ACB League, Vazquez averages 5.2 points and 1.8 boards in 14 minutes. In Sunday's surprise 95-82 defeat at lowly Murcia, he had no points and one rebound in 5 minutes.
"I have a positive relationship with Orlando, we are in regular contact," said Vazquez, who is under contract with Barcelona for one more season after this. "It's just a question of seeing how my contract here in Barcelona develops and to be able to exit here and go over there [the NBA].
"That is still my ambition. I like the way they [Magic] play, the system, the style they play. But at the time I was drafted, I was not at my peak; I understood that. I need to improve my inside game and work in the weight room, so I am moving forward with that.
"Being drafted was obviously very flattering, however, I feel playing in Europe for three years has allowed me to develop my skills and develop as a team player. In the long run, I have been able to gain a lot of skills I wouldn't have been able to get immediately [in the NBA].
"Orlando often sends me tapes of their games, and I often sit there watching them and see the team playing together so well. I do wonder how it could be and how nice it would be to be a part of that."
As things stand, the chances of Vazquez ever being part of that appear to be fading.

Marty (Texas): J.A., after Kobe Bryant 's 2005-06 season when he pulled 22 first-place votes for MVP and was subsequently left off of 22 ballots, am I jaded to think that there's a bit of a media backlash associated with him? If so, how will he ever win MVP, save for averaging 40, 8 and 8 for a 60-win team and win another ring?
J.A. Adande:
The quandary for Kobe is that his teams do better when he does a little less. His numbers are down this year, but the team is so much better because of it. And he isn't racking up huge assist numbers like a Steve Nash or Chris Paul, even though his passing has the entire team more involved in the offense. I don't think it's a media backlash against him; they've consistently rewarded guys on good teams. The Lakers weren't a good team the past couple of years. Now they are. If they keep this up, he has to be in the mix.
Jeff (New Haven, Conn.):
Is the NBA rooting for Lakers-Celtics to be the Finals after years of the Pistons, Nets, Spurs, etc., pulling in awful ratings? If the Lakers can win, that's got to put Phil all-time No. 1 coach, no?
J.A. Adande:
I'm sure David Stern says prayers every night hoping for Lakers-Celtics.

Sunday's Best

Joe Johnson, Hawks guard:
Johnson had 37 points (13-of-23 FG, 5-of-6 3-PT, 6-of-6 FT), nine rebounds, six assists and a steal in the Hawks' 105-84 win over the Bulls.
---

Sunday's Worst

Tayshaun Prince, Pistons forward:
Accepting on behalf of the Pistons, it's Prince, who missed all 10 of his shots. He started this last five-game stretch with a 4-for-19 (21 percent) combined shooting effort in losses to Boston and Dallas, then warmed up to 18-for-33 (54.5 percent) in wins over San Antonio and Charlotte.
---
Quote of the Night

"Scrapping is what we've been able to do this season, and tonight we got out-scrapped."
--
Blazers coach Nate McMillan
, after his team couldn't pull a 116-109 double-overtime loss to the Raptors off the scrap heap of defeat.
• See how all 122 players fared
-- Andrew Ayres

By Mark Simon
ESPN Research

Raptors forward Chris Bosh, with 38 points in the win over Portland on Sunday, continued a stellar run recently. His 55 minutes in the double-OT win were almost the most played this season.
Bosh-ketball, Last 9 Games

Category
Stat
PPG
27.2
RPG
9.8
FG Pct
49.4
FT Pct
85.5
40+ Point Games
2
TOR W-L
5-4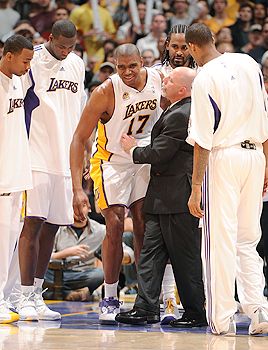 (Andrew D. Bernstein/Getty Contributor)
Lakers center Andrew Bynum is helped to his feet by athletic trainer Gary Vitti while teammates surround him. Bynum sprained his left knee in the third quarter. Spokesman John Black said X-rays were negative.

By Eric Karabell
ESPN Fantasy Games
There have been rumors around Sactown that Beno Udrih, the fellow the Spurs and Timberwolves dumped earlier in the season, will remain the point guard, since he's played so well of late, with Mike Bibby moving to shooting guard. This wouldn't maximize Bibby's fantasy value, of course, or do anything for the Kings' already underwhelming defense.
Udrih has averaged more assists this season than Bibby did last season, however, and Bibby had become more of a shoot-first point guard over the years anyway, a
Stephon Marbury
type, if you will. Udrih is averaging 6.5 assists so far in January, with 1.5 steals, so maybe the idea isn't so far-fetched. Then again, the way
John Salmons
got yo-yoed around by Reggie Theus, who knows what will happen to the intriguing Udrih.
• See the full Karabell blog
---