LOS ANGELES -- This is the no-surprise series. Same old stuff, no hidden wrinkles from either side, just a matter of who will execute better.
It doesn't matter that the Lakers and Jazz haven't faced each other in a playoff series for 10 years, that only
Kobe Bryant
and
Derek Fisher
are still on the Lakers from that 1998 squad and only one Utah player from back then is still in the league (
Jacque Vaughn
, now in San Antonio). This is the third time Phil Jackson's coaching staff has faced Jerry Sloan's coaching staff in the playoffs and there haven't been any dramatic reinventions on either end since they faced each other in back-to-back NBA Finals during Jackson's Chicago days.
Playoff Schedule
WEST SEMIFINALS

New Orleans 1, San Antonio 0
Game 2: Mon., 9:30 ET, at NOR
L.A. Lakers 1, Utah 0
Game 2: Wed., 10:30 ET, at LAL
EAST SEMIFINALS

Detroit 1, Orlando 0
Game 2: Mon., 7 ET, at DET
Cleveland vs. Boston
Game 1: Tue., 8 ET, at BOS
"We're not going to change a lot of stuff, and I doubt the Lakers are going to change a great deal," Sloan said.
"It's the same stuff," Bryant said "You know it's coming, but the execution is so precise, there's a lot of times you feel one step behind."
It was the Lakers who stayed in character longer Sunday, who remembered that they're at their best when they move the ball and get it in to Pau Gasol. And when that doesn't work, Bryant can always take his man one-on-one.
The most effective play of the Lakers' 109-98 victory in Game 1 of the Western Conference semifinals was Bryant getting fouled, stepping to the line and making free throws, something he did 21 times in 23 attempts (both playoff career highs).
The Jazz were physical on defense and aggressive on the boards, as expected, but they couldn't maintain their offensive focus in the second quarter, when the game got away from them. That's when the Utah shot 28 percent, coughed up seven turnovers and fell behind by 17. Even though they climbed back in the game, cutting the Lakers' lead to four points in the second half.
The Jazz scored 20 of their 24 first-quarter points in the paint. But in the second quarter they started settling for jump shots.
"When they started putting pressure on us, we started moving farther out on the floor to take shots and when we do that, we can't defend the other end of the floor," Sloan said.
Midway through the third quarter, the shot chart showed the Jazz had made only 1 of 20 jumpers outside the paint. The only thing that kept them in the game was an incredible rebounding effort that resulted in 25 offensive rebounds and a 58-41 edge on the boards overall.
The Lakes did exploit Utah's commitment to rebounding to escape for transition layups at times, outscoring Utah 17-6 in fast-break points.
And now the Lakers players have had a game to absorb the grind of facing the Jazz, and maybe gained a greater appreciation for what the coaching staff told them to expect.
"Until they experience it," Jackson said, "and you get into that kind of a scrum match that you're going to have out there, it's hard for them to be told that they have to just 'get in there and get the ball,' and that type of thing."
The Jazz used 33 personal fouls (Carlos Boozer and Andrei Kirilenko both fouled out), and those are just the ones that were called. Lakers trainer Gary Vitti expects the training room to be full and will have to stock up on ice after this one.
The five-day vacation they earned from sweeping the Nuggets is over.
"It's definitely different than Denver," said Lakers guard Sasha Vujacic, speaking of the Lakers' first-round opponent that offered the path of least resistance in the playoffs so far.
But the Jazz discovered that Bryant has a lot more weapons around him than Tracy McGrady and their first-round foe, Houston.
(Poor T-Mac. It's time for his annual playoff obit. You know who he reminds me of? Remember Special Delivery Jones from the Saturday morning wrestling shows in the '80s? That's T-Mac. SD Jones would beat the no-name opponents, but whenever he'd go against one of the villains like the Iron Sheik or Sgt. Slaughter, Jones would always lose. He'd put up a good fight and get your hopes up, then go down every time. That's McGrady.)
While the Jazz should shoot better than 38 percent as they recover from going from Game 6 to Game 1 in two days, the Lakers should win the series because they have more weapons.
Besides Bryant's 38, the Lakers got 18 from Gasol, 16 from Odom and 15 from Vujacic off the bench.
Mehmet Okur got loose for 21 points, but otherwise the Lakers effectively contained Deron Williams by jumping screens and jamming him away from the ball, and Boozer, often double-teamed in the low post, was limited to 15 points.
And now the Lakers have a lot of history on their side. Jackson has never lost a series after winning the opening game. And the Lakers have won five straight games to open the playoffs. Of the previous nine times the Lakers started off so well, they reached the NBA Finals eight times, winning six championships.
From the history to the familiarity to the style of play, Bryant is into it.
"It's a chance to bang, and that's what basketball's all about," Bryant said. "If you're an '80s fan or a basketball aficionado, you kind of like that stuff."
And for a second straight series, the Lakers overcame a shaky first half to roll to an easy Game 1 win.
J.A. Adande is the author of "The Best Los Angeles Sports Arguments." He joined ESPN.com as an NBA columnist in August 2007 after 10 years with the Los Angeles Times. Click here to e-mail J.A.
Playoff Dimes Past:
April 27
|
28
|
29
|
30
|
May 1
|
2
|
3
|
4

By Tim Buckley | Special to ESPN.com
LOS ANGELES -- After enduring the entire Kobe Bryant Experience, replete with points and passes, the Utah Jazz feel much like the "V'' between "M'' and "P.''
Caught smack dab in the middle. Bryant dropped a game-high 38 points on Utah as the
Los Angeles Lakers
took Game 1 of their Western Conference playoff semifinal series 109-98. That includes not only 8-of-16 shooting from the field, but also 21-of-23 from the free-throw line. Yet it wasn't just Kobe's scoring that had Jazz heads spinning. Rather, the NBA's MVP-elect also dished seven assists and got his teammates --
Pau Gasol
scored 18,
Lamar Odom
16 -- involved in a manner not always seen in postseasons past. "That's their team,'' Jazz starting shooting guard
Ronnie Brewer
said. "Their first option might be Kobe. You shut that option down, he's gonna make a pass to somebody. And if you rotate well, they tend to move the ball really well. They were throwing the ball inside to Gasol, the guy streaking to the basket. Their chemistry was really going for them today.'' "He's definitely changed his game a little bit to do that,'' veteran Jazz forward
Matt Harpring
added. "He's more of a passer now. I mean, he can still score -- for sure. But he definitely looks for his teammates now, which makes them a better team.'' It also makes the Jazz a club desperately in search of answers for Bryant, preferably sometime prior to Wednesday's Game 2. "Their triangle offense, there are so many options in there,'' said Brewer, one of the Jazz's chief defenders on Bryant. "So a lot of times you get the ball in the post, and he's being physical with you, so you have to be physical back with him. Unfortunately, they were calling it a little tough down there.'' But Brewer added, "You have to make adjustments, or read how they're gonna call it, and just make him work on the offensive end. I mean, he's a talented player. He's going to take a high number of shots. He's gonna take the ball to the basket aggressively. You just have to be ready every play.'' It's a frustration with which the Jazz, who were playing on about 38 hours' rest after eliminating Houston from the first round, must address soon. First, though, they have to get over Sunday. "He didn't settle for a lot of jumpers. He made extra passes,'' Jazz point guard
Deron Williams
said. "That's why he's the MVP. He just took over the game.''
Tim Buckley covers the Utah Jazz for the Deseret News.

By John Denton | Special to ESPN.com
AUBURN HILLS, Mich. -- The Detroit Pistons came out on top in the first game of their East semifinal series with the Orlando Magic because they completely neutralized Dwight Howard on the inside. Jason Maxiell, Rasheed Wallace and Theo Ratliff rattled Howard so much so with their physical play that the Pistons hardly ever had to double-team. And that, in turn, bogged down a Magic offense that had made the second-most 3-pointers in NBA history (801) during the regular season.
Ratliff said the Pistons don't fear Howard because "[Wallace], [Antonio] McDyess and myself have played against some of the greatest to ever play the game … [Patrick] Ewing, [Hakeem] Olajuwon and
David Robinson
.'' And Maxiell said he can be effective inside because Howard's lower body isn't that strong. That comment particularly got the attention of the strapping Howard, who flexes his muscles more than Hulk Hogan and prefers to wear stretchy, sleeveless shirts to show off his ripped frame. "That's not true,'' Howard said of his supposed lack of lower-body strength. "Trust me, that's not true at all.'' Orlando's
Rashard Lewis
, who has had to play out of position all season at power forward, took umbrage with Ratliff questioning the Magic's toughness. The two tangled late in Saturday's game and on Sunday Lewis issued a challenge.
"That's what he says, but it will be a different story come [Monday],'' Lewis said. "We are a smaller team and they are big and physical, but we're not backing down."
Then, walking off the court after practice Sunday afternoon, Lewis had this message for Ratliff: "You can have a lot of energy when you play five minutes a game. What has he played all season, 15 games? Tell him to come out and guard me at the 3-point line and we'll see what happens.''
John Denton is a regular contributor to ESPN.com. He covers the Orlando Magic for Florida Today.

SUNDAY'S BEST
Kobe Bryant, Lakers guard
: While "M-V-P" remains a big hit with the Staples chanters, he sinks 21 of 23 free throws en route to 38 points, seven assists and six rebounds in L.A.'s 109-98 win over the Utah Jazz.
---

SUNDAY'S WORST
Josh Smith, Hawks forward
: One day he's a latter-day 'Nique, the next he's, um, not. The high-rising Josh had 7 points, 4 boards and 1 block in the loss to the Celtics.
---
QUOTE OF THE NIGHT

"I wish we could have played all of our games in Atlanta.'' -- Hawks coach
Mike Woodson
, whose team went 3-0 against Boston on its home court.
• See Sunday's daily leaders
-- Andrew Ayres

By Chris Sheridan
ESPN.com
BOSTON -- For the Atlanta Hawks, Sunday's 99-65 loss to the Boston Celtics in Game 7 brought an end to the best season that team has had in nearly a decade -- though it didn't bring an end to the turmoil surrounding the franchise. Coach Mike Woodson's contract is expiring, and general manager Billy Knight recommended to ownership back in midseason that Woodson be dismissed.
With that dynamic already dividing them, it seems unlikely both will return. So if one of them improved his chances of staying, it undoubtedly was the coach who got his players to buy into the belief (at least in Games 3, 4 and 6) that they were every bit as worthy as Boston of moving on to the second round. Knight, who passed on
Chris Paul
and
Deron Williams
in the draft three years ago and then tried to make up for his past gaffes by engineering the midseason trade that brought
Mike Bibby
to Atlanta, did not exactly get a boost from Bibby (1-for-3 for two points in Game 7, 22-for-65 for the series with just 22 assists and 13 turnovers). "I'm not going to discuss my job," Woodson said. "I'm happy about this season. We had a goal and we got into the playoffs. We pushed this team, we battled them to the end, we just didn't get it." Battled until the end? Don't know about that one, Mike. But your Atlanta Hawks did force the Celtics to look in the mirror, and that's more than anyone expected.
Lakers take 1-0 lead on Jazz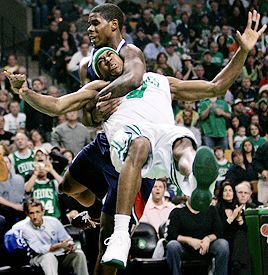 AP Photo/Charles Krupa
Boston Celtics guard Rajon Rondo was tackled by Atlanta Hawks forward Marvin Williams on a drive to the basket in the second half of Game 7. Williams was ejected after the play.

By Marc J. Spears
Special to ESPN.com
BOSTON -- With a crucial Game 7 win in hand, the hard foul that Boston Celtics guard Rajon Rondo endured in the game quickly became a thing of the past Sunday.
Rondo lay stoically on the TD Banknorth Garden floor for a while after being slammed to the ground following a hard foul from Atlanta's
Marvin Williams
with 9:09 left in the third quarter of Boston's first-round series-ending 99-65 triumph in Game 7 Sunday. Williams was slapped with a Flagrant-2 penalty that started his offseason early as he was immediately ejected from the game. But Rondo, who had 10 points, six assists and three rebounds in 30 minutes, had no ill will toward Williams after the game. "Hard fouls are part of the game, especially with the amount of intensity in Game 7," Rondo said in a text message. "Marvin and I talked postgame. He's a nice guy and we're cool." Williams looked at replays of the hard foul while back in the Hawks' locker room, but didn't think it warranted his ejection. Celtics coach Doc Rivers doesn't view Williams as "a dirty player," but said he deserved to be ejected. "I had no intention of hurting Rondo," Williams said. "When I looked at it on TV when I came here in the back, it definitely didn't look good. I can't argue that. But I would never try to hurt anybody. I think Rondo knows that. I'm a good friend of Rondo and I think he knows I would never try to hurt him. "I was just trying to take a hard foul and make him earn it at the free-throw line. I personally didn't think it would be a Flagrant-2. It's been a physical series between us and the Celtics all series." But as hard as that foul on him might have been, Rondo inflicted more pain on the Hawks in the first round. The second-year Celtic averaged 11.6 points, 7.3 assists, 4.1 rebounds and 1.7 steals in the series. Rondo also outplayed Hawks guard
Mike Bibby
, who was limited to 10.3 points on 33.8 percent shooting and 3.1 assists. Such play by Rondo in his first playoff appearance against a guy who mentored him in high school was definitely a confidence booster, one that could carry over to the rest of the postseason.
Marc J. Spears is a regular contributor to ESPN.com and covers the NBA and the Celtics for The Boston Globe.

By David Thorpe
Scouts Inc.
There is a reason New Orleans was one of the league's top teams all season, and this is one of the biggest: They have two All-Stars who demand lots of attention from a defense, and one can shine if the other is being shaded too heavily.
And San Antonio can't forget about Peja Stojakovic, who killed from deep (2-for-4 from 3) and backed in or faced up every defender, having no difficulty shooting over his smaller opponents.
San Antonio likely will try different modes of defense to keep New Orleans from any kind of rhythm, so the Hornets should expect to feature different players offensively, based on what the defense dictates.
Unfortunately for the Spurs, the Hornets are good enough to handle that.
To read the full Scouts Inc. Game 2 breakdown, click here.
---