SAN ANTONIO -- To get to the first Game 7 on the road of Tim Duncan's life, there was bound to be just one sure path.
In this repetitive series? You could only assume that what happened in the third quarter, as usual with these teams, would decide whether Duncan could pack for one more trip to the French Quarter.
As San Antonio's
Tony Parker
helpfully observed: "The whole series, man. Third quarter looks like it's pivotal."
Playoff Schedule
WEST SEMIFINALS

New Orleans 3, San Antonio 3
Game 7: Mon., TBD, at NOH
L.A. Lakers 3, Utah 2
Game 6: Fri., 10:30 ET, at UTH
EAST SEMIFINALS

Detroit 4, Orlando 1
Pistons win series
Boston 3, Cleveland 2
Game 6: Fri., 8 ET, at CLE
Fatal
might be a better word after the pattern continued late Thursday. It was an unreservedly hideous third quarter, this time endured by the
New Orleans Hornets
, which helped San Antonio pull away for a 99-80 rout that, at the very least, takes Team Duncan's bid to win back-to-back titles for the first time through to Monday night.
In the intervening three days until the decider, expect to hear loads about how the playoff rookies from New Orleans have outscored the reigning champs by a tidy count of 93-46 at home in the third quarters of their three victories ... and how the Hornets completely buckled in the third quarter of a Game 6 that could have eliminated the Spurs.
"That third quarter was ugly," Hornets guard
Chris Paul
conceded.
"Ugly." He said it twice for a reason. The scenes after halftime were that unsightly and dispiriting for the visitors, who suddenly might need this forthcoming 72-hour break as much as the "very old team" they're playing, as Parker jokingly called the Spurs.
Coming out of intermission feeling reasonably fortunate -- given that San Antonio shot 71 percent from the field in the first quarter and led by only seven points (58-51) at the break -- New Orleans promptly botched the inbounds pass to open the second half, essentially gifting Parker a layup.
"I looked at that as a bad sign right off the bat," Hornets coach Byron Scott said.
Not long after, Paul was called for two offensive fouls in a span of 17 seconds, followed by
three
fouls on
David West
in a span of 28 seconds. The flurry of whistles saddled both of their stars with four fouls and naturally enraged the Hornets, whose ensuing spiral helped San Antonio stretch its lead to 78-63 entering the fourth.
Manu Ginobili's fifth and sixth 3-pointers to open the final period quickly pushed that lead to 21 before the Hornets' evening, West's specifically, got progressively worse. Unaware that
Robert Horry
was setting a hard back screen behind him -- and already trying to play through back pain -- West leaped to block Ginobili's entry pass and wound up falling backward hard as Horry leaned forward.
The hit instantly floored him and eventually required West to be carried to the locker room with 10:11 to play.
"It's probably a good thing that Game 7 is Monday," Scott said, not denying that West especially might need the added rest to recover. Yet that might also be because Duncan played him so well for long stretches, which is bound to be forgotten in the aftermath of the Hornets' collapse and West's painful exit.
With memories of West's 38-point, 14-rebound, five-block masterpiece in Game 5 still fresh, Spurs coach Gregg Popovich made a concession he had hoped to avoid by starting
Fabricio Oberto
over
Kurt Thomas
and eventually asking Duncan to be his primary West defender. The result: West never looked comfortable, even in the first two quarters, while Duncan avoided foul trouble and amassed 20 points, 15 boards and a team-best six assists to highlight San Antonio's superior ball sharing and complement the nine triples pumped in by Ginobili (25 points) and
Ime Udoka
(13).
Said Popovich: "Things went our way tonight, that's for sure."
Now to see if the Spurs can do anything about changing the cycle of this series ... on top of their quest to alter their playoff history. They've split the only two previous Game 7s in Duncan's 11 seasons, both played in San Antonio. The Spurs' first Game 7 on the road since 1990 comes as they're trying to avoid going 0-for-5 in the Duncan Era in pursuit of back-to-back championships. The Team That Never Repeats also goes back to the French Quarter knowing that the home team, in an NBA first, has won all six games in this series by 10 points or more. And knowing, most of all, which quarter matters most.
Boiling things down for us one more time, Parker said: "If we can't keep it close, experience won't help us. If we can keep it close, [experience] can help us. We have played a Game 7 before."
Marc Stein is the senior NBA writer for ESPN.com. To e-mail him, click here.
Playoff Dimes Past:
May 1
|
2
|
3
|
4
|
5
|
6
|
7
|
8
|
9
|
10
|
11
|
12
|
13
|
14
|
15

THURSDAY'S BEST
Tim Duncan, Spurs forward
: Through the first five games of the San Antonio vs. New Orleans series, the future Hall of Famer had been getting outplayed by David West. With the season on the line, he quieted the doubters by tallying 20 points, 15 rebounds and six assists.
---

THURSDAY'S WORST
David West, Hornets forward
: He had an all-around bad night and it had nothing to do with the fact that he got hurt. One game after setting career playoffs highs in blocks, points and rebounds, he missed 10 of his 14 shot attempts, finishing with just 10 points.
---
QUOTE OF THE NIGHT

"I don't know what to say. That third quarter was ugly. Thank God we get to go back to New Orleans for Game 7." -- Hornets point guard
Chris Paul
talking about his team getting outscored 20-12 in the pivotal period
• See Thursday's daily leaders
-- Maurice Brooks

Matt (Boston): Stuckey and Rondo -- are these two guys getting close to joining Paul, Williams, Parker, Roy and Joe Johnson as the future of NBA point guards? Stuckey really intrigues me. He's really big, strong and fast and his confidence level is through the roof. Rookie? From Division II? Are you kidding me?
Chad Ford: Yes ... though Rondo's further ahead. Everyone was concerned about his shaky jump shot coming out of college, but he's starting to hit that shot with more consistency now and defensively, I'm not sure there's a tougher guard defender in the league. Stuckey has a lot of D-Wade in him but he's a bit more of a facilitator. I like that we're getting lots of good young point guards in the league. This summer Derrick Rose and D.J. Augustin and maybe Russell Westbrook will add to that class.
To read the full chat, click here.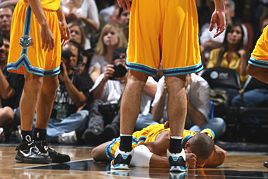 Garrett Ellwood/NBAE/Getty
Not only did All-Star forward David West aggravate his injured back, but the Hornets dropped Game 6 by 19 points to the Spurs.
Defending champions not done yet

The Celtics, who visit the Cavs in Game 6 on Friday (8 p.m. ET, ESPN), are the first team in NBA history to finish the regular season with the best road record and then lose five consecutive playoff road games to start the postseason.
Fewest road wins by NBA champion

Year
Team
Road Victories
1955
Syracuse
1
1956
Philadelphia
1
1965
Boston
1
1984
Boston
3
1988
L.A. Lakers
3
1977
Portland
4
1979
Seattle
4
2000
L.A. Lakers
4
-- Lisa Brooks, ESPN Research

New Mavericks head coach Rick Carlisle explains why home court has been so huge in the playoffs this year. He also says that Dallas was aggressive in pursuing him and he's confident he can help get the Mavs back to the Finals.
ESPN radio

The Spurs' 99-80 victory over the Hornets made it 6-for-6 in their conference semifinal series: not just home-team wins, but home-team wins by double-digit margins. It's the first series in NBA playoff history in which the home team has won each of the first six games by margins of 10 or more points.
• More from Elias Sports Bureau
---