SALT LAKE CITY -- So maybe it was more of a stagger than a bold leap into the next round, the Lakers squandering all but three points of a convincing 19-point lead, before holding on to close out the Utah Jazz in Game 6. But here they are.
Advancing, growing, learning, moving on to the Western Conference finals.
The Lakers showed they have just enough experience and firepower to beat the Jazz 108-105 at EnergySolutions Arena Friday night. L.A. demonstrated why it has the right mix to beat either the New Orleans Hornets or the San Antonio Spurs in the next round.
At the start of the game, the Lakers showed an understanding of the initial effort it takes to prevail in a hostile environment, and at the end they learned how important it is to sustain that energy.
Jazz coach Jerry Sloan kept painting the Lakers as the more experienced team, even though the Jazz were the ones who went to the conference finals in 2007 and had nearly the same team that made that run back in these playoffs. The only Lakers who had reached the conference finals before were Kobe Bryant, Derek Fisher and Luke Walton. Fisher was the swing voter in this election, the man whose experience helped the Jazz at critical junctures in 2007 and who gave the Lakers a steady veteran influence and an upgrade over Smush Parker at point guard when he rejoined them this season.
Add in the 33 rings Phil Jackson and the staff on his bench have as coaches and players, and you can see how the Lakers get their winning attitude.
"That's all our coaching staff, Kobe [Bryant] and Derek [Fisher], who've been in big games before," Lamar Odom said. "It's all a reflection of them. The poise and the killer instinct they gave us is remarkable."
And now it's transferring to the rest of them: The Lakers featured Pau Gasol in their offense (he had 17 points, 13 rebounds and four blocked shots); Odom is now completely comfortable playing away from the ball and at the power forward position; and Sasha Vujacic loves being the bad guy off the bench.
What it means for everyone else is that Bryant, the most dangerous player in the playoffs, is back, haunting the rest of the league in May. It took some additions to the cast, but now it rivals the "Nightmare on Elm Street" franchise, with Freddy Krueger joined by Jason Voorhees.
Of course, Bryant has created his own villainous character, and he brought it out after the Jazz pulled within seven points with just over five minutes remaining.
"I went to the Black Mamba," said Bryant, who finished with 34 points.
First he got the ball on the right wing, as Matt Harpring muscled him up. Bryant created enough space to launch a 3-pointer and drained it. Harpring turned and groaned as if he'd been stabbed.
"Man, oh man, that was a big shot," Harpring said. "I've got to give him credit for that one. That's one of those shots that if he misses, we're golden. But he made it and that's why he's a big-time player."
The next time down, Bryant went up for an off-balance jumper, Harpring got called for a foul and Bryant somehow banked home the shot, then made the free throw for a three-point play. The Jazz did their own refuse-to-die-horror-movie imitation, making five 3-pointers in the final two minutes and 30 seconds to get close, and when Fisher missed a free throw with 9.9 seconds remaining, it gave them one last hope. But Mehmet Okur missed an open, deep look and Deron Williams rushed an attempt after he got the rebound.
So the Lakers breathed a sigh of relief, then broke into a series of celebratory hugs.
"The fourth quarter we played was definitely disappointing, but not even close to overshadowing what we've accomplished here on the road," Fisher said. "There are always things to learn in every win and loss, and we'll be able to learn from tonight, but I'm not going to allow myself to take away from the positives that have happened here on this floor tonight."
The Lakers successfully turned down the volume on the vociferous Utah crowd, using a steady flow of fast-break points, 3-pointers and free throws to pound the Jazz.
By the end of the first half, the fans were reduced to chanting derisively at the referees, as if it were the officials' fault the Jazz shot 33 percent, or that the refs played defense that let the Lakers get whatever shots they wanted. Hey, maybe the refs chartered the plane for Andrei Kirilenko's ill-timed trip to San Francisco on Thursday to take care of visa issues at the French embassy.
Actually, one fan did blame Kirilenko, commandeering a public address microphone during halftime and using the arena loudspeakers to urge Jazz owner Larry Miller to trade Kirilenko.
And by the third quarter, one Jazz fan was directing the same nasty verb used for the referees at Carlos Boozer.
Boozer was ineffective, as he was for most of the series, going out with 12 points on 5-of-16 shooting before fouling out, as the Lakers successfully defended him with a variety of looks. These playoffs represented a step backward for him.
Williams had nothing to be ashamed of, with another 21 points and 14 assists Friday. But the Lakers did keep him from driving the lane at will, and they can actually be proud of the way they defended him and the Jazz's pick-and-roll.
"I think we'll remember most of all the fact that we played with some sense of urgency, determination in this ballgame," Jackson said.
So while the Jazz lamented their inability to match the Lakers' intensity ("They got after us hard," Sloan said. "It looked like we didn't have any life to compete against them.") the Lakers moved on. Kirilenko, who was still talking about passports in the postgame locker room, will now have the opportunity to use his for any European travels he wants to go on.
The Lakers are ready to apply the knowledge they gained this round, poised to take the next step.
J.A. Adande is the author of "The Best Los Angeles Sports Arguments." He joined ESPN.com as an NBA columnist in August 2007 after 10 years with the Los Angeles Times. Click here to e-mail J.A.
Playoff Dimes Past:
May 1
|
2
|
3
|
4
|
5
|
6
|
7
|
8
|
9
|
10
|
11
|
12
|
13
|
14
|
15
|
16

FRIDAY'S BEST
LeBron James, Cavaliers forward
: King James said, "It was either win or go home and I'm not ready to go home." His all-around play in Game 6 -- 32 points, 12 rebounds and six assists -- backed up his words.
---

FRIDAY'S WORST
Carlos Boozer, Jazz forward
: Utah staged a furious rally in the closing minutes of regulation, but their All-Star big man had already fouled out by that point. He finished with just 12 points on 5-of-16 shooting from the field.
---
QUOTE OF THE NIGHT

"Tell the refs to do the interview. They were just as important." -- Celtics coach
Doc Rivers
, who felt some crucial calls didn't go Boston's way
• See Friday's daily leaders
-- Maurice Brooks

By Chris Sheridan
ESPN.com
CLEVELAND -- As the final buzzer sounded, LeBron James wound up and flung the ball as hard as he could toward the other end of the court.
It was a pitch to nobody, a hurl that ended up flying over the top of the backboard after drifting 2 or 3 feet from left to right in midflight, a screwball so perfect that Carl Hubbell and Jim Carrey both would have been proud of it.
To read the full column, click here.

By Tim Buckley
Special to ESPN.com
SALT LAKE CITY -- A bummer of a postseason ended fittingly Friday night for
Utah Jazz
All-Star
Carlos Boozer
.
At home.
On the bench.
Watching his backup, minimum-pay/maximum-effort Paul Millsap, do so much of what he did not -- not only in Utah's 108-105 Game 6 Western Conference semifinals loss to the Los Angeles Lakers, but also throughout most of the Jazz's 12-game playoff run.
"He was just very aggressive offensively and defensively," Jazz point guard Deron Williams said of Millsap, who pulled down eight rebounds and scored 15 points on 6-of-7 shooting in just 24 minutes off the bench.
"He was very active, and just provided us with a big spark of energy, and he was running the floor hard," Williams added. "And it's rewarding to get the ball to him."
Intended or not, Williams' statement is as much an indictment of Team USA member Boozer's play as it is a compliment on 2006 second-round draft choice Millsap's.
Utah's starting power forward was a shell of his All-Star self throughout the postseason. He did pull down 12.3 rebounds per game, but he averaged only 16 points in those 12 games -- a whopping 5.1 off his regular-season average.
In Utah's series against the Lakers, he had just one outing with more than 18 points. In a six-game first-round series with the Houston Rockets, there was just one with more than 19.
And in the most critical game for the Jazz, in front of his own less-than-impressed fans, he had just 12 points before fouling out with four minutes and 34 seconds remaining.
One play that was indicative of Boozer's night, one in which he logged just 36 minutes, was on a foul for driving into Lamar Odom with 13.4 seconds to go in the opening half. That negated a basket that would have cut L.A.'s lead at the time to 14.
Instead, the Lakers went into the break up 19 -- and Boozer was left to play pom-pom shaker while a late-game Jazz rally fizzled with two failed 3-pointers.
"It's terrible, man," said Boozer, who was flustered throughout the series by Odom and fellow Lakers big man Pau Gasol. "You know you want to be out there, trying to help your team, um, get over the hump. You know, it's tough to do. But in that situation you just gotta cheer 'em on."
And try not to let the audible postseason jeers of at least some Jazz faithful keep you down.
Tim Buckley covers the Utah Jazz for the Deseret News.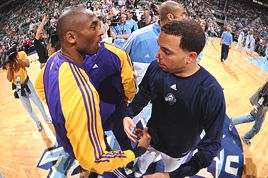 Andrew D. Bernstein/NBAE/Getty Images
Utah's Deron Williams had an outstanding series, but it's newly crowned NBA MVP Kobe Bryant and the Lakers who are moving on.
Road trip: Cavs headed back to Boston

Phil Jackson has now been the winning coach for 46 playoff series, the most in NBA history. Pat Riley, who has won 40 playoff series, is the only other coach who has won more than 25 in a career.
• More from Elias Sports Bureau

On Sunday at 3:30 p.m. ET on ABC, the Cavaliers will visit the Celtics in Game 7 of their East semifinals series. Here are some interesting tidbits. The Celtics are 29-0 in best-of-seven series when they have led the series 2-0. Boston has won its past seven home playoff games overall. The Celtics are 15-3 in Game 7 home playoff games. They have won six of their past seven Game 7 home playoff contests. The Cavaliers are 1-4 in best-of-seven series when they trail the series 2-0. Cleveland has lost three straight and eight of its past 11 road playoff games. Cleveland is 0-1 in Game 7 road playoff games.
-- ESPN research
---