BOSTON -- Cigar smoke.
The smell was unmistakable, wafting through the air some 15 feet from the Celtics' bench as Paul Pierce joined in on the Gino dance and Kevin Garnett bounded up and down with joy.
There were still two minutes and 21 seconds remaining in a Game 6 that for all intents and purposes had been over for at least an hour, the fans were chanting "Se-ven-teen" and coach Doc Rivers was still a few moments away from being doused with a bucket of orange Gatorade.
Security guards were already lined up along the perimeter of the court, holding a long rope that would serve as a crowd control device for any ruffians who dared try to rush the celebration, and a fan nearby was holding up a sign that read: "Light One Up for Red."
Somebody had already lit one up, though the source of the cigar smoke could not be located. And to me, that was just as well, because I'd like to close this season with just the slightest belief that the source of that smell was a ghost, a ghost with nine championship rings who will be able to rest in peace a little longer knowing that the man chasing ring No. 10, Lakers coach Phil Jackson, would be flying back to Los Angeles without the record for most NBA championships by a coach.
The game itself was extraordinary only for being so anticlimactic. The Lakers showed no urge to fight after Boston's lead grew from four at the end of one quarter to 23 at halftime to 29 at the end of three quarters and to 39 by the end -- making it the most lopsided Finals game since the
Chicago Bulls
destroyed the
Utah Jazz
by 42 in Game 3 of the 1998 Finals, and the most lopsided clincher ever.
"I thought we played on our heels from the get-go. They overran us," Jackson said. "Garnett knocked Pau [Gasol] down in the lane and scored an easy basket on one of the first four or five possessions, and it kind of set a tone that they were going to establish an aggressive form, and we never met that energy all night."
For a long time, the Celtics' steals total was keeping pace with the Lakers' field goal total. Rajon Rondo ended up with six of Boston's 18 thefts to go along with his 21 points, eight assists and seven rebounds. Kevin Garnett, Ray Allen and James Posey added three steals apiece, while Paul Pierce had a pair to go along with his 17 points and 10 assists (and the Finals MVP award).
The Celtics' 18 steals were a Finals record, Allen tied a Finals record by making seven 3-pointers (and 22 in the series, also a Finals record), and the championship came in Boston's 26th postseason game -- yet another NBA record. Let's also not forget that the Celtics won this title after making the biggest single-season turnaround ever, going from 24 victories last season(when fans were openly rooting against them, hoping to secure a better lottery pick) to 66 this season following the franchise-altering deals that brought Garnett and Allen aboard.
There was almost a sense of disbelief running through the building as the game got away from the Lakers in the second quarter, the signature stretch coming when Bryant threw away a pass and Garnett scored on a one-handed half-hook shot at the other end, drawing a foul and completing the three-point play to make it 56-35. Kendrick Perkins then blocked a shot at the other end, came downcourt and dunked off a fancy look-away pass from the nether reaches of Garnett's repertoire.
Pierce, Allen and Garnett exited together with 4:01 left, the celebration already in full swing.
"I took a deep breath, looked up and said 'Hey, it finally happened, man,'" Pierce said. "So many things were running though our heads on the sidelines. We were just in awe over there, can't believe what was going on. I still can't believe right now that I've got a championship under my belt."
Every championship looks a little different, and not every title-clinching moment sounds the same.
But what's really different from time to time -- not every year, but often enough for it to strike me anew from time to time in the middle of each June -- is the way a title can assault the one sense you wouldn't expect to be assaulted.
Two years ago in Dallas, the stinky-sweet odor of champagne emanating from the Miami Heat's locker room was so overwhelming it bordered on the repulsive, and that was just from outside the door. Once you got inside, the smell was so noxious you actually felt sorry for the poor cleaning people who were probably going to have to bathe the room in bleach to get rid of the stench and who had to pick up the thousands of small pieces of paper bearing the words "15 Strong."
A year ago in Cleveland it wasn't champagne, it was beer. The visitors from San Antonio were flinging it around the place like it was a frat party, but their celebration was muted enough that you walked away not remembering one snapshot moment, but rather one snapshot smell.
This time, it was the cigar smoke.
And that smell stayed in my nostrils as the clock ticked down to 30 seconds and I made my way down an exit stairwell to the parking lot outside the new Garden, a parking lot that lies in the footprint of the old Garden, where the Celtics' first 16 championship banners were won. In that parking lot stood at least 100 police officers in riot gear, many carrying canisters of tear gas, all holding strips of plastic handcuffs and 4-foot long wooden billy clubs that thankfully they never needed to use.
There were a couple high-fives among the cops as the game ended, but the scene outside remained strangely quiet aside from the noise produced by two helicopters overhead, along with a "Se-ven-teen" chant that eventually went up from the bar patrons who emptied out of the pubs across the street but were kept behind metal barricades on the other side of Causeway Street.
Most of the fans stayed inside to take in the celebration, and the cops ended up not having to push or shove anyone.
The same couldn't be said of referees Bennett Salvatore and Joey Crawford, who were forced to move cameramen and photographers off the court in front of the Celtics' bench with 2:21 remaining in order to clear up a certain corner of the parquet floor where the victory celebration had already begun.
I trailed Pierce as he left the locker room and made the walk to the postgame interview area, the unmistakable scent of champagne emanating from his soaked jersey and cap.
But that's not the smell I'll forever associate this night with.
Instead, it's the smell of a cigar -- the source of which I'll never truly know, even though a part of me will always suspect it came from an area just above the Celtics' end of the court, right where Red Auerbach's spirit was floating.
Chris Sheridan covers the NBA for ESPN Insider. To e-mail Chris, click here.
NBA Finals Dimes Past:
June 2
|
5
|
6
|
7
|
8
|
9
|
10
|
11
|
12
|
13
|
14
|
15
|
16
|
17
By J.A. Adande | ESPN.com
BOSTON -- The stunning thing about these NBA Finals is what the Lakers didn't produce.
No memorable performance from Kobe Bryant.
No critical adjustments from Phil Jackson.
No candidate for the Tyronn Lue Award for best unexpected performance that lands a lucrative new contract.
And, in the end, no resistance as the Celtics closed in on their 17th championship.
Their submissive 131-92 defeat didn't just bring the Finals to its conclusion. It made you wonder if this Laker season was a mirage instead of the dawn of a new dynasty.
Over the course of the series, the Lakers showed an alarming lack of toughness, defensive backbone and offensive creativity. As a result they suffered the worst Finals blown lead on record in Game 4 and the worst ending loss in Finals history in Game 6.
Privately, some folks at the upper levels in Lakerland believe these Finals were a bonus and only a prelude to when they get really dangerous when Andrew Bynum comes back from his knee injury. Jackson gave a glimpse into that mind-set when he said, "We were surprised we were here, and we're glad that we had an opportunity."
The danger in that thought process is the Celtics beat the Lakers twice in the regular season with Bynum. And the supposed savior has played only about 40 to 50 really good NBA games in his career. And we've yet to see how he does in June, when the games matter most. And, oh yeah, he's coming off a knee injury.
To read the full column, click here.

By John Hollinger | ESPN.com
BOSTON -- From opening night, when Boston held Washington to 83 points on 35 percent shooting and forced 20 turnovers, to the championship ceremony, when the crowd spontaneously chanted "De-fense," the Celtics' swarming, suffocating D was the dominant theme of the 2007-08 NBA season.
With the arrival of Kevin Garnett and the addition of ace defensive assistant Tom Thibodeau, the Celtics had the third-best defensive efficiency mark since the league began tracking turnovers in 1973-74, helping them to a league-best 66 wins despite fairly modest offensive numbers.
In the playoffs, it got them through choppy early rounds when the offense sputtered and Ray Allen in particular hit a nasty shooting slump. And in the Finals, it helped them put the clamps on Kobe Bryant and a Lakers crew that had been an elite offensive team since acquiring Pau Gasol. L.A. shot only 44.1 percent for the series and scored just 93.5 points per game.
At the trophy ceremony Tuesday night after taking the NBA title in six games, Celtics coach Doc Rivers said "defense" was his first word to the team. "We play defense, we're going to win a world championship, and that's exactly what they did. They were phenomenal all year."
On cue, the "De-fense" chants rained down from the raucous TD Banknorth Garden crowd, and it couldn't have been more fitting on this night. Boston cemented the championship with one of the great defensive halves in league history, holding the Lakers to 35 points at the break, on 29 percent shooting, and breaking their spirit in the process.
Here's the most amazing part -- even with all the L.A. misses, the Lakers couldn't get a single offensive rebound for much of the game. In fact, they didn't get their first one until the fourth quarter, and for the game had only two compared to 34 defensive boards for Boston. That's a 6 percent rebound rate if you're scoring at home; normally the offensive team gets around 30 percent.
To read the full column, click here.
By Maurice Brooks
ESPN.com

TUESDAY'S BEST
Kevin Garnett, Paul Pierce and Ray Allen
: The trio began the season known as GPA, the Boston three party and the big three. They end the season known as world champs.
---

TUESDAY'S WORST
Kobe Bryant, Lakers guard
: He hit his first three shots and four of his first five but went 3-for-17 the rest of the game. His 22 attempts were only three fewer than the other four Los Angeles starters (Lamar Odom, Pau Gasol, Derek Fisher and Vladimir Radmanovic) took combined.
---
QUOTE OF THE NIGHT

"I got my own. I got my own. I hope we made you proud." -- Celtics forward
Kevin Garnett
talking to 11-time NBA champion Bill Russell immediately after the game
• See Tuesday's daily leaders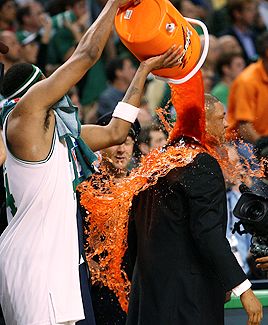 Elsa/NBAE/Getty
It seems like no championship celebration is complete without the head coach receiving a Gatorade shower. Boston's Paul Pierce took care of that by dousing Doc Rivers.

By Henry Abbott
ESPN.com
BOSTON -- A week ago, Rajon Rondo could hardly move.
The bone bruise on his ankle, sustained in the third quarter of Game 3, was so bad a week ago that just walking a lap around the team hotel in Los Angeles was an accomplishment worth crowing about to reporters.
Rondo didn't sit out any games, but he might as well have. In Games 4 and 5, the Celtics were only really good when a Rondo replacement -- Eddie House, Tony Allen or Sam Cassell -- played well.
In the interim, Phil Jackson hatched his most effective strategy of the series: Let Kobe Bryant roam on defense. Matched up with Rondo, Bryant dared the gimpy speedster to become a shooter. Rondo was largely unwilling to capitalize.
Instead, Bryant used his freedom on the defensive end to great advantage, acting as a help defender on Paul Pierce and Kevin Garnett, neither of whom enjoyed the attention.
Click here to read TrueHoop blog
By Henry Abbott
ESPN.com
BOSTON -- Doc Rivers knows the low points of coaching.
A year ago, Doc Rivers was on all the "coaches on the hot seat" lists. Google the phrase "Fire Doc Rivers," and you will find nearly 200,000 results, from message boards, blogs and mainstream media alike.
He was an object of scorn. Fans and pundits alike targeted Rivers as the weak link on a weak team. It was almost a joke: "Fire Doc Rivers" became the solution to almost any problem that came up in Boston.
The story of his coaching career has turned around 180 degrees with a rousing defeat of the Los Angeles Lakes in Game 6.
Doc Rivers is a champion, and he's not riding on anybody's coattails.
This is David Thorpe, from TrueHoop's live blog of Game 6: "I actually feel like if the coaching staffs were switched, L.A. would be winning. Doc and Co. have kicked Mr. Nine Rings up and down the floor."
Tonight, Rivers has scaled the heights and must be one of the happiest guys in sports. From his postgame press conference: ...
Click here to read TrueHoop blog

By Dr. Jack Ramsay
ESPN Radio
BOSTON -- The Celtics were ready for Game 6.
And once again, I give Doc Rivers a large amount of the credit.
Simply put, Rivers' team beat L.A. in every phase of the game.
Boston played with its usual fierce intensity and Los Angeles never responded.
The Celtics' lockdown defense forced the Lakers into 19 turnovers, which resulted in a whopping 32 Celtics points.
On the offensive end, the Celtics were unselfish. They moved the ball, got it to the open man or hit the hot hand.
Rajon Rondo, who had struggled with some shaky confidence and injuries in the early games of the series, came up with a huge night.
Rondo had 21 points, eight assists, seven rebounds and six steals.
Kevin Garnett had 26 points and 14 rebounds. Ray Allen, who tied a Finals record with seven 3-pointers, also scored 26.
Throughout the series Doc went to his bench repeatedly. He didn't always use the same rotation, but every player responded positively. James Posey, P.J. Brown, Eddie House and Leon Powe all contributed.
These performances all speak of Rivers' ability to get big games from his players, whether they're starters or coming off the bench.
Going into this series it was assumed that the Lakers had a significant coaching edge with Phil Jackson. But by the end of the series, the consensus is that Rivers outcoached Jackson by a wide margin.
Legendary coach and Hall of Famer Dr. Jack Ramsay serves as lead game analyst for the NBA on ESPN Radio.

Dating back to the start of the 1950-51 season, the Boston Celtics have won an NBA title in every decade but the 1990s. Seventeen titles to be exact, but no Celtic had to wait longer than Paul Pierce before winning his first NBA championship with the team. Pierce is the only player in Celtics' history to play his first 10 seasons with the Boston franchise before winning his first title. It is fitting that he was named the Finals MVP.
-- Michael E. Jackson | ESPN Research

Elias Sports Bureau
Kevin Garnett had 26 points and 14 rebounds in the Celtics' clinching victory, making it six double-doubles in six games against the Lakers. He became only the eighth player in NBA history to get double-doubles in each of his first six Finals games, and while we don't ordinarily run a seven-deep list, get a load of the royalty he joined: Bob Pettit, Elgin Baylor, Wilt Chamberlain, Kareem Abdul-Jabbar, Bill Walton, Moses Malone and Shaquille O'Neal.
• More from Elias Sports Bureau
---