Friday, August 15, 2008
Updated: August 17, 10:26 AM ET
Phelps' eight gold medals makes us rethink greatness

---
By Jemele Hill
Page 2



What's an athlete? Who's an athlete? What's mental toughness? What are limits? What is greatness?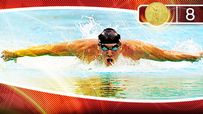 Michael Phelps' eight gold medals. Lance Armstrong's seven Tour de France victories in a row. Joe DiMaggio's 56-game hitting streak. Wilt Chamberlain's 100 points. The Tiger Slam.

•

Rank 'em: Where does winning eight gold medals rank among sport's greatest achievements?

We thought we knew those answers before Michael Phelps. But now that we've witnessed Phelps win eight gold medals, it turns out we didn't know anything.

Forget your previous notions. Forget other things you've seen from the other world's best athletes. What Phelps has done is as remarkably different as God giving us the sun one day and the seas the next. But his greatest achievement at the 2008 Olympics in Beijing isn't the gold medals, or breaking Mark Spitz's 1972 record for most golds at a single Games. Phelps has changed the way we think about sport. Phelps has redefined athletics, and athleticism. He has returned us to the ancient, Olympic ideal. Legend says Zeus' son, Hercules, created the Olympic Games after completing 12 labors over 12 years. Some of Hercules' tasks included having to bring back a three-headed dog from hell and retrieve golden apples that promised eternal life. For Phelps, it was completing 17 races in eight days and amassing seven world records. As the Hercules myth spells out, the Games' origins are rooted in endurance. That is why we must consider Phelps' achievements in these Olympics as the greatest athletic feat ever accomplished.
Are you kidding? Eight gold medals in one Olympics makes Phelps' feat one of the greatest athletic achievements of all time.
It's not just about what he has done. It's about what he has endured. Endurance should be the key element that distinguishes greatness. What did Jordan endure when he won six NBA titles? Did he push his body to the limits Phelps has? Not even close. Of course, no one is disputing Jordan wasn't the best basketball player in the world, but Jordan's flu game couldn't compete with Phelps, who had a week's worth of flu games at the Olympics. And it must be pointed out that Jordan, who ESPN SportsCentury named the greatest athlete ever, isn't even the biggest winner in his sport. Phelps is. And what did Joe DiMaggio's body endure when he hit in 56 consecutive games? Mentally, he was strained, just as Roger Maris was when he hit more home runs than anyone else in a single season. No disrespect to baseball players, but the fact that Babe Ruth -- who many consider the best baseball player to ever live -- could knock off a fifth of vodka every night during the season shows the level of physical commitment needed in baseball is a joke compared to what's physically required of Phelps, who burned as many calories each day during his quest as a marathoner does. What DiMaggio and Ruth did was a power walk. Tiger Woods, the best golfer in the world, won a major championship with a torn ACL. Phelps couldn't even dream of doing the same. Besides, is Tiger as dominant in golf as Phelps is in swimming? No way. Ask yourself this: Whose field is tougher? Tiger's or Phelps'? Since Tiger shut down his season because of his knee injury, Phil Mickelson and Vijay Singh have spent his absence out-choking each other. But Phelps has had to beat Ian Crocker, Ryan Lochte and Laszlo Cseh in Beijing - all of whom were world-record holders. Phelps is beating his competition in their individual specialties. Imagine if Kobe Bryant sang a better national anthem than Marvin Gaye, or if Alex Rodriguez dunked better than Dwight Howard.

Wayne Gretzky, hockey's greatest scorer, collected 2,857 career points -- over 21 years. In two Olympics, the 23-year-old Phelps became the most decorated Olympian ever. Wilt Chamberlain's 100-point game is nice, but not more difficult than setting a world record in six consecutive, grueling events, including winning two golds in one day. Lance Armstrong's seven straight Tour de France titles probably comes the closest to matching Phelps. But it's impossible to be confident in Armstrong's achievements because he dominated one of the dirtiest professional sports in the world. Even if you believe Armstrong was completely clean, he essentially is doing just one thing. Phelps is proficient in four different strokes, at different distances. Football feats also don't measure up. Not Emmitt Smith's NFL-best 18,355 career rushing yards or Tom Brady's single-season record of 50 touchdown passes. Brett Favre is considered by some to be the greatest passer ever, but he also holds the all-time record for interceptions. Would Phelps even be in consideration for greatest athletic achiever if he lost nearly as many races as he'd won? Television commentators are comparing Phelps to an actual fish, or an amphibian. When we think of the greatest athletes ever, fish aren't usually what comes to mind. But with Phelps, all conventional thinking goes out the window. Jemele Hill can be reached at jemeleespn@gmail.com


---