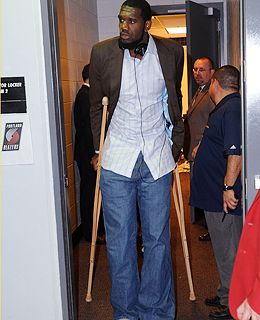 Andrew D. Bernstein/NBAE/Getty Images
Mike (Oregon): From what we have seen from Greg Oden thus far -- what does he need to improve on?
Brooks: Let's start with getting healthy and staying on the court and we'll take it from there. It is hard to believe that he has only played one half of NBA ball since being drafted first in 2007.
D-Will (Salt Lake City): How come I don't get the respect I deserve?
Brooks: I think you're the second best point guard in the league (behind Chris Paul) and I had you ranked seventh in my MVP watch coming into the season before you got sidelined with a bum wheel.
Chad (Wisconsin): I didn't see Carmelo Anthony's name on your list. What would it take for Melo to win the MVP? Top four seed in the West? Scoring title?
Brooks: MVP for Anthony? He just became the best player on his own team Monday when Iverson got shipped out of town.
Hunter (Jacksonville): In your discussion of Executive of the Year, you list only three of Portland's solid rookie class. I wouldn't overlook Nic Batum as I believe he could contribute earlier than anticipated.
Brooks: Ever eat something with a lot of garlic and no matter what you do -- brush your teeth, gargle with mouthwash, chew gum -- you can't get that bad taste out of your mouth? That is me after watching every Portland game during the Summer League in Vegas. Batum was terrible. It is going to take a while for him to change my mind.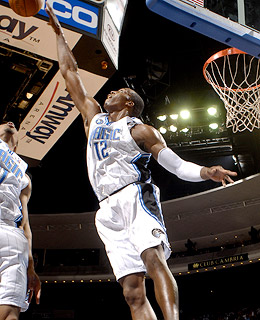 Fernando Medina/NBAE/Getty Images
Official offensive and defensive leaders:
Blocks per game: Dwight Howard, Magic (4.5)
Rebounds per game: Dwight Howard, Magic and Andris Biedrins, Warriors (14.5)
Points per game: Joe Johnson, Hawks (30.0)
Assists per game: Chris Paul, Hornets (12.0)
Steals per game: Josh Smith, Hawks (3.5)
Field goal pct: Roger Mason, Spurs (71.4)
3-point field goal pct: Kareem Rush, Sixers (1.000)
Free-throw pct: Jose Calderon, Raptors (17 players tied at 1.000)