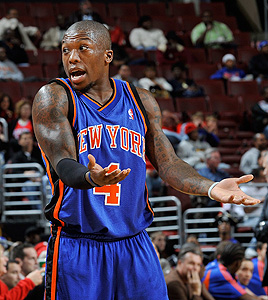 David Dow/NBAE/Getty Images
New York's Nate Robinson no longer has to plead his case to enter the conversation for top reserve player. His play during the first few weeks of the season has been heard loud and clear.
Robinson, who energizes not only the crowd but his teammates, too, when he goes into the game, is having a career season, with 15 points, 4.3 assists and 2.8 steals per game. He has been the second-best sixth man this season, one place behind the Jazz's Andrei Kirilenko, but in front of the Bulls' Ben Gordon, the Blazers' Rudy Fernandez and the Lakers' Lamar Odom.
Speaking of Odom, Dave McMenamin of NBA.com gives the NBA Awards Watch his thoughts on just how valuable Odom has been in his new role with Los Angeles:
"The Lakers' 5-0 start might have some people thinking that a record-breaking 73-9 season is possible, but barring injury, I'm positive the L.A. bench will set a mark of its own.
"There's only been one time dating back to the 1995-96 season that three players on the same team have received votes for the distinction, and that's destined to become two times when voters send in their ballots this April.
"The 2005-06 Dallas Mavericks went 60-22, Avery Johnson won coach of the year and Jerry Stackhouse, Erick Dampier and Devin Harris all got votes for the top sub honors. Stackhouse came in third place overall with 12 first-place votes en route to 162 of a possible 615 points, while Dampier and Harris took home one fourth-place vote apiece.
"Lamar Odom (9.8 ppg, 6.0 rpg), Jordan Farmar (10.2 ppg, 3.8 apg) and Trevor Ariza (9.4 ppg, 2.0 spg) are neck and neck (and neck) in the competition in my book, and their play together as a unit off the bench makes me wish there were Seventh and Eighth Man Awards as well."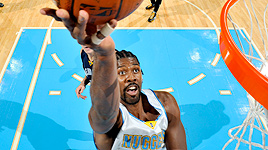 Garrett W. Ellwood/NBAE via Getty Images
Points per game
LeBron James, Cavaliers (28.1)
NBA scoring leaders
Rebounds per game
Dwight Howard, Magic (14.4)
NBA rebounding leaders
Assists per game
Chris Paul, Hornets (11.7)
NBA assists leaders
Steals per game
Chris Paul, Hornets (3.3)
NBA steals leaders
Blocks per game
Dwight Howard, Magic (3.57)
NBA blocks leaders
Field goal percentage
Nene, Nuggets (.667)
NBA field goal leaders
3-point field goal percentage
Spencer Hawes
, Kings (.750)
NBA 3-point shooting leaders
Free-throw percentage
5 players tied (1.000)
NBA free-throw shooting leaders