Never Bigger Stakes
No one gave Texas Tech much of a chance of beating Texas, which the Red Raiders did in a stunning 39-33 victory Nov. 1.
A week after the Red Raiders defeated a top-ranked team for the first time in school history, no one gave them much of a chance of beating Oklahoma State, another highly ranked opponent.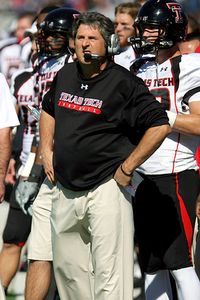 Douglas Jones/US Presswire

Texas Tech coach Mike Leach will be looking for his first win at Oklahoma.

But Texas Tech turned in its best performance of the season on Nov. 8, easily dismantling the then-No. 9 Cowboys in a 56-20 rout.

And now, with the Big 12 South title and their improbable BCS championship hopes on the line, no one is giving the No. 2 Red Raiders much of a chance of winning Saturday night at No. 5 Oklahoma, where they never have won under coach Mike Leach.

Leach, who prefers pirates and Geronimo to country clubs and fine wines, wouldn't have it any other way.

Even though Oklahoma has a more storied tradition and usually has better players, the Red Raiders have beaten the Sooners twice in the past three seasons. Last season, Texas Tech beat Oklahoma 34-27 in Lubbock, knocking Sooners quarterback Sam Bradford out of the game in the first quarter with a concussion.

Beating Oklahoma for the third time in four seasons figures to be much more difficult. The Red Raiders are 0-4 in games played at Oklahoma under Leach. The Sooners have a 59-2 record at home in 10 seasons under coach Bob Stoops and are averaging 50.2 points per game at Gaylord Family-Oklahoma Memorial Stadium this season.

Never before has Texas Tech played a game with so much at stake. If the Red Raiders beat the Sooners, they'll win the Big 12 South and guarantee themselves a chance to play Missouri in the Dec. 6 Big 12 championship game in Kansas City. Beating Oklahoma and then Baylor at home next week also would keep Texas Tech alive in the BCS championship race.

Texas Tech has to beat Oklahoma, which has never been easy, to accomplish any of it.

"It's tough to win there, you know?" Leach said. "They're a good team, and they're well coached. We can't worry about what everybody else thinks. We've got to focus on what we're doing and go out and do the best we can."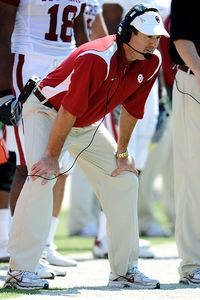 James Lang/US Presswire

Bob Stoops is nearly unbeatable at home, dropping just two contests during his tenure.

Leach said beating Oklahoma, which has won four games in a row since losing to Texas 45-35 on Oct. 11, is Texas Tech's biggest challenge so far.

"It's the same stuff as always," Leach said. "They're well coached. They've got great players and they're very explosive. Your margin for error is just very small. Whatever they're worst at doing, they're above average at doing compared to everyone else."

The game features three players who might be invited to New York next month as Heisman Trophy finalists. Texas Tech quarterback Graham Harrell has thrown for 4,077 yards with 36 touchdowns and only five interceptions. Red Raiders receiver Michael Crabtree has 78 receptions for 1,010 yards with 18 touchdowns. Crabtree also produced the season's most dramatic moment, catching the winning touchdown against Texas with only one second to play.

Bradford has completed 67.9 percent of his passes for 3,406 yards with 38 touchdowns -- two more than Harrell.

Oklahoma leads the country with 51.4 points per game; Texas Tech is third with 47.9. The Red Raiders are second nationally with 556.3 yards of offense per game; the Sooners are fourth with 549.8.

"I think it's the overall team," Stoops said of Texas Tech's improvement. "Mike's offense has always been highly productive, their defense has played well, and it's obvious, too, that their running game has been a big factor. I have always felt that has been a factor that no one really talked about.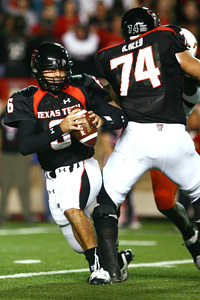 Karl Anderson/Icon SMI

With a strong showing against Oklahoma on the road, Graham Harrell could cement himself at the top of the Heisman Trophy list.

"The overall success of the whole team has moved them into this position. I have never believed that you are winning on one side of the ball. It is the production of all areas."

Texas Tech's high-octane offense has struggled during its recent trips to Oklahoma. Leach, who worked under Stoops as the Sooners' offensive coordinator in 1999, lost his first five games against Oklahoma by a combined score of 202-79. The Red Raiders' offense was held to only one offensive touchdown in each of his first three games at Oklahoma.

The Red Raiders seemed to finally break through in their last trip to Norman in 2006, taking a 24-17 lead at the half. But the Sooners shut them out in the second half, and they missed two field goals in the fourth quarter of a 34-24 loss.

"Last time we were there, we led a bunch and let them off the hook," Leach said. "But they're pretty good at getting off the hook."

The Red Raiders will be aiming for a much bigger prize Saturday night.




On The Mark: Precision passers

Keenum
1. Case Keenum, Houston
Keenum has thrown for 300 yards or more in every game this season; he had 402 yards with six touchdowns in a 70-30 rout of Tulsa.
2. Trevor Vittatoe, UTEP
The sophomore completed 21 of 31 passes for 410 yards with three touchdowns in a 36-10 victory over SMU.
3. Colin Kaepernick, Nevada
The sophomore ran 16 times for 147 yards with two touchdowns and passed for 192 yards and one score in a 41-17 win over San Jose State.
4. Max Hall, BYU
Hall's accuracy continued in a 38-24 win at Air Force; he completed 28 of 37 passes for 354 yards with two touchdowns.
5. Chase Daniel, Missouri
Daniel was nearly perfect in a 52-20 rout at Iowa State, throwing for 328 yards with two touchdowns on 32-for-40 passing.
Off The Mark: Bowl-jeopardy losses

1. Auburn
The Tigers' 17-13 loss to Georgia dropped their record to 5-6. They'll have to beat No. 1 Alabama in the Iron Bowl to play in the postseason.
2. Marshall
The Thundering Herd fell to 4-6 after losing 30-14 to Central Florida at home. Marshall will have to sweep Rice and Tulsa to play a game past November.
3. Stanford
The Cardinal played USC tough before losing 45-23. Stanford (5-6) will have to win at California on Saturday to play in a bowl game.
4. Colorado
The Buffaloes' once-promising season comes down to a Nov. 28 game at Nebraska. Colorado fell to 5-6 after a 30-17 loss to Oklahoma State.
5. Louisville
The Cardinals lost their third game in a row, 28-20 to Cincinnati on Friday, and must beat West Virginia or Rutgers to finish 6-6.
• To see all the teams eligible for bowl games this season, click here.
On The Mark: Top playmakers

Greene
1. Shonn Greene, Iowa
Here's hoping the Hawkeyes' bruising runner is a Heisman Trophy finalist. He had 211 yards and two touchdowns on 30 carries in a 22-17 victory over Purdue.
2. Percy Harvin, Florida
The junior did most of his damage against South Carolina with his legs, running eight times for 167 yards with two touchdowns in a 56-6 rout.
3. Eugene Jarvis, Kent State
Jarvis ran 34 times for 185 yards with one touchdown in a 41-38 win over Temple. Quarterback Julian Edelman added 144 rushing yards and three scores for Kent State.
4. Jacquizz Rodgers, Oregon State
The freshman helped the Beavers stay on track for an improbable Pac-10 title, running 27 times for 144 yards with one touchdown in a 34-21 win over California.
5. Kenny Britt, Rutgers
The speedy wideout helped the Scarlet Knights win their fourth consecutive game, catching eight passes for 173 yards with one touchdown in a 49-16 rout at South Florida.
Off The Mark: Historic losses

1. Michigan
The Wolverines lost 21-14 to Northwestern, the first time in 129 seasons they have lost eight games in a season. A ninth defeat is probably right around the corner -- at No. 10 Ohio State on Saturday.
2. Illinois
After losing to Ohio State 30-20, the Illini are in danger of becoming the first Big Ten team since 1965 to go from playing in the Rose Bowl one year to finishing with a losing record the next.
3. South Carolina
The Gamecocks lost at Florida 56-6, the worst loss in coach Steve Spurrier's career. It came against the Head Ball Coach's alma mater no less.
4. Kansas State
The Wildcats lost to Nebraska 56-28, meaning coach Ron Prince will leave Kansas State having never beaten Kansas, Missouri or the Huskers.
5. Washington State
The Cougars were shut out for the third time in four games, losing to Arizona State 31-0. They came into the 2008 season having scored in every game since 1984.
---