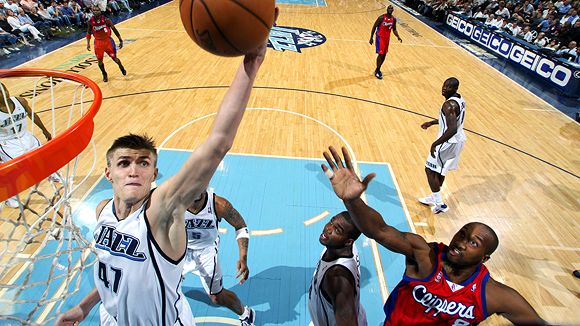 Melissa Majchrzak/NBAE/Getty Images
Deron Williams, the best player on the Jazz roster, has appeared in just two of 11 games thus far because of a bum ankle. It hasn't affected Utah as much as you would think because after two subpar seasons, Andrei Kirilenko has returned to form.
Coming off the bench this season, he has emerged as a Sixth Man of the Year candidate thanks to his versatility. He is averaging 14.6 points, 6.8 rebounds, 2.9 assists, 1.4 blocks and a steal per game -- the type of numbers he used to post when he was considered one of the top forwards in the league.
An injured finger caused him to miss road losses in Charlotte and Cleveland on Nov. 14 and 15, respectively, but he returned to the lineup Monday and had an immediate impact. Playing with a dislocated index finger, he had 19 points, seven boards, three assists and two rejections in a 12-point win over the Suns.
TOP 5: SIXTH MAN OF THE YEAR
1. Andrei Kirilenko, Jazz: See above.
2. Rudy Fernandez, Blazers: He has been great all season, though his past two games were below the lofty standard he has set.
3. Nate Robinson, Knicks: He has formed an excellent one-two punch with Chris Duhon.
4. Ben Gordon, Bulls: Because of injuries to teammates, he has started three of 10 games this season. How much longer will he remain eligible for this list?
5. Trevor Ariza, Lakers: He brings more energy and defensive pressure to the court and averages more points per game than his more famous counterpart, Lamar Odom.

ESPN'S NBA AWARDS WATCH
Maurice Brooks, former Race to the MVP columnist at NBA.com, is an NBA editor at ESPN.com. • Send comments and questions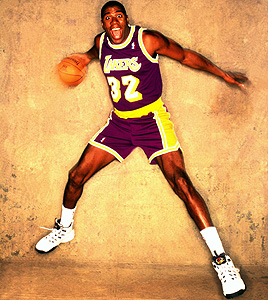 Walter Iooss Jr./NBAE/Getty Images
Thanks to an event sponsored by Cisco TelePresence technology, I had a "face-to-face" conversation with former Lakers great Magic Johnson, even though he was in Los Angeles and I was in New York. Here is what the Hall of Famer had to say about this year's rookie class:
"Derrick Rose and O.J. Mayo have both been outstanding. Rose has been everything that Chicago thought he was going to be. Once he gets a better understanding of the game, he's going to be even better. Mayo is as good as the hype and Memphis is really playing hard.
"Rudy Fernandez's game is more advanced than any one of the rookies. He knows how to play. He can shoot it and drive it.
"Let's not forget Marc Gasol. And that rookie from Miami [Michael Beasley], he's not too bad either."
And here are the Awards Watch rookie rankings for this week:
1. Derrick Rose, Bulls
2. O.J. Mayo, Grizzlies
3. Rudy Fernandez, Blazers
4. Michael Beasley, Heat
5. Marc Gasol, Grizzlies
Johnson, named three times the NBA's MVP, also gave his thoughts on who is the league's best player:
"Paul [Pierce] would like to think he is better than Kobe [Bryant]," Magic said. "Kobe Bryant is the best closer, best player in the game. You have to remember he's done it for a long time at a high level.
"Now, was Pierce better than Kobe in the Finals? Of course he was. He was better than everyone. Pierce is one of the top three or four players in the world. He's right up there with LeBron [James] and Kobe."

1. Mike D'Antoni, Knicks:
The 6-4 record is nice but the biggest thing he has done in his short time in New York is make the Knicks relevant again.
2. Erik Spoelstra, Heat: Even with Shawn Marion sidelined for a couple of games, he managed to keep Miami at .500.
3. Vinny Del Negro, Bulls: Solid contributor Kirk Hinrich is gone for the next three months, but the first-year coach is doing a good job learning on the fly.
4. Lawrence Frank, Nets: New Jersey was supposed to challenge for the worst record in the league, not a playoff spot.
5. Jerry Sloan, Jazz: Turns out Deron Williams wasn't really ready to return to the lineup. That's OK, Sloan's bunch still has the division lead.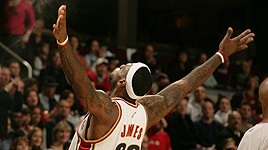 David Liam Kyle/NBAE/Getty Images
Points per game
LeBron James, Cavaliers (29.8)
NBA scoring leaders
Rebounds per game
Andris Biedrins, Warriors (14.9)
NBA rebounding leaders
Assists per game
Chris Paul, Hornets (11.6)
NBA assists leaders
Steals per game
Chris Paul, Hornets (3.0)
NBA steals leaders
Blocks per game
Dwight Howard, Magic (4.2)
NBA blocks leaders
Field goal percentage
Nene, Nuggets (.641)
NBA field goal leaders
3-point field goal percentage
Ryan Anderson
, Nets (.667)
NBA 3-point shooting leaders
Free-throw percentage
2 players tied (1.000)
NBA free-throw shooting leaders
---