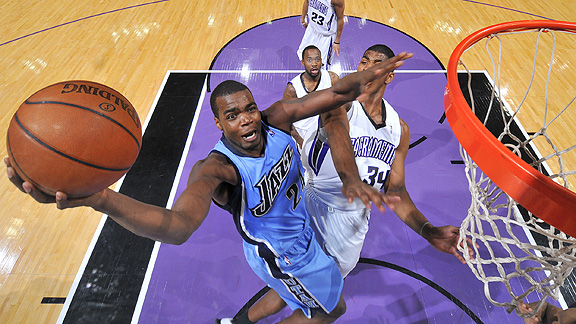 Rocky Widner/Getty Images
When Carlos Boozer went down with a strained quad in late November, a drop in production from the power forward position was expected for the Jazz. However, reserve forward Paul Millsap has filled in admirably.
Since replacing Boozer in the starting lineup, Millsap has averaged 17.8 points and 11 rebounds on 56.7 percent shooting in 13 games. He has notched a double-double in 12 straight games, and he torched Kevin Garnett and the Celtics for 32 points, 10 rebounds, two blocks and two steals Monday.
He shows nice touch on midrange jumpers; goes after every loose ball; and, simply put, works harder than everyone else on the floor.
When Boozer gets healthy, the Jazz will have to find a way to keep getting Millsap extended minutes -- maybe even playing the two together.
Most Improved Top 5

1. Devin Harris, Nets (Last week: 1)
2. Paul Millsap, Jazz (Last week: NR)
3. John Salmons, Kings (Last week: 2)
4. Andris Biedrins, Warriors (Last week: 3)
5. Nene, Nuggets (Last week: 5)
---
David Thorpe of Scouts Inc. weighs in with his leading candidates:
1. Devin Harris, Nets: He's a shooter, slasher, defender and leader. And he's doing it for a tougher-than-expected team.
2. Anderson Varejao, Cavaliers: He has career highs in field goal percentage, free throw percentage, true shooting percentage and points and assists per 40 minutes. He is also a key component to a title contender.
3. Shaquille O'Neal, Suns: I thought he was awful last season. I think he's pretty good now.
4. Tony Parker, Spurs: He is scoring and passing better, and playing on a team that may be scary in a few months.
5. Zydrunas Ilgauskas, Cavaliers: He is more efficient than ever and anchoring a terrific team.

ESPN'S NBA AWARDS WATCH
Maurice Brooks, former Race to the MVP columnist at NBA.com, is an NBA editor at ESPN.com. • Send comments and questions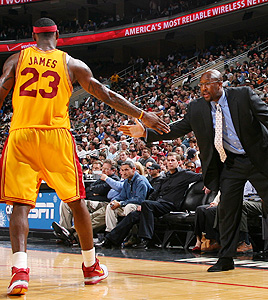 Jesse D. Garrabrant/Getty Images
1. Mike Brown, Cavaliers:
Cleveland has the third best record in the league (20-4), is unbeaten at home (13-0), is playing defense like never before and doesn't appear to be complacent. Sure, a lot of those things are because of LeBron, but at what point does it become obvious that Brown deserves credit, too? (Last week: 4)
2. Lawrence Frank, Nets: New Jersey's three-game losing streak cost Devin Harris his spot in the MVP top 10. Still, Frank has one of the league's youngest teams (rookie Brook Lopez is playing great) exceeding expectations … by a lot. (Last week: 1)
3. Gregg Popovich, Spurs: The Spurs' lineup had a lot of inexperienced and unproven players in it during the first few weeks of the season while Manu Ginobili and Tony Parker were busy getting healthy. While being without two of the best players in the world would bury most teams, the Spurs find themselves tied for first place in the Southwest Division. (Last week: NR)
4. Doc Rivers, Celtics: His confidence in Rajon Rondo -- letting him call his own plays and allowing him to run more this season -- is paying huge dividends. Hard to believe this year's version of the C's is better than the title winners from last season. (Last week: NR)
5. Nate McMillan, Blazers: His young squad dropped three in a row before getting back on track Tuesday night. If the coaching staff can teach Greg Oden some moves on the block, this team can be dangerous. (Last week: 5)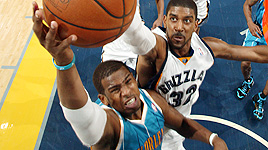 Joe Murphy/Getty Images
Points per game
Dwyane Wade, Heat (28.0)
NBA scoring leaders
Rebounds per game
Dwight Howard, Magic (14.1)
NBA rebounding leaders
Assists per game
Chris Paul, Hornets (11.9)
NBA assists leaders
Steals per game
Chris Paul, Hornets (2.8)
NBA steals leaders
Blocks per game
Dwight Howard, Magic (3.8)
NBA blocks leaders
Field goal percentage
Nene, Nuggets (.606)
NBA field goal leaders
3-point field goal percentage
Matt Bonner
, Spurs (.526)
NBA 3-point shooting leaders
Free throw percentage
Jose Calderon
, Raptors (1.000)
NBA free throw shooting leaders

NBA Awards Watch columnist Maurice Brooks talks about moving the Mavericks' Dirk Nowitzki into the MVP rankings and questions whether
Elton Brand
is a good fit in Philadelphia.
NBA Today
---