Friday, December 26, 2008
Updated: December 29, 11:48 AM ET
Welcome to the Ninth Annual Year That Wasn't

---
By Jim Caple
Page 2



The past year in sport was so wonderful, wild and weird -- Tampa Bay hosted the World Series! -- that even the players were buying tickets to see their own teams play. Or maybe that was because in the economic upheaval, Stephon Marbury and his fellow multimillionaire athletes were the only ones left who could actually afford to buy a ticket.

In fact, with so much happening in the world in 2008, you may have forgotten these moments while you were busy worrying about your 401K …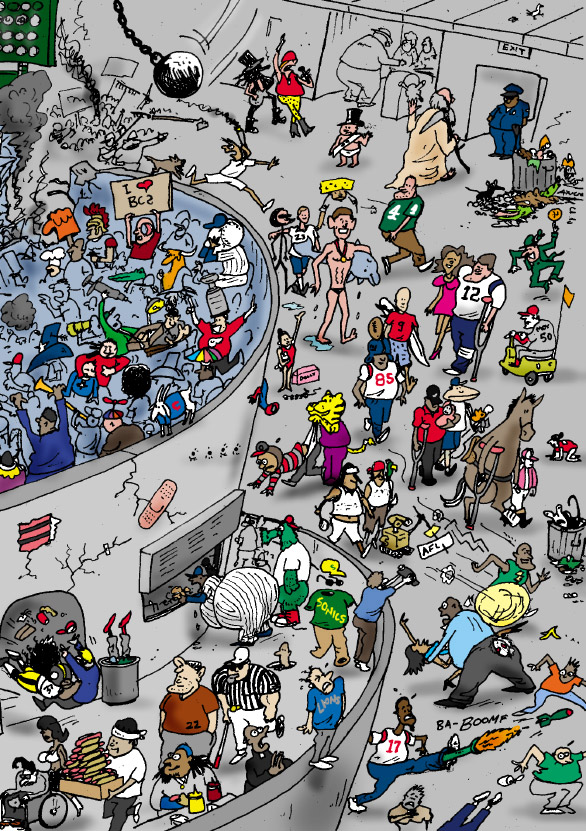 Jan. 1: Americans usher in the new year by watching highlights from the annual Polar Bear Club swim, which Michael Phelps wins in a world record time of 1:12.43 (time includes shaving down and cutting a hole in the ice).
Jan. 6: Roger Clemens appears on "60 Minutes" and insists he has never taken steroids, telling Mike Wallace that if he did, "I should have a third ear coming out of my forehead. I should be pulling tractors with my teeth." By the way, he actually said that. In a related story, Clemens also complains that it's virtually impossible to find a pair of earmuffs that fit him properly but that on the plus side, he has picked up an endorsement from John Deere.
Jan. 7: LSU wins the BCS Championship Game when the Ohio State Buckeyes decide to leave after the first quarter to beat traffic.
Jan. 12: The Seahawks are buried under a record blizzard of snow and Packers touchdowns in a devastating playoff loss that Seattle fans will later recall as "the good old days." Meanwhile, Bill Belichick's New England storm troopers rout Jack Del Rio's "pitiable little band" of Jaguars.
Feb. 3: The New York Giants rally to win Super Bowl XLII on a last-minute drive when quarterback Eli Manning listens to Obi-Wan, turns off his targeting device and successfully fires a pair of proton torpedoes into New England's thermal exhaust port while Patriots coach Bill Belichick careens off into space. In a related story, Mercury Morris and the 1972 Dolphins are ejected from the South Miami Hospital after spraying champagne around the intensive care unit.
This fantastic catch etched David Tyree's name into merchandising history.
Feb. 4: Sixteen different publishing companies pass on Belichick's manuscript, "18-1," but the NFL sets merchandise sales records with its David Tyree replica helmet featuring a football glued to the NY logo.
Feb. 16: Spring training opens with Tampa Bay officially changing the team name from the Devil Rays to the Tampa Bay "Can You @#%&ing Believe These Guys Are In First Place?" Rays.
March 1: The Cubs win their first spring training game and overzealous Cubs management responds by printing World Series tickets.
March 6: Favre holds a tearful news conference to formally announce that after giving it long and careful consideration with his Magic 8 Ball he has decided to ruin his reputation in Wisconsin forever.
March 25: Citing a lack of local support, businessman Clay Bennett moves the Dodgers' spring training home from Vero Beach to Oklahoma City.
March 28: The Olympic torch relay begins, provoking thousands of outraged environmentalists to protest China's plan to break tradition by issuing medals coated with lead-based paint.
March 30: The Washington Nationals officially open the season and their new stadium when President Bush throws out the first pitch and Iraqi journalist Muntader al-Zaidi throws out the first shoes.
April 7: Kansas wins the Final Four when guard Mario Chalmers' last-second jumper off the expressway, over the river, off the billboard, through the window and off the wall hits nothing but net.
April 13: Trevor Immelman wins the Masters when Tiger Woods has to take a one-stroke penalty for moving the IV bag out of his line of sight on the 13th hole.
April 15: In the largest banking collapse in U.S. history, Washington Mutual files for bankruptcy after investors learn the institution placed all its assets on the Seattle Sonics to win the NBA Finals.
April 18: The NBA marquee event kicks off when commissioner David Stern hires Simon Cowell, Paula Abdul and Michael Jordan to officiate the NBA playoffs.
Did Big Brown cross-train by slam dunking footballs?
May 3: After Big Brown wins the Kentucky Derby, Roger Clemens' trainer Brian McNamee claims he injected the horse with steroids.
May 20: The last-place Yankees' woes hit an all-time low when announcer Bob Sheppard introduces a player by saying, "Now batting … No. 17 … Shelley Duncan … No. 17 … He sucks."
May 25: Danica Patrick's bid to become the first woman to win the Indy 500 ends when she runs out of gas with 29 laps to go and can't afford to refuel her tank at $4.59 a gallon.
June 4: The celebration for the Red Wings' Stanley Cup victory over the Penguins is dampened by the news that Detroit's once-thriving octopus industry is billions of dollars in debt due to inexpensive squid imports from Japan.
June 5: Big Brown trainer Rick Dutrow Jr. announces it's "a foregone conclusion" his horse will win the Belmont to complete the Triple Crown, and further declares that "the fundamentals of the American economy are sound."
June 7: Despite Dutrow's proclamation, Big Brown finishes last in the Belmont when the horse throws a shoe at President Bush.
June 16: Tiger Woods completes a dramatic U.S. Open victory by beating Rocco Mediate in a 19-hole playoff when he sinks a 3-foot putt with his crutch.
June 17: The Celtics beat the Lakers in the NBA Finals, ending Boston fans' 239 long days of suffering since the city's last championship.
July 3: Seattle loses a long-cherished part of its heritage when Oklahoma City businessman Clay Bennett and a crew of 12,000 roughnecks squeeze the Space Needle into the world's largest U-Haul. "I tried my hardest but I just couldn't make it work here," Bennett says before backing over the fish stand at Pike Place Market where they throw the salmon.
July 4: Rafael Nadal and Roger Federer battle in a thrilling Wimbledon championship match that lasts so long it includes an entire PBS pledge break.
July 5: Dara Torres, 41, qualifies for the U.S. Olympic swim team but tests positive for Geritol, prune juice and PoliGrip.
July 12: Michelle Wie is disqualified from the LPGA State Farm Classic when she forgets to charge money for her autograph.
July 13: As the baseball season reaches the All-Star break, Cubs fans celebrate a rare, nearly unprecedented event in club history -- announcer Ron Santo correctly pronounces Kosuke Fukudome's name.
July 14: Barry Bonds' agent tells reporters his client is willing to sign with any team for the major league minimum of $18 million. When informed the minimum is actually $390,000, the agent replies, "Really? Oh. Well, then I guess he isn't willing to sign for the minimum."
July 15: In its final year, Yankee Stadium hosts a fitting, dramatic 15-inning All-Star Game that goes on so long bleacher fans run out of batteries to throw and go hoarse from screaming profanities.
July 31: In a complicated three-team deal, the Dodgers acquire future Hall of Famer Manny Ramirez, the Red Sox obtain All-Star outfielder Jason Bay and the Pirates receive the draft rights to right-handed Iraqi journalist Muntader al-Zaidi.
Aug. 8: The world turns its focus to Beijing, where an army of acrobats, dancers, martial artists and schoolgirls enter the iconic Birds Nest Olympic stadium to stand in line for the long-awaited release of Guns N' Roses' "Chinese Democracy." The album is tangled in controversy, however, when journalists discover Axl Rose's performance in the title-track video was lip-synched by a 9-year-old Chinese girl with buck teeth.
Aug. 9: IOC president Jacques Rogge holds a news conference in which he insists that Beijing has cleaned up its pollution problem. In a related story, Michael Phelps wins his first gold medal in world record time despite swimming in a pool littered with old pop bottles, beer cans, cigarette butts and oil spills. Iron Eyes Cody takes home the silver by paddling a canoe in Lane 8 while a teardrop slips slowly down his cheek.
Aug. 11: After one of the most extraordinary performances in swimming history, Phelps repays anchor man Jason Lezak by giving him "first pick" when they get back to the Olympic Village.
Aug. 12: Giants wide receiver Plaxico Burress finishes last in the Olympic men's 50-meter pistol shoot.
Aug. 13: Meanwhile, back at Wimbledon, the Nadal-Federer match goes into the third set.
Usain Bolt memorably smashed his world record in the 100 meters.
Aug. 16: Usain Bolt wins the Olympic 100-meter dash and sets the world record despite turning around and moonwalking the final 30 meters.
Aug. 17: A captivated nation applauds Phelps when he performs a feat long thought impossible -- he poses for a photo without pulling his swimsuit all the way down to just below his pubic bone.
Aug. 19: China wins the women's all-around in gymnastics thanks to a dazzling performance by He Kexin, who swings from the uneven bars by her umbilical cord.
Aug. 20: In an audacious breach of tradition, Usain Bolt awards himself the gold medal prior to running the men's 200, then wins in a world record time despite stopping midway through the race to sign autographs.
Aug. 24: The Olympics come to a successful end when Phelps swims home, crossing the Pacific in a world record time of four months, 24 days, 17 hours and 21 minutes, just edging Serbia's Milorad Cavic, who touches the North American continent one-hundredth of a second later.
Aug. 28: The federal government is forced to take over AIG after the financial institution places all its assets on the Seattle Mariners to win the American League pennant.
Sept. 2: Broadcasters are flummoxed, and the Bengals' uniform guy is frustrated, when Cincinnati receiver Chad Johnson legally changes his name to Chad Supercalifragilisticexpialidocious.
Sept. 4: Nadal and Federer skip the U.S. Open because they are still in the fourth set at Wimbledon.
Sept. 6: After a last-second, potentially game-tying touchdown pass against BYU, referees penalize Washington quarterback Jake Locker 15 yards for thinking impure thoughts about the Huskies cheerleaders celebrating on the sideline.
Sept. 8: Following a season-ending injury to Tom Brady, New England backup quarterback Matt Cassel suddenly gains seven Victoria's Secret supermodels as friends on his MySpace page.
Sept. 10: Lance Armstrong announces that people are going to have to start wearing those Livestrong wristbands again.
Sept 16: NFL referee Ed Hochuli officiates a game shirtless.
Sept. 28: Tearful fans in the Bronx bid farewell to a historic 85-year-old American sports icon when someone actually buys and eats a Yankee Stadium hot dog.
Oct. 1: For the first time in more than 100 years, both Chicago teams reach baseball's postseason, but the city is nonetheless rocked by scandal when Illinois Gov. Rod Blagojevich tries to sell Democratic nominee Barack Obama's box seat to the White Sox's games on StubHub.
Oct. 2: Derek Jeter shows up at Yankee Stadium and wonders where everyone is.
Oct. 4: Despite springtime assurances to the contrary, Tribune Co. owner Sam Zell fails to find a buyer for a warehouse full of "Cubs 2008 World Champion" commemorative T-shirts.
Oct. 7: Kidnappers release a video of Al Davis and demand a new coach and two first-round picks for his release.
Oct. 19: The Lions lose again, but quarterback Dan Orlovsky sets an NFL record by attempting a 112-yard touchdown pass.
Oct. 20: The Tampa Bay Rays beat the Red Sox in Game 7 of the ALCS to win the American League pennant in front of a home crowd of 11,023 fans, half of them Boston fans and the others relatives of manager Joe Maddon.
Oct. 25: In a campaign stop in Columbus, Ohio, JoePa the coach vigorously rejects rival Jim Tressel's view that Big Ten wealth should be redistributed throughout the conference.
Oct. 27: After the Rays tie the Phillies in Game 5 of the World Series in deteriorating weather, commissioner Bud Selig abruptly postpones the Nadal-Federer match in the fourth set due to heavy rain. He then declares the match a tie, catching Philadelphia Eagles quarterback Donovan McNabb completely off guard.
Oct. 29: Owner Clay Bennett marks the first game in Oklahoma City Thunder history by firing coach P.J. Carlesimo at halftime, increasing ticket prices and demanding taxpayers build him a new $1 billion arena with a retractable roof, golf course and Tyrolean ski lodge.
Nov. 1: Notre Dame coach Charlie Weis tears his ACL when he trips over his bloated contract and falls on his career record at Notre Dame.
Nov. 2: The federal government is forced to take over Fannie Mae and Freddie Mac after the lending institutions bundle all their mortgages and invest the total on the University of Washington to go to the Rose Bowl.
Nov. 3: Boston's 5-foot-6, 150-pound Dustin Pedroia and San Francisco's 5-foot-9, 150-pound Tim Lincecum are named the co-winners of baseball's Pitch, Hit and Throw competition.
Nov. 4: After more than two years of coverage and fierce battles, the longest campaign in history finally reaches its climax when the Nadal-Federer match enters the fifth set.
Page 2's dubious sources report Illinois Gov. Rod Blagojevich is selling press conference PSLs.
Nov. 18: New York's plan to sell seats from Yankee Stadium and Shea Stadium unravels when the city finds out Illinois Gov. Rod Blagojevich has already sold them.
Nov. 25: The federal government agrees to a $750 billion bailout so the Yankees can sign CC Sabathia.
Nov. 28: President-elect Obama assembles a team of Nobel-winning economists, physicians, meteorologists and historians to determine how Oklahoma can be ahead of Texas in the BCS standings.
Dec. 2: Agent Scott Boras gets Joe the Plumber a four-year, $6.1 million deal to maintain the toilets at Citi Field.
Dec. 4: Auburn University takes out a personal ad on Craigslist, looking for a "single white male" who enjoys long walks on the sideline.
Dec. 12: Federal investigators arrest Bernard Madoff on charges that he bilked investors out of $50 billion by running a giant Ponzi scheme that finally fell apart when the Seahawks, Lions, Rams, Bengals and Chiefs would all have to win the Super Bowl.
Dec. 16: The Arena Football League disappoints its passionate fans by announcing it has voted to accept the Lions as an expansion franchise.
Dec. 17: With Stephon Marbury stubbornly refusing to play for his team, Blagojevich sells him a seat to a Knicks game.
Dec. 21: Shortstop Rafael Furcal signs for the largest amount in baseball history, albeit with five different teams.
Dec. 22: Citing well-placed anonymous insider sources close to Mark Teixeira, two dozen Web sites report that the free agent is expected to be close to deciding to sign with one of 30 major league teams "for a lot of money."
Dec. 25: Despite repeated warnings from his mother, his teacher and a Higbee's department store Santa Claus, Giants receiver Plaxico Burress unwraps an "Official Red Ryder Carbine-Action Two-Hundred-Shot Range Model Air Rifle With A Compass In The Stock And This Thing That Tells Time" on Christmas morning, takes the BB gun into a nightclub and shoots his thigh out.
Dec. 29: Human rights organizations demand that the U.S. government cease torturing prisoners at Guantanamo Bay by repeatedly showing them the 2008 Lions highlight video.
Dec. 31: New Yorkers ring out 2008 in the traditional manner by counting down the seconds until the Times Square ball drops from the side of David Tyree's helmet. Meanwhile, Seattle fans celebrate by watching an asteroid drop on their city … and Nadal and Federer go to match point.
Jim Caple is a senior writer for ESPN.com.
---