Professor Hollinger is the numbers guy. We couldn't do what he does even if we wanted to. No one's trying to steal his gig.
Still ...
In the grand tradition of year-end reviews from every corner of the media map, it feels right to say farewell to a wild 2008 in the NBA with a "Year In Numbers" compilation, with special year-end thanks to Peter Newmann, Kareem White and all our friends from ESPN Research and the Elias Sports Bureau.
19
In the span of 19 dizzying days leading up to the annual trade deadline, starting Feb. 1, we witnessed three blockbuster trades: Memphis'
Pau Gasol
to the Lakers, Miami's
Shaquille O'Neal
to the Suns and New Jersey's
Jason Kidd
to Dallas. Some league observers
(hello!)
would refer to the three mega-deals as the peak of the most frenzied two-year flurry of big trades ever.
200

There was an estimated TV audience of 200 million in China for the Houston-at-Milwaukee game on Feb. 2 pitting
Yao Ming
against countryman
Yi Jianlian
, dwarfing the worldwide viewership for the New York Giants' Super Bowl upset of the previously unbeaten New England Patriots the next day. Viewers watched even though Yao had a quiet 12 points and nine rebounds and Yi had a quieter six points and seven boards in Houston's 91-83 victory.
51.9

The Heat and the Hawks had to replay the final 51.9 seconds of a December game in Atlanta nearly three months later, thanks to the first upheld protest in the NBA since 1982. After the league office supported Miami's claim that Shaq incorrectly fouled out of an overtime loss to the Hawks, Atlanta was fined $50,000, and NBA commissioner David Stern called its courtside stat crew "grossly negligent" for crediting one of
Udonis Haslem
's fouls to O'Neal. Shaq, though, was traded before the finish could be replayed and neither team scored in the March 8 do-over, which resulted in a 114-111 win for the Hawks.
767

Chris Andersen
's ban from the NBA started Jan. 27, 2006, and lasted 767 days after he tested positive for an undisclosed "drug of abuse," which is the classification for amphetamines (and their derivatives such as methamphetamine), cocaine, LSD, opiates (heroin, codeine and morphine) or PCP as defined by the league's anti-drug program with the players' union. Andersen signed with Denver in the offseason after a brief return to the
New Orleans Hornets
and -- along with fellow comeback kids
Nene
(testicular cancer) and
Kenyon Martin
(the NBA's first player to undergo microfracture surgery on both knees) -- he has unexpectedly helped improve the Nuggets' defense in the wake of the controversial salary-dumping trade of
Marcus Camby
to the Clippers in July.
141-241

That was the Knicks' overall record during Isiah Thomas' four-plus seasons as the face of the franchise in Gotham, which ended with a 132-123 loss at Indiana on April 16. As Knicks coach in 2006-07 and 2007-08, Thomas went 56-108.
8
All eight playoff teams in a first-of-its-kind Western Conference race won 50 games, preventing the 48-win Warriors -- who won more games than all but three teams in the East -- from reaching the postseason.
0
Tim Duncan was 0-for-4 on 3-pointers for the season when he drained an unforgettable 3 from the right wing to force a second overtime in Game 1 of a highly anticipated first-round showdown with Phoenix, leading to an epic 117-115 comeback win. The dispirited Suns, still smarting from a controversial second-round exit to the Spurs one year earlier, never recovered from Duncan's dagger, falling into a 3-0 series hole that ultimately led to a 4-1 loss and the departure of coach Mike D'Antoni.
24
With aggressive courting, promises of total support and a healthy four-year, $24 million contract, new Knicks president Donnie Walsh convinced D'Antoni that he would be happier coaching in New York than Chicago. They struck a deal May 10, just 11 days after D'Antoni's Suns were eliminated.
1.7
With just a 1.7 percent chance of winning the NBA's draft lottery, Chicago hit the lotto anyway on May 20, setting up the Bulls to draft Memphis' Derrick Rose as the No. 1 overall pick ... and immediately subjecting D'Antoni to second-guessing for choosing the Knicks over the Bulls.
39

As if a comeback from 24 points down on the road to win Game 4 wasn't enough, Boston inflicted further torture on its longtime rivals from Los Angeles with a 39-point title-clinching beatdown in Game 6 of the NBA Finals. The 131-92 rout secured the Celts' league-record 17th championship banner, halted a title drought of 22 years and made champions of
Kevin Garnett
,
Paul Pierce
and
Ray Allen
in their first year together.
28

A mere 28 coaches in league history -- with Boston's
Doc Rivers
becoming No. 28 -- have snapped up all 62 of the NBA's championships, with nine rings each won by Celtics legend Red Auerbach and Lakers coach Phil Jackson. The only active coaches with a title on their résumés: Jackson, San Antonio's Gregg Popovich (four), Charlotte's Larry Brown (one) and Rivers.
41
The SuperSonics' 41-year run in Seattle came to an abrupt end July 2, when team and city officials reached an agreement to terminate the Sonics' lease at KeyArena two years early, immediately clearing a path for the franchise to move to Oklahoma City. The city retained the team's name and colors, but the team took Rookie of the Year Kevin Durant and the Sonics' record book to Oklahoma City, ending a Pacific Northwest rivalry between Durant and Greg Oden before it ever started. Durant and the rest of the team were officially reinvented as the Thunder two months later.
48

Team USA beat the reigning world champs from Spain twice by a combined 48-point margin at the Beijing Olympics. The Yanks eventually rolled to a 37-point rout in group play but found themselves up only two in the fourth quarter of the gold-medal match against the short-handed Spaniards (minus injured point guard
Jose Calderon
) before finally pulling away for an emotional 118-107 triumph to cap a humbling eight years between golds.
15
On Sept. 23, disgraced referee Tim Donaghy began serving a 15-month prison term in Pensacola, Fla., for his participation in a gambling scandal that Stern described as the "worst situation that I have ever experienced" ... and cast a shadow on what was supposed to be a dream Finals matchup that brought the Lakers and Celtics together on the big stage for the first time since 1987.
11

A mini-exodus in free agency resulted in 11 established NBA players signing with European clubs over the summer. Most of them were foreign-born players --
Primoz Brezec
,
Carlos Delfino
,
Jorge Garbajosa
,
Gordan Giricek
,
Nenad Krstic
,
Bostjan Nachbar
and
Juan Carlos Navarro
-- but the surprise factor was much bigger in the cases of
Earl Boykins
(Italy),
Jannero Pargo
(Russia) and
Carlos Arroyo
(Israel), and
Josh Childress
' lucrative move to Greece.
30

Golden State's
Monta Ellis
was suspended for 30 games without pay after a mo-ped accident that he initially refused to tell the team about ... and which required ankle surgery expected to sideline him well into January ... and which occurred less than a month after he signed a new $66 million contract with the Warriors.
23
Twenty-three days is all it took for six teams to make coaching changes this season, doubling the previous single-season record of firings before Christmas. Oklahoma City's P.J. Carlesimo (1-12 on Nov. 22), Washington's Eddie Jordan (1-10 on Nov. 24), Toronto's Sam Mitchell (8-9 on Dec. 3), Minnesota's Randy Wittman (4-15 on Dec. 8), Philadelphia's Maurice Cheeks (9-14 on Dec. 13) and Sacramento's Reggie Theus (6-18 on Dec. 15) were dismissed after eight teams (Charlotte, Chicago, Dallas, Detroit, Miami, Milwaukee, New York and Phoenix) made offseason coaching changes.
31
The cumulative head coaching experience of the six men who filled those jobs totaled 31 games. All 31 of them appeared on the résumé of Minnesota's Kevin McHale, who was forced to move to coaching amid growing ridicule of his front-office dealings, most recently McHale's draft day decisions in 2006 and 2008 to trade away Brandon Roy and O.J. Mayo.
7

On just the seventh day (and the first Monday morning) of the 2008-09 regular season, Denver dealt
Allen Iverson
to Detroit in a multiplayer deal that netted Denver native
Chauncey Billups
. The Nuggets then won 17 of their first 25 games with Billups, while the Pistons are a Lions-like 0-6 on Sundays and just 11-11 overall through Thursday's games since becoming the third NBA team to employ AI.
231

Stephon Marbury
-- he of the $20.8 million salary -- has logged a mere 231 minutes of playing time in 2008. And zero minutes since Jan. 11, to be precise.
0

Washington's Agent Zero -- some of you know him as
Gilbert Arenas
, summertime recipient of a new $111 million contract -- has logged zero minutes of playing time in 2008 thanks to persistent knee trouble, with no firm date established for his return.
93

The legendary Pete Newell, whose coaching successes in college and the Olympics -- as well as his expertise in teaching defense and post play -- sent him to the Hall of Fame in 1979, died in mid-November at the age of 93.
27.5
Two more big trades on Nov. 21, sending Jamal Crawford to Golden State and Zach Randolph to Clipperland, sliced $27.5 million off the Knicks' payroll for the 2010-11 season, ensuring that New York will have the salary-cap flexibility to make a big-money offer to Cleveland's LeBron James in the free-agent bonanza expected in the summer of 2010.
15-0
It should be noted that LeBron isn't doing too badly with the Cavs, who haven't lost a home game in 15 tries since acquiring Mo Williams in the offseason and who should be up to 18-0 at home by the time Boston arrives Jan. 9. James has improved his all-around game (most notably on defense and at the free throw line) and offensive improvements ushered in by coach Mike Brown have also helped the team.
33

A nagging elbow injury to his shooting arm didn't stop
Carmelo Anthony
from shredding Minnesota for 33 points in the third quarter of a 116-105 Denver home victory Dec. 10. The outburst tied George Gervin's record for points in a quarter, but Melo's feat was clearly more impressive given that Gervin's 33-point quarter came on the final day of the 1977-78 season, when he and then-Nugget David Thompson famously dueled for the league's scoring title. Anthony's eruption rallied the Nuggets out of a 12-point deficit against the lowly Wolves and, at one stage, Melo netted 26 points from 13 trips down court.
16,768

Although the Hornets' average home attendance ranked only 18th in the league entering the weekend, it's an amazing number given what the city of New Orleans has been through since Hurricane Katrina. Slipping below a per-game average of 14,735 from December 2007 through the end of this season would allow Hornets owner George Shinn to exercise an out clause and move the club, but that's not going to happen now that
Chris Paul
and Co. have a season-ticket base of nearly 10,000 watching them.
22

Offseason splashes
Elton Brand
(Sixers),
Baron Davis
(Clippers) and Jermaine O'Neal (Raptors) netted their teams a combined record that was 22 games under .500 entering Friday's play. Philly and Toronto have already changed coaches and Davis and coach Mike Dunleavy are coexisting (very) uncomfortably in L.A.
19

That's the length of the Boston winning streak -- amazingly the longest in franchise history -- which finally ended with a Christmas Day defeat to the Lakers. Of course, it wasn't even the longest win streak of this crazy calendar year: The Rockets reeled off 22 wins in a row from Jan. 29 through March 16, with 10 of them coming without Yao.
45-10
That's the Lakers regular-season record with Pau Gasol in the lineup. Gasol hit back at all the folks who say L.A.'s big men aren't tough enough to hang with Boston by shaking himself out of a three-quarter funk to deliver a flurry of crunch-time blows that eventually took down the Celtics.
87-65
Entering Friday's play, the East was 87-65 against the West in head-to-head games. The West has had a winning record against the East in every season this decade; 1997-98 is the last full season the East had the better record.
552
Only 552 more days, as of Friday morning, till that summer of 2010 shopping bonanza is here.
Marc Stein is the senior NBA writer for ESPN.com. To e-mail him, click here.
Dimes past: December 10 | 11 | 12 | 13-14 | 15 | 16 | 17 | 18 | 19 | 20-21 | 22 | 23 | 24

Five questions with Grizzlies guard O.J. Mayo:
Q: The media consensus seems to be that you've exceeded expectations through the first third of your rookie season. Are we right?
A: Maybe so. I've been OK. I'm just trying to take the easy shots and stay away from the 50/50 shots and let everything happen in the flow of the game. But I'll let you grade me.
Q: Is it fair to say that, when you got to the NBA, you weren't expecting to be surrounded by seven other guys 23 or younger?
A: It's a little hard because we're all extremely young. This is a rough league for a young team. We might be learning more from the opponent instead of learning from each other. But at the same time it's good because we're growing together. I feel like if we can stay together for these next two or three years, we're going to be a special team in the league.
Q: How mad are you at the Timberwolves for trading you on the same night that they drafted you? Is it the kind of deal where, for the rest of your career, you're going to want to stick it to them?
A: I'm not mad. With me, [the trade] kind of opened my eyes up that it's definitely a business. From the first day, it's a business. I'm just happy that it wasn't something where I got set on Minnesota and then I was traded. There wasn't time [for that]. You put on a Minnesota hat and then maybe 30 minutes later you're watching ESPN and they say there's a blockbuster trade going down. But it was great the next day when I flew to Memphis with DA [fellow rookie Darrell Arthur]. It was a pretty easy transition.
Q: Did you keep that Wolves hat?
A: Yeah, I kept it. It's the first hat I put on, so I kept it.
Q: I'm sure you've figured out by now that I have to ask you about the Rookie of the Year race like every reporter. How well do you know Derrick [Rose from the Bulls] and do you think you can beat him out?
A: I know him well. We grew up playing against each other since the eighth grade. But I really try not to pay attention to it too much. Obviously it comes up a lot. It's a great award for a player to win. But that's not something I'm really playing for.

Even the mighty Lakers aren't averse to cutting payroll. That would explain the occasional rumblings I've heard this season about
Luke Walton
, one of Phil Jackson's long-standing favorites in L.A., being made available via trade.
Shopping might be too strong a word, but the reality, in this economy, is that moving Walton would be difficult no matter how motivated the Lakers were. Walton is a role player scheduled to earn $21.6 million over the next four seasons after this one.
Yet I also suspect that Jackson isn't too disappointed that the 28-year-old is still around, no matter how much financial sense it makes for the Lakers to make Walton available, with the emerging Trevor Ariza up for a new contract in the summer and L.A. perennially possessing one of the league's highest payrolls.
Walton earned just 58 minutes of PT in the Lakers' first 20 games, but he's made eight starts in December, including a 28-minute stint in the Lakers' Christmas Day victory over the Celtics. Because he keeps the ball moving, provides consistent energy and knows the system -- much of that in stark contrast to the unpredictable Vladimir Radmanovic -- Walton has suddenly reclaimed a prominent spot in Jackson's rotation.
---
It's one of the biggest upsets of the season.
The Grizzlies, despite frequently starting three rookies, don't quite field the league's youngest roster.
The Warriors still hold that distinction with an average age of 24 years and 167 days.
Portland is second with an average age of 24 years and 190 days, followed by the Grizz at 24 years and 312 days, although that figure will have to be adjusted slightly now that Steve Francis (31) is headed to Memphis after the recent buyout of Antoine Walker (32).
Furthermore, in one of the greater ironies of the season, Golden State's youth movement is being overseen by the oldest coach in the four major North American professional team sports. Don Nelson, who turns 69 on May 15, is two months and three days older than Los Angeles Dodgers manager Joe Torre.
Yet we should probably describe it as one of the greater ironies of the season that will attract almost zero coverage because of everything else swirling around the Warriors, which our own Ric Bucher covers here with a level of detail that demands an immediate click.
---
Scratch that.
This
is one of the biggest upsets of the season, from late, late, late Friday night:
Golden State 99, Boston 89!
It doesn't matter how tired the Celts might have been after their Christmas Day exertions in Los Angeles. History says that blowing a fourth-quarter lead to the Dubs was virtually impossible, making this loss unforgivable.
According to the ever-trusty Elias Sports Bureau, Boston's loss represents only the second game ever in NBA history that a team with a winning percentage of .900 or better (at least 25 games into the season) lost to a team with a winning percentage below .300.
The only other time it happened was on Jan. 12, 1972, when the Lakers (40-4, .909) suffered a 108-107 road loss to the Cincinnati Royals (11-31, .262). That loss came just three days after L.A.'s record 33-game winning streak was halted by the Bucks in Milwaukee.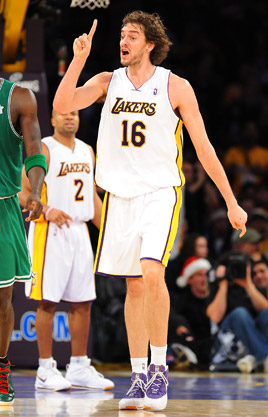 Lisa Blumenfeld/Getty
Is this Pau Gasol telling us where he thinks the Lakers should be in our next Power Rankings? This much we know: L.A. is 45-10 with Gasol in the lineup. (See Box 1.)

It's not just nonstop trades and firings around here.
Our early overflow runs beyond the deluge of transactions, which continued on Christmas Eve with that Steve Francis deal Houston and Memphis sneaked in.
We've also seen lots of memorable last-second shots in a season that's basically 30 games old.
Roger Mason's triple from the corner on Christmas Day in Phoenix didn't just seal the win for San Antonio in the most painful way possible, for the umpteenth time, in the Spurs-Suns rivalry. Mason's walk-off 3 with less than a second remaining in San Antonio's 91-90 triumph was the eighth of nine game-winning shots this season.
We compiled a list of those go-ahead shots, along with a YouTube link to the actual highlight, before Detroit's Allen Iverson brought the total to nine Friday night with a game-winner in the final second to beat Oklahoma City:
Dec. 25: San Antonio's Roger Mason
(Spurs 91, Suns 90)
Dec. 23: New Jersey's Devin Harris
(Nets 108, Pacers 107)
Dec. 9: Orlando's Hedo Turkoglu
(Magic 109, Trail Blazers 108)
Dec. 2: Indiana's Troy Murphy
(Pacers 118, Lakers 117)
Nov. 28: Minnesota's Mike Miller
(Wolves 105, Thunder 103)
Nov. 12: Boston's Paul Pierce
(Celtics 103, Hawks 102)
Nov. 6: Portland's Brandon Roy
(Blazers 101, Rockets 99 OT)
Oct. 31: Memphis' Rudy Gay
(Grizzlies 86, Magic 84)
Our First Trimester award winners here at Stein Line HQ were published in the previous Weekend Dime, but host Frank Dale made sure they remained a topic for discussion and dissection on ESPN's NBA Today podcast.
NBA on ESPN Radio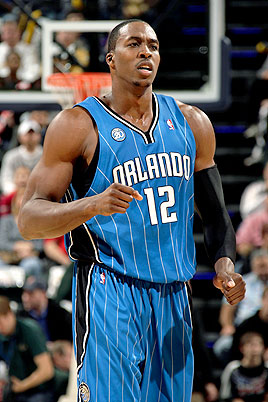 Ron Hoskins/Getty
We haven't seen his Superman cape yet this season, but Dwight Howard is "only getting better every day," as we're reminded in Box 10. Especially on the defensive end.

It's an obvious question: Why should the
Washington Wizards
, at a virtually hopeless 4-23, risk bringing
Gilbert Arenas
back at all this season when the Wiz sit in last place in the East, five games back of Indiana for 14th place through Friday's play?
It's something even Gilbert seemed to hint at back in November when he opined that "if this is one of those years where we don't make the playoffs or we finish in last place ... that's what happened to San Antonio and that's how they got Tim Duncan and look at them now."
Forget, for a moment, that having the worst record in the league only nets a 25 percent chance of winning the draft lottery.
Or the belief among draftniks that a 2009 class of draftees headlined by Blake Griffin and Ricky Rubio doesn't quite feature a Duncan.
Isn't this something that the Wiz and Arenas shouldn't consider? It would certainly seem so at a time when you can't read a story about the 26-year-old without being reminded that Arenas -- the recipient of a $111 million contract in the summer -- has racked up more surgeries on his left knee (three) since an April 2007 collision with Charlotte's Gerald Wallace than playoff victories (two).
The Wiz, though, apparently aren't there yet. A source close to the situation insisted Friday that the plan remains for Arenas to return to the court in the near future -- similar to Elton Brand's comeback with the Clippers late last season from an Achilles' tear with no hope of getting to the postseason -- in spite of where the Wiz are in the standings and the obvious long-term concerns about Arenas being healthy enough to live up to his contract.
---
One last word about Celtics versus Lakers on Christmas Day: Boston and L.A. showed up with a combined record of 50-7, good for a composite winning percentage of .877 that ranks as the highest for any game in league history in which each team had played at least 25 games.
So it was a rather special occasion. Agreed?
The previous record was set on Dec. 15, 1972, with the Lakers (25-4) also hosting the Celtics (23-3). With the teams' combined winning percentage at .873, Boston posted a 102-98 victory in which Dave Cowens (31 points, 19 rebounds) outdueled Wilt Chamberlain (18 points, 14 rebounds).
---
One of my favorite execs (who shall remain nameless) has been all over me lately about the Magic.
I admit it: This guy called it. He told me back in the summertime that the Magic would be doing what they're doing, cementing themselves as the third-best team in the East despite what I (and others) deemed insufficient tweaking to the roster. I didn't listen.
So I'm giving him the floor now, after he checked in to respond to our selection of Boston's Kevin Garnett over Dwight Howard as the best defensive player in the league with one-third of the season complete in the last Weekend Dime:
"I think it's time to start talking about Orlando as a contender," he said. "Who can't they beat? They can play any style. They can play big. They can play small. They've got so many shooters that J.J. Redick can't even get on the court for them.
"[Beating Boston or Cleveland in the playoffs] might not happen this year, but Dwight Howard is only getting better every day. What I would worry about more is whether they can re-sign Hedo [Turkoglu]. It looks like they're going to have problems keeping him, and he's huge for them.
"But [general manager] Otis Smith has done a good job there. They've put together that team nicely. They overpaid Rashard Lewis, but then they have Jameer Nelson, who is going to outperform his contract.
"I'll agree with you on KG. He's still the best defensive player in the league. He's just so smart. He reads what the other team is trying to run offensively and tries to disrupt it. Dwight Howard is not that kind of defender yet.
"But don't sleep on the Magic. The only two problems I see are re-signing Hedo -- and LeBron James. I wonder if they're going to end up like Cleveland in the [late] 1980s ... with LeBron as MJ. The Cavs had a good team but could never get past Michael."
Team officials know better than sportswriters that defense is rarely something you can judge with statistics as the main thrust, not even when the individual numbers are so gaudy that Howard is threatening to join Kareem Abdul-Jabbar (1975-76), Bill Walton (1976-77), Hakeem Olajuwon (1989-90) and Ben Wallace (2001-02) in the exclusive club of players to lead the league in blocks and rebounds in the same season.
Numbers simply don't account for a player's ability to defend players of all sizes ... or his help defense ... or the impact of a defensive anchor like Garnett, who can lift his teammates' intensity and hold them accountable like a coach. The Celtics are in the midst of one of the best starts in NBA history, rank at or near the top in virtually every defensive category despite losing James Posey in free agency and have quickly hushed all the questions coming into the season about their hunger for another championship. All of that is why KG prevailed here.
However ...
I had to let my guy have his say. The Magic have been everything he said they'd be so far.
---